AHAA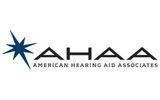 AHAA
American Hearing Aid Associates
American Hearing Aid Associates (AHAA) is the nation's largest network of audiology and hearing healthcare professionals. We not only supply you with the hearing devices and products your patients need, we provide you with the tools you need to advance your practice.
When you join AHAA, you'll realize the benefits of the network almost immediately. Processes that drive the daily management of your practice become more productive and efficient, which enables you to deliver better services, help more patients, and increase profits.
We work closely with practice owners to develop their leadership and business skills and transform practices into efficient, well-managed businesses. AHAA Associates benefit from the best practices found in our All The Right Things™ techniques, a holistic approach to training with our employee development program, and the sharing of ideas and perspectives among like-minded professionals at our annual Convention.
Together, we'll develop a business plan and execute a focused marketing campaign designed to increase your customer opportunities. When you need to staff your practice, our recruiters will supply experienced professionals who will seamlessly integrate into your practice's culture and daily operations. You will also work with a dedicated Associate Manager who will advise and support you every step of the way.
At AHAA, we take your business seriously and your success personally. Learn more about the benefits of becoming an Associate and start growing your business today!
Contact Information
AHAA
American Hearing Aid Associates
225 Wilmington - West Chester Pike, Suite 300
Chadds Ford, PA 19317
US
Phone: 800-984-3272
Website:
ahaanet.com

---
Have questions? Contact us!