AudiologyDesign
AudiologyDesign
Custom Web Solutions
CREATE A CUSTOM ONLINE PRESENCE.
Grow Your Practice.
Your website is often a patient's first impression of your practice. As the growing number of consumers use the web to research hearing professionals and services, a dynamic and credible website is an essential marketing tool.
If your current website isn't an accurate reflection of your practice, or if you have thought about creating a website, but didn't know where to turn, let the experts at AudiologyDesign create a customized, professional website that generates results.
---
Elevate Your Website and Your Customer Experience.
WEBSITE DESIGN & SEARCH ENGINE OPTIMIZATION (SEO)
Trained in the latest web technology advancements and tools, the AudiologyDesign team develops cutting edge applications that will be relevant for years to come.
In addition, AudiologyDesign's integrated search engine optimization will enable your site to gain credible, relevant web visibility with top search engines. Included with custom website package.
VIDEO PRODUCTION
Invite perspective patients into your office before they arrive at your door. AudiologyDesign has partnered with a world-class video production team to produce custom videos at your location. Personalize your site with a video that introduces your hearing practice and services you provide.
RESPONSIVE DESIGN
AudiologyDesign harnesses new technologies, such as HTML5 and CSS3, to turn a website into a "responsive" site that will adapt to any device from desktops to mobile phones.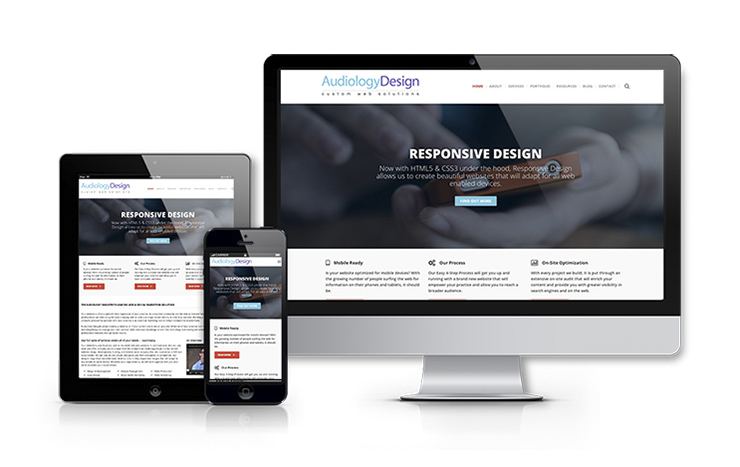 Key Aspects of Responsive Design
Supported by all modern mobile devices
Provides a "content first" approach for mobile users
No need for a subdomain or separate application
Easy to configure and customize
THE AudiologyDesign DIFFERENCE
The AudiologyDesign team of web designers, developers and account managers are extremely talented. But what truly sets them apart is their extensive knowledge and understanding of the hearing healthcare industry. Since 2001, AudiologyDesign has been solely dedicated to helping independent hearing practices throughout North America develop and grow their online presence.
Videos
News
UC San Diego, SDSU to Roll Out Research Platform to Improve Hearing-Aid Technologies
October 7, 2016 A team of engineers from the University of California San Diego and audiologists from San Diego State University has set out an ambitious timetable for delivering two new electronic platforms to dramatically improve and accelerate research on better hearing aids.
NYU Tandon Doctoral Student's Cochlear Implant Technology Banishes Ambient Babble
June 4, 2016 Algorithmic Solution for Hearing Aids and Implants Tunes Out Talkers, Tunes in the Person the Wearer Wants to Hear.Wearers of cochlear implants and hearing aids often have difficulty teasing out what someone is saying over "babble"
RIT/NTID Research Team Earns $500,000 Grant to Study Communicative Interaction Between Deaf, Hearing STEM Students
October 5, 2015 National Science Foundation funds will develop tools and strategies for complex problem solving.Researchers at Rochester Institute of Technology are using an National Science Foundation grant valued at nearly $500,000 to study the challenges of how S
American Academy of Audiology Opposes Expansion of VA Hearing Health Benefits by Hearing Instrument Specialists
December 14, 2013 (Washington, DC–December 13, 2013)—The American Academy of Audiology appreciates the important and effective hearing health care provided by audiologists to our nation's veterans through the Department of Veterans Affairs (VA). The
Contact Information
AudiologyDesign
538 W 21st St #79931
Houston, TX 77008-3642
US
Phone: 1.866.950.3571
---
Click here to learn more at audiologydesign.com/contact/