CareCredit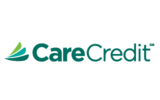 CareCredit
Making care possible...today.
Connect to the CareCredit Difference and Make a Difference in Your Practice
When you accept the CareCredit healthcare credit card, you get more than just another payment option. You get access to free tools to help grow your practice, new patient sources, industry expertise and one-on-one support. CareCredit has focused solely on healthcare for nearly 30 years — helping patients to get the care they want and need and helping practices to achieve their goals. Today, hearing healthcare professionals use CareCredit as a smart business tool to help reduce the number of tested-not-treated patients and maximize opportunity within their practices.
Grow Your Practice with Free Tools and Resources
With CareCredit, you have a financial solution available that helps more patients get optimal hearing devices. In turn, this can help increase patient satisfaction, retention and referrals. It is easy to do. Simply make patients aware of financing options throughout various stages of their experience. CareCredit provides online materials that can be seamlessly incorporated into your website and in-practice items to help educate patients once they arrive for their appointment. There are also tools that make it easy to present the costs of recommended devices in terms of a monthly payment in addition to total cost so that patients can see how they may fit payment into their budget.
In addition to patient education tools, CareCredit offers useful reports such as Non-Activated Cardholder and Cardholder Available Credit reports. The Non-Activated Cardholder report can assist you in patient recall by identifying cardholders who have applied for CareCredit and were approved but have never activated or used their card. The Cardholder Available Credit report identifies the amount of credit patients have available on their CareCredit account so you can reach out to them if they need upgrades. Utilizing these reports can help you increase conversion rates and reduce the number of tested-not-treated patients.
Tap into Powerful Networks of New Patient Sources
Not only can CareCredit help maximize the potential of existing patients, but it also offers powerful networks of new possible patient sources. Did you know that CareCredit has over 8.5 million cardholders? Many of these cardholders use the online Provider Locator to find practices that accept the healthcare credit card in their area. As a CareCredit provider, you receive a free listing which can help you attract more patients. To help enrolled providers maximize opportunity within this network, CareCredit sends marketing messages throughout the year educating cardholders on the many ways they can use CareCredit to get the care they need.
You can also benefit from a professional network of over 180,000 healthcare providers in dentistry, cosmetic, LASIK and optometry, chiropractic, veterinary care and more – all of whom accept CareCredit. Patients who use their CareCredit card at one practice may seek out other providers who accept it when they or their family need additional care.
Access Industry Expertise and Support
CareCredit continues to invest in the hearing industry and is committed to helping providers stay connected with industry trends and practical business advice by sponsoring webinars, educational papers and market research. Practices can also tap into a wealth of industry knowledge and expertise through CareCredit's Practice Development Managers, who visit hearing health practices regularly. This unique team provides personalized practice support and can share insights to help expand opportunities for growth.
Already enrolled? Call 800.859.9975 (press 1, then 6) to schedule a Practice Review with your Practice Development Manager and to learn about how CareCredit can truly benefit both your practice and patients.
Not enrolled yet? Call 800.300.3046 ext. 4519 for more information or to get started for free.
Contact Information
CareCredit
2995 Red Hill Ave., Suite 100
Costa Mesa, CA 92626
US
---