Hearing Healthcare Recruiters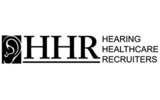 Hearing Healthcare Recruiters
Specializing in nationwide staffing and career opportunities for the hearing healthcare community!
---
CANDIDATES
Please, DO NOT LIMIT YOURSELF - Most employers will only be able to present positions from within their company. Hearing Healthcare Recruiters work with diverse companies nationwide and represent opportunities throughout the industry. HHR can present a more complete picture of what employment opportunities are in your desired area.
Check out our Cool Jobs! and Stay Connected tabs for HHR opportunities!
---
EMPLOYERS
Our service is contingency based, which means we receive a paycheck if, and only if, you decide to hire the candidate we submit. Also, we have industry experience – we know the attributes of great clinicians and we pre-screen all candidates.
Start a conversation with us today!
For further information please contact us at:
Contact Information
Hearing Healthcare Recruiters
15052 Springdale Street
Suite C
Huntington Beach, CA 92649
US
Phone: 714.658.8245 (Pacific Time Zone)
Website:
hearinghealthcarerecruiters.com

See Job Listings
---
Testimonials
George's service will fill a need in our profession that other employment listings cannot. Too often a position "sounds good on paper", but turns out to be a disappointment. A recruiter like George, who becomes personally acquainted with both parties, can bring together an employer and employee who have similar goals and philosophies, improving the chances of a positive outcome.
Eileen Puterski, Audiologist
---
I wanted to thank you gain for your utmost professionalism and your kindness throughout my experience with [the doctor]. It was truly a pleasure to work with you. It was an awesome first time experience with a recruiter; you have set the bar very high. Take care, and I am sure we will cross paths again.
Charity Herrera