HearUSA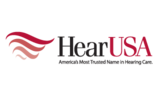 HearUSA
America's Most Trusted Name in Hearing Care.
Work with us. Affiliate with us. Prosper with us.
HearUSA has helped thousands of audiology clinics grow stronger every day. With nearly 200 hearing centers throughout North America, we provide a business foundation that allows professionals like you to prepare for the next stage of your career. Whether you are considering a job change, retirement, selling your practice, or just want to change the way you do business, HearUSA can guide you in the right direction.
With millions of covered individuals, the HearUSA Hearing Care Network offers significant growth potential for audiology practices. Draw from major managed care programs, health plans, employer groups & subscriber organizations. We contract with the groups, you get the patient referrals. We have a reputation for expert personal care, customer-friendly pricing, and innovative technology. And much more.

Ready to join the industry leader?
HearUSA offers training for those interested in becoming Licensed Hearing Aid Dispensers. This program starts with a rigorous independent study completed during your personal time, and then the fun really begins! Upon graduating to Apprentice, you begin to work closely under the supervision of your individual sponsor at a HUSA center.
Our goal is to produce highly trained HIS who will quickly see success in their new career, both personally and financially. This program is not easy, make no mistake, but, for those individuals who are motivated and sincerely interested in changing people's lives through better hearing, that desire will make your study manageable and achievable. In the end, you'll change your life, also.
Contact us about exciting employment opportunities, network affiliation and practice acquisition. For additional information about HearUSA, please review our corporate video.