MED-EL
MED-EL
Since its founders developed one of the world's first cochlear implants in 1975, MED-EL continues breaking new ground in hearing implant technology, developing and manufacturing innovative solutions for people with varying degrees of hearing loss. MED-EL hearing implant systems, currently used in more than 100 countries, combine the latest scientific and engineering advances for performance, safety, and reliability.
The revolutionary SYNCHRONY Cochlear Implant System – which includes the SYNCHRONY Cochlear Implant and the SONNET Audio Processor – is MED-EL's latest technological achievement.
The SYNCHRONY Cochlear Implant delivers exceptional hearing performance, outstanding reliability, and unmatched MRI scanning capability with a self-aligning magnet that doesn't need to be surgically removed for a high-resolution 3.0 Tesla MRI scan, as long as scanning instructions are followed. It's also the smallest and lightest titanium implant available – making it the ideal choice, even for young candidates. The SONNET Audio Processor showcases a water-resistant, lightweight design and is fully compatible with all multi-channel MED-EL cochlear implants from the last 20 years.
MED-EL also recently launched the RONDO Audio Processor, which offers the freedom of nothing behind the ear with its fully integrated, cable-free design. With the WaterWear accessory – which has an IP 68 rating – RONDO is waterproof and ready to go anywhere.
For more information, visit www.medel.com or call 888-MED-EL-CI (633-3524).
Contact Information
MED-EL
2511 Old Cornwallis Rd. Suite 100
Durham, NC 27713
US
Phone: (888) MED-EL-CI (633-3524)
Fax: 1-919-484-9229
---
Visit us at www.medel.com/us.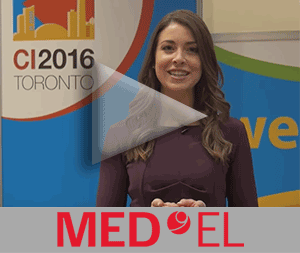 VIDEOS: CI2016 leading industry expert videos