ReSound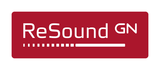 ReSound
The World's Smartest Hearing Aids
ReSound helps people rediscover hearing. We develop hearing solutions that emulate the function of the natural ear. Our aim is to give your patients the opportunity to live a rich, active and fulfilling life unaffected by hearing loss.
ReSound LiNX2 is the new benchmark in Smart Hearing. Armed with exceptional sound quality, speech understanding and spatial awareness, your patients can now engage effortlessly with family, friends and colleagues in any listening situation, stream stereo sound from their iPhone, and personalize their hearing experience using the ReSound Smart app.
Contact Information
ReSound
8001 E Bloomington Freeway
Bloomington, MN 55420
US
Phone: (800) 248-4327
Fax: (952) 769-8001
---
Visit us! www.resoundpro.com
Have a question? Contact us!