Salus University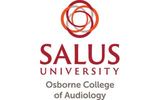 Salus University
Osborne College of Audiology

Originally established in 2000 as the PCO School of Audiology, Salus University Osborne College of Audiology (OCA) was re-named in 2008 when Salus was established in memory of the school's founding dean. It remains the first and only College of Audiology in the nation and offers several educational pathways.
The Osborne College of Audiology has a competitive four-year residential Doctor of Audiology (AuD) program that prepares students to diagnose, treat, and manage patients with hearing and balance disorders through vigorous didactic course work and above average clinical hours. OCA also offers a Doctor of Audiology online bridge program, Advanced Studies certificate programs, and annual summer workshops to enhance clinical skills. The online bridge program is a distance education and international degree program that provides web-based education for audiologists practicing with a master's or medical degree in Audiology. The Advanced Studies certificate programs are designed to expand audiologists' current knowledge, expertise, and clinical skills. And, annual summer workshops not only provide hands-on training but discuss advanced and current science on invigorating topics from "hearing conservation in industry and music" to "auditory processing" for current audiology clinicians, educators, and practitioners.
OCA employs high-caliber faculty to educate their students, which include audiologists currently practicing in private practices and major hospitals locally and nationally. With its strong emphasis on biomedical science, students also gain clinical hours at the Pennsylvania Ear Institute, an on-campus clinical facility, and with larger than average class sizes, students learn in a diverse, scholastic environment. George Shepard Osborne, PhD, DDS, was an optimist, visionary, experienced professional, and a dedicated educator whose ideals and legacy live on through all of the educational opportunities offered at Salus University Osborne College of Audiology.
For more information, visit salus.edu/audiology.
Contact Information
Salus University
8360 Old York Road
Elkins Park, PA 19027
US
Phone: 215-780-1400
800-824-6262
Website:
salus.edu/audiology

---
Contact us: admissions@salus.edu

Osborne College of Audiology