Signia/Siemens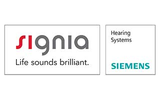 Signia/Siemens
Life sounds brilliant.
Signia is one of the world's top hearing aid brands and a leading supplier of first-class accessories, fitting software, and diagnostic workflow solutions. Signia hearing aids co-branded with Siemens represent a proud history of quality and innovation while inventing the future of better hearing. Signia builds on Siemens' heritage of innovation to create a more emotional and agile brand dedicated to improving the lives of people with hearing loss. Signia primax™ introduces the world's first hearing aids clinically proven to reduce listening effort and provide better than normal hearing.
Contact Information
Signia/Siemens
Sivantos, Inc., manufacturer of Signia/Siemens hearing instruments
10 Constitution Avenue
Piscataway, NJ 08854
US
Phone: 1-800-766-4500
Website:
pro.signiausa.com

---
Have a question? Contact us!
Sivantos, Inc. is a Trademark Licensee of Siemens, AG.
---
---