Wireless 312 CRT features wide range of connectivity options in a discreet, stylish package

October 13, 2010 - Kitchener, Ontario, Canada -
Unitron today announces the introduction of Moxi™ 3G, a wireless 312 CRT (Canal Receiver Technology) product line that offers cutting-edge technology in open-fit hearing instruments. It also boasts wireless features to keep wearers connected to what matters most in their lives. And a wide variety of fitting options give hearing healthcare professionals the flexibility to fit mild to moderately severe hearing losses in a discreet, stylish design.
Connect to what matters most
Moxi 3G directly addresses the desire of wearers to stay connected to the people, places and events in their lives through wireless technology and easy phone solutions. The Unifi™ Wireless System provides simplified access to the wireless functionality in Bluetooth® enabled technologies such as cellphones, MP3 players, FM systems and now the TV. A new capability available with Moxi 3G, uTV™ gives wearers access to technology that seamlessly delivers crystal clear stereo sound from the television directly to the listener's hearing instruments. It's an effortless solution that lets those with hearing loss fully enjoy television without infringing on the comfort of viewing companions.
Hearing instrument wearers commonly report difficulty with phone conversations. Moxi 3G is the only hearing instrument in its class to include a telecoil, the most preferred phone solution among those with hearing loss. The telecoil in Moxi 3G provides uncomplicated use of inductive phone and loop systems.
SmartFocus™ technology inside
Moxi 3G offers the option of SmartFocus™, advanced technology that is proprietary to Unitron. SmartFocus complements the fully automatic program in Moxi 3G ensuring that wearers experience superior hearing in every listening environment, without the need to make manual adjustments. Unitron's SmartFocus is the only technology of its kind on the market today.
Giving those with hearing loss exactly what they want
"With the release of Moxi 3G we are focused on delivering what hearing instrument wearers want most," said Bruce Brown, Vice President of Marketing at Unitron. "From great sound quality and performance to easy phone use to comfortable TV enjoyment, our purpose-driven technology is working to solve everyday listening challenges. All of this performance comes packaged in an attractive, ultra-small 312 hearing instrument. Wearers truly can have it all with Moxi 3G."
Moxi 3G will be available to the market in mid October 2010 in four technology levels, including Unitron's premium hearing instrument, Passport™ and all three levels of Latitude™ (16, 8 and 4). Please contact your local representative for availability in your market.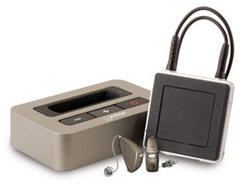 About Unitron
Unitron is a global innovator of technologically advanced hearing instruments. We care deeply about people with hearing loss and work closely with hearing healthcare professionals to make advanced, purpose-driven solutions available to everyone. Headquartered in Kitchener, Ontario, Canada, Unitron, a member of the Sonova Group, meets the needs of customers through 17 international offices and through distributors in a further 52 countries. For more information, please visit us on the web at
unitron.com
or at the
Unitron web channel
on Audiology Online.