https://www.audiologyonline.com/audiology-ceus/course/oticon-podcast-program-role-new-35861
We are witnessing a rapid pace of new technologies moving from other areas of business, communications and healthcare into our field. Many of these new technologies offer great promise for our field, but along with great expectations also comes the need to examine which of these technologies can offer true new levels of benefit for our patients. In this season, we will talk about the professional issues involved in the decision to embrace new technical possibilities.

Episode 1: Finding a Balance
Throughout any healthcare professional's life, new opportunities will emerge as new technologies allow for change in patient care. And right now, hearing healthcare is seeing an explosion of new possibilities. But not every new technique is or should necessarily be adopted without careful consideration of the costs and benefits of adoption.

Episode 2: TeleAudiology
The COVID-19 challenge pushed teleAudiology to the forefront of everyone's mind. But what will happen once the hearing healthcare field gets back to normal over the next year? Now is the time for all hearing healthcare providers to actively decide how distance care techniques can be worked into day-to-day practice.

Episode 3: Sensors in Hearing Aids
Sensors have become widespread in wearable consumer technologies. And these small, low-cost and energy-efficient data gatherers have started to show up in hearing aids. The important questions that need to be discussed revolve around how much hearing benefit can they provide for our patients. Are they a fad or do they offer true care benefits?

Episode 4: The Use of Big Data in Hearing Care
Many areas of healthcare have found ways to improve patient treatment by accumulating data from patients across the country and even across the world. Their knowledge of the effectiveness of different approaches becomes multiplied many times over when a provider can rely not just on their own experience but on the experience of hundreds or thousands of other professionals. But Big Data approaches have yet to gain a solid foothold in our field.

Episode 5: Cloud Computing for Hearing Aids
Despite the advances in the processing power of the digital platforms imbedding in modern hearing aids, there are still times when more processing power is required. And that is where Cloud Computing comes in, where the signal processing, data storage or other digital functions can take place. Despite the potential, the possibilities of Cloud Computing have yet to be fully described in our field.

Episode 6: The World of Artificial Intelligence
Artificial Intelligence is a big, broad term that means many different things to many different people. Understanding what this term and several associated terms mean is essential for the professional to truly understand the role in our field. And for those who are interested into an even deeper dive into the world of AI, we encourage you to check out the Tech Podcast series offered by our colleague, Dr. Annette Mazevski.

Episode 7: Deep Neural Networks
One of the most powerful tools in the world of AI are Deep Neural Nets (DNNs). These processors approach the task of extracting useful information from large amounts of data in a new and unique way. DNNs offer the ability to improve our solutions to some of the most vexing problems faced by hearing aid users. This technology has transformed many other fields. Will it transform Hearing healthcare?

Episode 8: Monitoring the Brain
The job of hearing aids is to feed the brain the information that it needs to allow the user to best understand speech in challenging situations. The question is, can these solutions be improved if the hearing aid knew what the brain was thinking? We are closer to that day than you may think.

Episode 9: A Vision of It All Coming Together
With all of these new possibilities, what will the hearing aid of the future look like? How will the industry raise the bar on patient benefit by incorporating these new approaches? Our research center, Eriksholm, is busy looking towards that future.

Episode 10: Looking Forward
We started the season talking about what it takes for a professional to decide to adopt an new approach into daily practice. As we look forward, we simply have to expect even more changes in the areas of wireless connectivity platforms, battery technologies, AI-based signal processing, etc. With so many focused on what low-cost OTC products may mean for our field, perhaps one alternative is to focus on what new technologies can mean … to the patient dealing with a complex medical condition.
Course created on October 15, 2020
View this Course on Demand
Presented By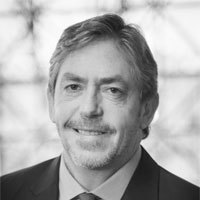 Don Schum

PhD
Vice President of Audiology
Don Schum currently serves as Vice President of Audiology for Oticon, Inc. In that capacity, Don has the responsibility to create and implement new Audiological training material, oversee the Audiological training of all employees, develop dispenser support materials and tools, conduct clinical research, and participate in national and international conferences. Previous to his position at Oticon in Somerset, Don served as the Director of Audiology for the main Oticon office in Copenhagen Denmark. In addition, he served as the Director of the Hearing Aid Lab at the University of Iowa School of Medicine (1990-1995) and as an Assistant professor at the Medical University of South Carolina (1988-1990). During his professional career, Don has been an active researcher in the areas of Hearing Aids, Speech Understanding, and Aging. Don received his B.S. in Speech & Hearing Science from the University of Illinois, his MA in Audiology from the University of Iowa, and his PhD in Audiology from Louisiana State University.
---
More
Course participation information
To ensure you are ready to participate, please complete our short Test Drive to prepare your computer to view the course.
Login and logout times will be recorded and documented.
Passing an online exam will be required to earn continuing education credit.
Live Webinars allow presenter and participant interaction. The exam for these courses must be completed within 7 days of the event.
On-demand courses include texts, video and audio recordings of live webinars, and multimedia formats. The exam for on-demand courses must be completed within 30 days of course registration.
To participate in the course, complete the exam, and earn continuing education credit, you must be a AudiologyOnline member. Participants must complete the entire course; partial credit is not allowed.
AudiologyOnline is committed to ensuring accessibility to the widest possible audience. We are continually improving the user experience for everyone. If you have questions, requests, or would like to report an accessibility-related issue, please email accessibility@continued.com. We will review your request and respond in a timely manner.
Visit our Contact us page or give us a call if you have questions.