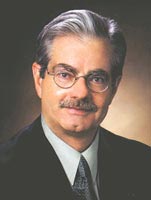 CAROLYN SMAKA:
Today I'm speaking with Dr. Jerry Northern. Jerry, welcome to AudiologyOnline and thank you for your time today.
DR. JERRY NORTHERN:
It's my pleasure. Nice talking with you.
SMAKA:
Jerry, you are so renowned in our field, I think most people reading this interview will be familiar with your background, but would you mind talking a bit about it and also about your current role at Starkey?
NORTHERN:
I've been fortunate during my 40+ year career as an audiologist to have had the opportunity to work in a number of exciting environments and be involved with great people, projects and organizations. I started my career as one of the very first Army audiology officers, worked in a major medical school and hospital center for 26 years, and then worked for a corporate-owned network of hearing aid offices. I've traveled extensively as a consultant and a lecturer, authored books and articles, and founded
Seminars in Hearing
back in 1980. Along the way, I joined with the founders of the American Academy of Audiology, served a term as its President and. Audiology, served as editor of
Audiology Today
for 15 years and Academy website editor for ten years. Audiology has been a remarkable career for me, and I've enjoyed nearly every minute of it.
Eight months ago, I joined Starkey Labs and that has opened up a whole new set of opportunities for me, for which I am really pleased. At Starkey, I serve as Director of Special Projects and Professional Services in the education and training department.
We have a number of new activities underway including a student outreach program, and new publications like the
Starkey Audiology Series
that will debut at the 2009 AudiologyNOW! We are also reviving the infamous Jackson Hole Rendezvous hearing aid conference, which will be held in June of 2009, and we have a number of other exciting new activities underway as well.
SMAKA:
It sounds like a lot of great opportunities for professionals.
NORTHERN:
Well, as you know, Starkey has a unique position in the hearing aid industry as the only US wholly privately owned hearing aid manufacturer. So in these challenging economic times Starkey is in a good position with our large size and assets, we can remain strong. We are proud that 1 out of every 4 hearing aids worn in the US is a Starkey hearing aid. That success enables us to generously fund research as an investment in our future and to continue to develop innovative programs for professionals and students. You may know that Starkey is represented in more than 30 countries around the world, so we have huge international responsibilities. With so many things going on, it's a busy time for us, and a great time to be at Starkey.
I am enormously impressed with Starkey's dedication to evidenced-based design in the development of new hearing aid features and products. This approach has been a remarkable advent to ensure that the performance of our hearing aids meets every one of our specifications and marketing claims. To this end, Starkey invests more than $60 million each year in research support our wide-spread research efforts including our own Starkey Hearing Research Center in Berkeley, CA.
SMAKA:
I visited the Starkey Hearing Research Center back in September and was able to sit down and talk with Dr. Brent Edwards, Vice President of Research:
www.audiologyonline.com/interview/
. It's obviously an exciting place with lots of futuristic research projects underway.

NORTHERN:
It definitely is. Most people are amazed at the innovative research going on there. These research efforts will ensure that Starkey continues to be a technology leader in future years.
SMAKA:
I sure was! Jerry, I love the topic of our interview today, because I so wholeheartedly believe that it's a great time to be an audiologist.
NORTHERN:
It is a great time indeed to be an audiologist! Even in these serious economic times, audiology as a profession is in a particularly strong position.
SMAKA:
How so?
NORTHERN:
Well, to begin with, the adult population that we serve - the older population - continues to grow in numbers which only expands our potential patient pool. This graying of America cannot be denied. Hearing loss remains the third most common chronic disorder in healthcare following hypertension and arthritis. Every seven and a half seconds another person in the United States turns 50 years old. In 1960, one in eleven Americans was over 65 years of age. Currently, in 2009, one in seven Americans is older than 65. And, one in five persons in the US will be over 65 by the year2030.
And, the boomers are here. The boomers, as you know, love advanced technology. They fully appreciate the performance of the new receiver-in-canal BTE hearing aids, and they also appreciate the superior customer service that we provide at Starkey. They are great consumers for us to work with because they recognize the benefits that we can provide with audiological services and hearing solutions.
So, as you can see, we have a population to serve that is enormous and will continue to grow in numbers for many, many years to come. Our challenge is to find more effective and more efficient ways to reach them with our services.
SMAKA:
I was reading about the incidence of hearing loss the other day. It's something like 1 and 3 over age 65, and continues to increase with age - is that right?
NORTHERN:
Yes, and by age 70 to 75 years, the incidence of hearing loss goes increases to approximately 70%, and all of these individuals are likely to benefit greatly from wearing and using hearing aids. But we need to develop better ways to send them the message that hearing aids will improve their quality of life.
SMAKA:
So, it's a great time to be an audiologist because there's a huge - and growing - demand for our services.
NORTHERN:
Yes. The second reason it is a great time to be an audiologist is because the status and recognition of audiology as a career profession is getting more and more attention.
Clearly, the Au.D. movement has been very successful for us. We are now at a point of having a single degree unifier that identifies nearly the majority of practicing audiologists. Statistics from the American Academy of Audiology indicates that the average salary for audiologists is now in the neighborhood of $80,000 a year, and private practitioners dispensing hearing aids often make salaries in the six-figure range. That's a substantial improvement over the past decade or so.
The identity of audiology has become stronger and stronger, and it's not uncommon now to see people in magazines and newspapers, and even on television, using the term, "audiology." Last year Newsweek had a cover story about hearing loss and more recently, the
New Yorker Magazine
ran a terrific article on tinnitus and several audiologists were interviewed
www.newyorker.com/reporting/2009/
. No one seemed to know who we were in the past decades. We were always concerned that nobody knew what an audiologist was, but now there seems to be an increased understanding of who we are, what we do and where we can be found.
In the same train of thought, I believe that the legislative efforts of the American Academy of Audiology have been key in upgrading and uplifting the audiology profession. More senators and more congressmen know about audiology now than ever before. A recent example is the legislative action that relocated the profession of audiology in government's Standard Occupational Classification (SOC) Manual. This is a very important government document for identifying the status and classification of various professionals.
Audiologists were previously classified in this manual in the broad occupation category "Therapist". Finally, after a 14 or 15-year campaign led by many of our leaders including Carol Flexer, Barry Freeman, and Lucille Beck along with a number of past AAA presidents, we're now classified in the Healthcare Practitioners and Technical Operations Group, as health-diagnosing and treating practitioners. This move substantiates our profession as a separate occupation from the speech-language-pathology-therapy classification that we've been hindered by for all these years. Our new classification is consistent with our role as the primary specialist in the diagnosis and treatment of non-medical hearing and balance conditions.
This important piece of legislation will help us move forward as an autonomous profession and help to establish ourselves as independent practitioners. It will have implications for years to come as the government and third-party payors look at audiologists and our scope of practice. And this important legislation can be attributed solely to the efforts of audiology leaders and the American Academy of Audiology.
SMAKA:
I've talked to some people who have called it the single most significant event in history for our profession.
NORTHERN:
Another important legislative event that went into effect on January 1, 2009 was the expansion of the Federal Employees Health Benefits Act (FEHBA). This legislative effort from many has been important because it provides audiology services in the health-benefits plan that is enjoyed by senators, congressmen, and all government workers. This is another highly impactful legislation for audiologists, right up there with the SOC change. And, we need to continue these legislative efforts and hopefully our next success will be the $500 Hearing Aid Tax Credit
www.hearingaidtaxcredit.org/

We need to join hands and continue campaigning to make the Hearing Aid Tax Credit legislation a reality. That, in itself, will draw more and better attention to the benefit provided by hearing aids and will be a great encouragement for people to seek audiology care for their hearing difficulties.
SMAKA:
Yes, especially since Dr. Sergei Kochkin's research at the Better Hearing Institute shows that people indicate that a financial incentive, such as a tax credit, would definitely remove some obstacles to seeking audiological treatment.
NORTHERN:
Absolutely. You could look at it like our own hearing services stimulus package.
SMAKA:
Jerry, I imagine you've seen the profession change quite a bit throughout your 40 year career. What changes do you foresee in the future?
NORTHERN:
Well, unfortunately we seemed to have reached a flat growth curve with about 11,000 audiologists in the United States. It's difficult to get an accurate count of exactly the number of audiologists currently working, but we graduate about 500 new audiologists each year - while about 500 senior practicing audiologists reach retirement age. Of those 11,000 audiologists, only about 80 percent are true clinical service providers with have hands-on, daily relationships with patients.
So that means there's really only 9,000 audiologists out there to serve the huge population that we anticipate with the graying of America and the boomers. So one change I envision is that we're going to have to develop, in the immediate future if not sooner, some form of an audiometric assistant to help us. It seems to me that is absolutely the only way that we have of managing all the potential business that stands ahead of us.
SMAKA:
Interesting. We recently had Gyl Kasewurm on AudiologyOnline talking about audiology assistants
www.audiologyonline.com/ceus/
, and I've seen some articles in the journals on this topic as well.
What else do you see for the profession going forward?
NORTHERN:
And, finally, it's a great time to be an audiologist now to enjoy and work with the rapid developments in technology throughout all audiologic services, and that's only going to continue moving forward. Whether it's advanced technology to improve the efficiency and accuracy of newborn infant hearing screening process, advances in the diagnosis and treatment of hearing disorders, the rapid pace of cochlear implant (CI) technology - and of course, with hearing aids, we've seen tremendous advancements over the past few years.
Working at Starkey, my attention has been drawn to all the efforts in terms of time and expense that goes into the development of new hearing aid technology. As I mentioned earlier, I'm delighted with Starkey's focus on evidence-based developments for new hearing aids and new hearing aid features. Everything we design undergoes rigorous challenges in our scientific in-house and external labs, evaluations by focus group analysis, pilot consumer fitting protocols and user-benefit considerations, before any feature makes it to production.
The tools that are available to audiologists to fit hearing aids - and the signal processing features that are available now - are pretty astonishing, and they provide great talking points in fitting, educating and counseling our hearing aid patients.

At Starkey, for example, both the Destiny and Zon lines feature a number of amazing new developments beginning with Integrated Real Ear Measurement (IREM). This fantastic tool enables professionals to verify hearing aid fittings without special equipment. Active Feedback Intercept is an incredibly robust cancellation system that virtually eliminates feedback. Our BluWave™ and nFusion Signal Processing platforms also control the other features such as Directional Speech Detector and Adaptive Noise Suppression. In addition, the aids are totally waterproof - you can drop them in a glass of water and they will continue to work!

In terms of patient convenience, there are clever voice reminders built into the hearing aid that can be set to a male or female voice in 34 different languages. Patients can listen to a voice reminding them when the battery's getting low;which programmed memory they are listening to;and professionals can even program a reminder about the next appointment date. So it is great to be an audiologist and have this amazing technology available today that can deliver such benefits for our patients.
SMAKA:
When you think of what we had to work with in years past - trying to squeeze multiple trim pots on a faceplate - it is just mind blowing how far technology has come. Do audiologists even own screwdrivers anymore? [laughs]
NORTHERN:
[laughs] That's right - you had better not even approach these hearing aids with a screwdriver!
Of course, all the programming is driven by the computerized software programs. Hearing aid software today is itself an extraordinary technological development. Our software, Inspire® OS, has all the counseling tools that a professional needs.
We have SurroundTown where professionals can set up multiple speakers and simulate environmental scenes such as a cafeteria, a car, an auditorium, and more - so that patients can experience what directional microphones sound like, or, they can learn about getting the maximum use out of their hearing aids through proper seating, etc. Other great counseling tools for patients and their families include real-time Speech Mapping, a Hearing Loss Simulator, and of course Data Logging.
With our Drive Architecture platform, new features in the hearing aids can be introduced simply with a new version of software. You can literally just download the new programs or features through the Internet and upgrade your patient's hearing aids right on the spot, without having to replace the entire hearing aids.
SMAKA:
After all that you've described, I can't imagine what could be new coming from Starkey on 04.01.09 at 9:01 PM as I've seen in the Starkey ads on AudiologyOnline.
NORTHERN:
We are extremely excited about the technology we're introducing at AudiologyNOW! And I think audiologists will be enthused about our Launch Event on April 1st at 9:01 - it will certainly be an industry first.
SMAKA:
I'm looking forward to it! Not that you've had to convince me, but you've made some really terrific points about why it's a great time to be an audiologist.
NORTHERN:
I'm very proud of my career as an audiologist, and I'm very confident that we will continue to develop and grow as a profession in future years. We're not alone in thinking that audiology is a great career. For the fourth year in a row,
US News and World Report
" identified audiology as one of its "Best Careers" based on a positive job outlook, high job satisfaction and high prestige. Audiology is clearly a growing and worthwhile profession - but we all need to work harder to recruit the very best and brightest students into our university programs.
SMAKA:
One of the best parts of being an audiologist for me is getting to speak with people like you and hearing your insights and outlook for the profession. Thanks so much for taking the time for AudiologyOnline today;I've really enjoyed our talk.
NORTHERN:
I've enjoyed it as well, thank you for having me.
Starkey Online Courses
Starkey offers online courses for professionals on the latest products, software, marketing and business solutions, as well as a variety of clinical topics, including:
S Series with Drive Architecture
The Lifestyle Experience: Creating a System that Maximizes the Patient Journey
Market More Successfully to Prospective Patients
All courses are free to view and many are CE-eligible as part of AudiologyOnline CEU Total Access. Visit the
Starkey Web Channel
on AudiologyOnline for a current listing of all courses.
About Starkey Laboratories
Starkey Laboratories, Inc. is a privately held, global hearing technology company headquartered in Eden Prairie, Minn. The company is recognized for its innovative design, development and distribution of comprehensive digital hearing systems. Founded in 1967, Starkey currently employs over 3,500 people, operates 22 facilities and conducts business in over 100 markets worldwide. For more information, visit
www.starkeypro.com