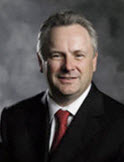 Jerry Ruzicka
CAROLYN SMAKA:
This is Carolyn Smaka and I'm speaking with Jerry Ruzicka, President of Starkey, about Starkey's latest product release, the new S Series™ BTE with Sweep™ Technology.
Jerry, thank you for speaking with me today. Can you start by explaining what Sweep Technology is?
JERRY RUZICKA:
Of course. Sweep Technology is the technology behind the first BTE hearing aid with touch control so that changes in volume, memory, etc. can be changed with a simple sweep or a touch of a finger. With our new S Series BTE with Sweep Technology, we are eliminating buttons and switches on the hearing aid in order to make things easier for the patient. In addition, professionals can configure the touch screen through programming.
SMAKA:
I watched the live webcast of your launch event for this new product, and I could really feel the energy even though I was sitting in front of my computer at home. What was it like to be there in person?
RUZICKA:
There was definitely a lot of fun energy. We wanted to introduce Sweep Technology globally, and the best way to connect with people around the world is through the web;the webcast allowed us to let our customers, employees, and friends around the world to see what we're coming out with and to be a part of it.
The launch event was intended to be an unveiling, and locally, we had about 700 people who participated. The crowd was excited, and our staff was excited.
If you look at the history of Starkey, whenever we've launched new, innovative products, we've introduced them in a fun and exciting fashion. We decided to do something different with this launch, and the webcast was our way of making a statement about what we believe is going to be the future and really make a difference for our patients, the end-users.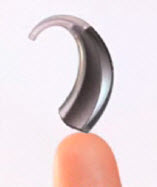 S Series BTE with Sweep Technology
SMAKA:
During the webcast, I heard you use the term, "patient-proven innovative design." Can you talk about how this new technology has a patient proven innovative design?
RUZICKA:
We see ourselves as being the Apple of our industry. We have done a lot of innovative things over the past number of years. For instance, our Integrated Real Ear System was very innovative by enabling integrated real-ear within our hearing aids. Our HydraShield™ Process is also very innovative. In addition, earlier this year, we introduced T2 Technology, which allows any phone to be used as a remote control for hearing aids with the T2 technology.
With any of these innovations, we start the development process by looking at the patient journey. As we go through the development and we test various concepts, an integral part of our process is bringing patients in and fitting them with these features. Overall, we go through an extensive process of testing our concepts with end users. Once we make a decision to go forward with a development we go through alpha trials and beta trials, and patient-proven is a theme throughout this process. We want to make sure that our technology does what we say it's going to do and that we deliver what we intend to deliver.
We make prototype devices, and we have patients wear them and use the features. We then conduct focus groups, and at the end of the day, we want to know several things. Do they like it? Did it make life easier for them? Did it facilitate the features and the functions of the hearing aids? Did it enable them to use the aids more comfortably? Finally, in the end, the true test is when we ask them if they would recommend these devices to others and if they would buy it for themselves.
With Sweep Technology, we had hands down success because everyone who tried it in the clinical trials said that it was fun to use. How many times do people say their hearing aids are fun to use? You don't hear that very often. Not to mention, everyone said that they would recommend it to others. Patients overwhelmingly preferred Sweep Technology to traditional controls, and that is the essence of patient-proven design.
SMAKA:
I would think that the simplicity and configurability of Sweep Technology would help with counseling and orientation as well.
RUZICKA:
Yes, I agree. There are so many hearing aid choices out there;you have some hearing aids that are automatic, some that have a volume control, some with memory buttons, switches, etc.
As a clinician, you have to ask what's best for the patient. Often, you make that decision, and you find out that your choice really wasn't optimal for that patient, and you have to go in another direction. Programmable hearing aids have been around for years, but with Sweep Technology we are going beyond acoustic programming;professionals can characterize these devices however they want them to be.
The whole backplane of the hearing aid - the touch screen - is basically a programmable switch. It's a capacitive switch, and so the professional can decide what they want that switch to do through the Inspire software.
If you want an automatic hearing aid, you can have that. You can program the device to have volume control. You can program it to have multimemory switching. You can even program it like a volume control and a multimemory button. In this case, for the patient, a simple sweeping motion controls volume, and tapping changes memories. That's why I say it's highly configurable. Not only do you have a hearing aid that has your normal programmability for acoustic parameters, you can also decide how you want the hearing aid to behave for each individual patient.
This technology allows you to look at the patient and say, "Well, I'm going to enable
this
functionality right now". In the future, as the patient becomes more acclimated to the device you can activate what I would refer to as the extended features.
So, it definitely helps with counseling as well as selecting the optimal device options for each patient. You can start with pretty basic functionality, and as the patient gets used to their hearing instruments and wants access to advanced features, you can easily turn them on, and give them the ability to control them.
S Series BTE has no buttons or dials
SMAKA:
Wonderful. Again, from the webcast, I heard the term "smartest, simplest aid". It sounds like an oxymoron at first, but considering there is a touch screen on this hearing aid and how easy touch screens are to use, it seems like a fitting description.
RUZICKA:
Exactly. You simply have to take a finger and touch the hearing aid. By sweeping your finger down, you turn the volume control down. If you sweep up, you turn the volume control up. It works just like the touch screen on the iPhone.
Until now, hearing aids had been made the same way for 70 years, with mechanical switches and buttons that fail. In addition, mechanical switches, dials and buttons are hard to find for many patients, and a struggle to manipulate. We made the decision to get rid of all that and go in a totally new and different direction. With Sweep Technology, if you can touch it, you can control it.
A simple, configurable touch screen can be
used for control of volume, memory changes and more
SMAKA:
Great, and the new S Series BTE with Sweep Technology includes all the innovations that are already part of the S Series family, correct?
RUZICKA:
Absolutely. The new BTE with Sweep Technology is part of the S Series with Drive Architecture™ and includes Advanced HydraShield™, our proprietary moisture and corrosion protection, our industry-leading feedback cancellation, superior integrated noise management, live real ear measurement, and much more.
The instrument also has a very high tech modern design. The casing is flexible in that it's compatible with an ear mold, or you can use it as a thin tube open ear fitting if you'd like. It utilizes all the color treatments that we introduced a little over a year ago with Zon, which were are all designed to match hair color. We actually used color stylists to come up with the colors that we felt were most appealing. We then tested those colors with our market research, to ensure that we had a nice variety of colors available.
S Series BTE Color Options
SMAKA:
It was great to see Leonard Nimoy in the video during the webcast. Is he using Sweep Technology?
RUZICKA:
Yes, he is. We thought that Leonard Nimoy provided the right image for the innovation, because when you think of Leonard Nimoy, you think of Star Trek, and its futuristic concepts. We wanted to involve someone that was connected in our minds with the future because we truly believe that Sweep Technology is the future of hearing aids.
SMAKA:
A few quick logistical questions - can professionals place their orders today?
RUZICKA:
Definitely. Orders are shipping.
SMAKA:
Is an upgrade of Inspire® needed to fit this?
RUZICKA:
Yes, and we can actually upgrade Inspire remotely. So professionals can download the upgrade, or we can mail software out.
SMAKA:
I love my iPhone's touch screen, so I'm looking forward to being able to demo Sweep Technology.
RUZICKA:
I've previewed this to various customers over the last number of months, it's just amazing to see their mouths drop and say, "Oh, my. I didn't know that you could do this with hearing aids."
A lot of innovations have come from Starkey over the past number of years, and we are continuing to challenge ourselves to be innovative. During the launch event, we said that when you think of innovation, you think of Starkey. With our innovations, we look at what practical utility we can bring to the patient and to the patient journey.
We're generating lots of excitement and lots of attention with this, and the bottom line is that it's a great technology that will really benefit patients.
The new S Series BTE with Sweep Technology
has a very high tech, modern design
SMAKA:
Jerry, thank you for your time today. We wish you much success with this new innovation. For more information on Starkey's new S Series BTE with Sweep Technology, please visit the
Starkey Web Channel
on AudiologyOnline or visit
www.StarkeyPro.com
.