CAROLYN SMAKA:
I'm here with Jerry Ruzicka, President of Starkey. Jerry, welcome back to AudiologyOnline and thanks for your time today.
JERRY RUZICKA:
Thanks for having me, I appreciate it.
SMAKA:
Jerry, you're well known as president of Starkey, but what is your background and how did you get your start in this industry?
RUZICKA:
Well, I've been in the industry for more than 30 years. My degree is in computer technology, and I started 32 years ago at Starkey as a repair technician. I've had the opportunity to participate at all levels of this organization. Having a technical background by trade, I took upon more and more responsibility here on the technical side of the business such as in engineering. I spend my time between the business side of the organization and working with technology teams, because I enjoy that and I can provide input to the vision of what we need to do next.
SMAKA:
The topic of our interview today is a new product introduction from Starkey,
S Series™ with Drive Architecture™. How long in the making was this development?
RUZICKA:
It has been years in the making. A significant product development like this takes approximately three years. Once you've achieved the top level performance you're looking for, you can create enhancements over a 12 to 18 month cycle. But S Series was actually a three year development for us.

S Series was designed using our evidence-based approach. As we approached the development of this series, we were looking for advancements in many areas, but our theme internally was mainly comfort, clarity, and performance. And we've achieved improvements in these areas, and much more. Drive Architecture provides a number of performance advancements that are targeted to move the state-of-the-art in hearing instruments forward.
SMAKA:
Comfort, clarity, and performance in hearing instruments are important both for the professional and for the wearer. How does the S Series provide these benefits?
RUZICKA:
The S Series is available in the full line of custom instruments, CIC through ITE, as well as a Receiver-in-Canal (RIC) device. As you know, we've had a state-of-the-art feedback canceller, and now we've taken that to a new level with our PureWave Feedback Eliminator. This new system delivers broader bandwidth and eliminates artifact to offer up to 25 dB of added stable gain for the highest broadband gain margin in the industry. And because of that, we've been able to redesign the rules associated with custom devices. If you look at the way traditional custom devices have been produced in the past, it was kind of a cork in the bottle mentality. Because of feedback issues, manufacturers would go through certain processes to ensure a very tight fit. We've now been able to move away from that due to our feedback canceller, so we don't need a tight fit anymore. We can actually size a custom hearing device to better reflect the patient's ear canal. We can also use optimal venting and eliminate occlusion, to achieve a whole new level of comfort, made possible through the enhanced performance of Drive Architecture.
SMAKA:
I would think that would be a benefit in the RIC device also?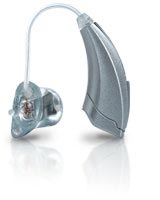 S Series AP
RUZICKA:
Absolutely. Traditionally, as you know, RIC products had to be held back to 40 - 50 dB of gain. With the S Series, however, we have an option available called S Series AP (Absolute Power) that offers between 60 - 71 dB of gain, making it the most powerful RIC on the market today. It's really stunning, as we've been able to take patients who have been wearing large, bulky, 675 devices and moving them into a RIC product for the first time, and they're absolutely delighted.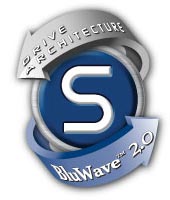 When we talk about benefits with the S Series, it really all comes down to Drive Architecture. With Drive Architecture, we've enhanced the overall platform, so we have more than three times the processing power than we had before to enable high-speed multitasking of signal processing algorithms for better performance. We also have a very powerful integrated circuit, or you could think of it as a very powerful engine. Within the engine, we use a couple of techniques that are rather unique: we have multi-core digital signal processing (DSP) and we have BluWave 2.0. Multi-core DSP means we've got multiple DSP engines working in the background. In order to make everything work in concert, we've enhanced our BluWave operating system. BluWave 2.0 uses a technique called SMT, simultaneous multi-threading, which allows us to access the multi-core processors to process signals and routines in parallel with one another.
We've also really enhanced the intelligence of the devices, so we can tell the difference between different types of incoming sounds and always put the priority on speech. You know, we've done all this and preserved battery life for the patient, as the Drive Architecture itself actually takes less power.
SMAKA:
What does the design of the RIC device look like?
S Series RIC
RUZICKA:
The S Series RIC device uses the highly successful Zon case that we introduced about a year ago. We did not see any reason to change the design as it has been extremely well accepted. What is unique here is that we've been able to change the underlying platform in a relatively short period of time and move this into whole a new range of performance, including power that we've just mentioned.
We have some unique moisture resistant features as well that we call Advanced HydraShield. HydraShield is such a strong water repellent process that you can literally throw the aid in a bucket of water, leave it there for hours, pull it out and it still works. We apply a nanocoating to the device that not only protects it against from water, but it also provides a unique corrosion resistance throughout the life of the device.
SMAKA:
Jerry, does the S Series include integrated real-ear measurements?
RUZICKA:
Yes, in fact, we've expanded upon the Integrated Real Ear Measurement that we initiated in our devices a couple of years ago. With the S Series, the entire product line has live Real Ear Measurement available, which is a patentable process for us.
SMAKA:
What about telephone use - is the S Series compatible?
RUZICKA:
Yes, our Automatic Telephone Solution (ATS) automatically detects the telephone
and adjusts to the optimal acoustic frequency response for telephone use.
And, we've accomplished something else that's totally new with S Series that I am really excited about. We know that there are a number of remote controls for hearing aids out there that are sitting in drawers today. Our industry has been trying to develop accessory devices, remote controls, for years and years but none of them have really been successful or worked well. So we took a unique approach to deliver something that we call the T2 remote. With the T2 , anybody who has a touch-tone telephone now has remote control capability. There are millions of people out there who walk around with cell phones every day, including most if not all people who wear hearing aids. Their cell phones can now be used as a remote control to adjust volume, adjust memory, or power their hearing aids on or off.
The control is with the professional, because through our software, the professional can literally program any key on the telephone to tell the hearing aid to go up in volume or down, or to change the memory setting, as an example. So, that capability will always be there in this product line, and it is up to the professional and patient to decide if they want to take advantage of the feature.
SMAKA:
That kind of seamless integration sounds great! Speaking of software, what is new with Inspire®?
RUZICKA:
Whenever we introduce new product, we look at how to best present its features in the software. And I think what people will experience with this new product is that our software makes the product come to life. The navigation that we've plugged into our new Inspire 2009 software is simply amazing. Professionals are going to quickly become very comfortable with the use of the product. They'll see some new features such as Live 3D Speech Mapping. There's an experience manager, a lifestyle manager, and there are some other features that provide some nice enhancements to the entire fitting process. I talked earlier about S Series with Drive Architecture delivering comfort, clarity and performance. You know, performance starts with the underlying engine, but it is driven by the tools that we give people to use the product. We've done a great job of enhancing this software platform, and we couldn't be happier with the total package offered with this new product series.
SMAKA:
Jerry, I appreciate your time today and we look forward to catching up with you again soon.
RUZICKA:
Thank you, Carolyn.
Starkey S Series with Drive Architecture Online Courses
Starkey offers online courses for professionals on S Series with Drive Architecture, as well as on the latest software, marketing, business solutions and a variety of clinical topics. S Series courses include:
S Series with Drive Architecture
S Series: Ingenuity for Everyone
S Series: Evidence Based Design
All courses are free to view and many are CE-eligible as part of AudiologyOnline CEU Total Access. Visit the
Starkey Web Channel
on AudiologyOnline for a current listing of all courses.
About Starkey Laboratories
Starkey Laboratories, Inc. is a privately held, global hearing technology company headquartered in Eden Prairie, Minn. The company is recognized for its innovative design, development and distribution of comprehensive digital hearing systems. Founded in 1967, Starkey currently employs over 3,500 people, operates 22 facilities and conducts business in more than 100 markets worldwide. Please visit
www.starkeypro.com
for more information.