Sonova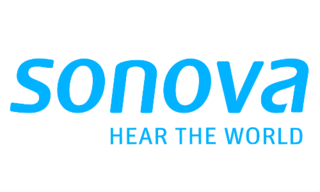 See Sonova Job Listings
Contact Information
Sonova
US HQ
4520 Weaver Parkway
Warrenville, IL 60555
Phone: 630-821-5000
Website:
sonova.com/usa/en-us
---
Sonova
A world where everyone enjoys the delight of hearing and therefore lives a life without limitations
At Sonova, our vision is straightforward. We foster a world in which there is a solution to every hearing loss and all people equally enjoy the delight of hearing. The Sonova Group aims to be the most respected hearing care company in the world and, as such, has a social as well as a business goal: help people hear the world by providing the most innovative technology, service-oriented dedication and by accepting responsibility for all of our actions.
Our Hear the World Foundation contributes to turn our aspirations into reality even for those people who otherwise would be left aside. Its stated mission is to assist in specific ways where people with hearing loss can be helped. To this end, the Foundation involves itself with financial resources, the provision of hearing aids, or the deployment of a team of professionals to provide hearing care services, so that everyone can enjoy a life without limitations.
Today, the Sonova Group is the broadest hearing care provider in the industry. We are committed to offering the most comprehensive range of solutions – from hearing aids to cochlear implants to wireless communications solutions – to treat all major forms of hearing loss.
We are in the favorable position of being able to leverage our global infrastructure, and obtain extensive customer feedback. Our core business brands Phonak, Unitron, Advanced Bionics and Connect Hearing create compelling new products and offer the optimal solution for every user, tailored to the individual's needs and provided by hearing care professionals in a wide range of personalized service channels.
To be recognized as the innovation leader, we are constantly pushing our limits in order to even better serve the specific needs of our customers. Our open-minded, international corporate culture facilitates global synergies. Our well-anchored local service, support and sales presence across the globe as well as our respect and appreciation for local differences are both key to our success.
We strive for highest ethical behavior and unquestionable integrity. These values are at the core of our corporate culture and form an integral part of our endeavor to create sustainable success and value for all our stakeholders.
Contact us today for information on career with Sonova.
---
Read More
Videos
News
Hear the World Foundation: CHF 2.57 Million in Sustainable Aid for People in Need with Hearing Loss
May 22, 2019 Sonova's corporate foundation supported 23 projects worldwide in the financial year 2018/19 Thanks to his new hearing aids, Samuel can finally hear again. His hearing loss was discovered during the Hear the World Foundation's screeni
HearVietnam: Thanks to a CI, Tung Lam has the Chance to Listen and Talk
April 29, 2019 Thanks to a cochlear implant, Tung Lam has the chance to listen and talk
Sandy Brandmeier assumes role of President of Sonova USA
April 4, 2019 Warrenville, USA, - April 4, 2019—Sonova Holding AG, the world's leading provider of hearing solutions, today announced that Sandy Brandmeier has officially taken on the role of President of Hearing Instruments Wholesale for Sonova U
Sonova Investor & Analyst Day 2018: Focus on Strategic Agenda and Latest Innovations
October 19, 2018 Stäfa (Switzerland), October 19, 2018 – Sonova Holding AG, the world's leading provider of hearing solutions, today holds its annual Investor & Analyst Day. Senior management will provide an overview of the strateg
Sonova Films Win Cannes Accolades for Third Year in a Row
October 1, 2018 Sonova Holding AG is once again among the Cannes Corporate Media & TV Awards winners for the film, "Life without limitations – The story of Jason Brügger."
Sonova Shareholders Approve All Motions of the Board of Director
June 12, 2018 The shareholders of Sonova Holding AG approved all motions of the Board of Directors at the Annual General Shareholders' Meeting (AGM)
Sonova's Non-Profit Donated Over 33 Percent More Resources Than in the Previous Year
May 23, 2018 In the financial year 2017/18, Sonova's non-profit donated over 33 percent more resources than in the previous year.
Full-Year Results 2017/18: Sonova Reports Substantial Sales and Earnings Growth
May 22, 2018 Stäfa (Switzerland), May 22, 2018 – Sonova Holding AG, the world's leading provider of hearing solutions, reports a solid financial performance for the 2017/18 financial year, achieving substantial growth in sales and
Circus Artist Supports People Affected by Hearing Loss
May 4, 2018 As an ambassador for Sonova's hearing instrument brand Phonak, Jason Brügger will be actively involved in a range of projects around the globe designed to support people with hearing loss – and this work is deeply personal for the talented circus artist.
Sonova Showcases Expanded Product Portfolio at AAA 2018
April 12, 2018 Stäfa (Switzerland), April 12, 2018 – Sonova Holding AG, the world's leading provider of hearing solutions, will present its latest innovations at the upcoming conference of the American Academy of Audiology (AAA). The Grou
Pro Soccer Player with Hearing Loss Supports Project Work in Malawi
January 12, 2018 Stäfa (Switzerland), January 10, 2018 – Sonova Holding AG, the world's leading provider of hearing solutions, has invited German Bundesliga youth team player and Sonova brand ambassador Simon Ollert to visit the Hear the World Foundation's aid project in Malawi.
Advanced Bionics Sound Processors to Become Bluetooth Compatible with any Cell Phone* or TV, Based on Revolutionary New Chip Technology from Sonova
December 24, 2017 Advanced Bionics, the performance leader in cochlear implants, announces that they will incorporate Sonova's revolutionary SWORD(TM) (Sonova Wireless One Radio Digital) chip and wireless radio technology into their portfolio of solutions.
Career Center