Introduction
ESCO Financial and Phonak Hearing Systems recently announced a collaborative project to make high quality hearing instruments and related services accessible and affordable for everyone. The new financing and hearing aid leasing programs were released at this year's AAA Convention in Salt Lake City, in April, 2004. While the AAA convention focused on cutting edge technology from the industry's leading manufacturers, the ESCO-Phonak leasing and purchasing programs were very popular with convention attendees.
ESCO is the industry's largest independent provider of extended warranties. ESCO also provides practice-building products and complete, competitively priced, patient financial services. Phonak specializes in technologically advanced hearing systems designed to improve the quality of life for people with hearing impairment. Dr. Charles Stone, CEO of ESCO, said "We're excited to release this new program and we're excited to work with Phonak to provide alternative programs which provide high quality hearing instruments through affordable payment options." "No one should be denied quality hearing health care or products due to budget constraints." said Cathy Jones, President of Phonak. "We're pleased to be working with ESCO to make high performance hearing instruments available to a broader range of consumers."
The new collaborative program provides two financing options;a lease plan designed to make high quality hearing aids affordable through low monthly payments, and a 6-month interest-free program.
Personal, Digital, Programmable units, $29.99/month:
To initiate and introduce these new programs, ESCO is offering the Phonak MAXX 100% digital mini-BTE. The MAXX features six channel digital signal processing, digital noise cancellation and digital wide dynamic range compression. The MAXX 211 BTE is fully compatible with all Phonak FM products and comes in a sleek BTE design. To acquire the MAXX using the lease payment plan, patients pay a monthly fee of $29.99 per instrument. This fee includes a 3-year loss, damage and repair warranty and a free earmold.* Upon conclusion of the three year lease period, patients may elect to upgrade into newer technology, or they may purchase the hearing aid for an additional $203.30 per instrument.
"We're very excited to have Phonak sponsoring an affordable and revolutionary leasing program. This program is totally focused on the patient," said Charlie Stone, Au.D. and CEO of ESCO. "ESCO has always been about what is best for the patient with our loss and damage programs, and this Phonak initiative is a natural fit to our business philosophy of providing high quality products and services at affordable, and in this case - inexpensive, pricing."
The MAXX Lease is the first in a series of Phonak sponsored programs that will include different models and levels of digital technology. "We're looking forward to introducing several of our products with the lease program, at various payment levels to give patients a wider selection of options of high quality hearing aids at affordable financing rates", said Cathy Jones, President of Phonak Hearing Systems.
Lend-An-Ear:
In addition to the MAXX Lease, ESCO's "Lend-An-Ear" revolving credit line offers an alternative for patients when a cash payment is not an option. Any Phonak hearing instrument financed using the Lend-An-Ear credit card will be 6 months interest free, as long as the minimum monthly payment is made.
The "Lend-An-Ear" program serves as an excellent promotional tool and can be included with other advertising programs. Several ad slicks and other marketing materials are available through ESCO's marketing department.
ACCESS to Better Hearing:
ESCO also introduced the ACCESS to Hearing Healthcare Software in Salt Lake City. ACCESS is a software program designed to assist professionals in presenting technology and payment options, as well as managing their product pricelists.
All major hearing aid manufacturers' product lines are listed within the software, as well as several of the smaller manufacturers. ACCESS provides
the professional a unique method of presenting products, prices and payment options.
Addressing financing issues during the hearing aid consultation can be cumbersome and uncomfortable. Having options and comparisons available on the computer screen in front of the patient, or as a print out, allows and encourages the patient and the professional to address financing, warranty, monthly payments and related issues.
ACCESS Software is intuitive, and setting up pricing for all of your products is easy. Updating the pricelist can be done at anytime within the ACCESS system set up. You have the option of modifying all of your prices by a percentage amount or a whole dollar amount. The software allows you to increase (or decrease) the price of products from one manufacturer, one particular line of products, or one product at a time.
ACCESS Software allows the professional to recommend several technological solutions for their patient's needs, and they can all be displayed with pricing, finance and lease options. ACCESS saves time and energy, while assisting the professional with patient counseling and providing an effective sales presentation.
As illustrated (below), the hearing aid manufacturer, model and style, selected by the professional, can be presented with financing options for easy analysis and consideration by the patient. By selecting "Display Options" the recommendations show up on the following screen with the retail price, the monthly Lend-An-Ear credit card option and the leasing payment option.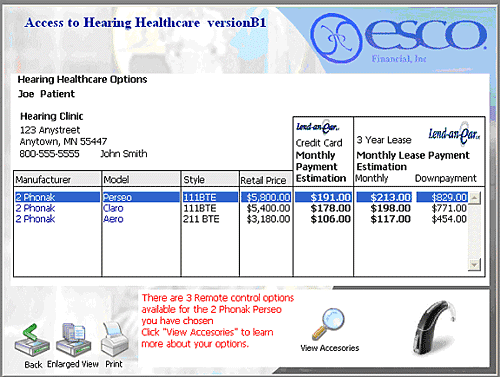 Displaying "options" and/or "accessories" on the screen allows the patient and their family members to understand and ask questions about their purchase. Often, even if the patient you are working with intends to pay using cash, they may know a relative, family member or friend who needs financing options, and seeing that these options are available may initiate additional referrals to your office.
If the patient decides they need to think about their preferences, or discuss options with family members, a printable version of the "Options Page" can be given to them to take home and a copy can be made for the patient's chart to easily keep track of what recommendations and pricing options were made. The print-out includes your logo (if you choose to include one), the name of your office/clinic and contact information.
Complete Financing Tool Kit:
Financial considerations are not trivial. Professional presentations which include financial options help to bridge the gap between need and acquisition and allow the professional to address the changing demographics and challenging financial issues we all deal with on a day-to-day basis.
Accessibility to high quality hearing aids through low monthly payments will increase market penetration and access to hearing aid amplification for those in need.
To get stared with the Phonak sponsored lease and financing program, an account with Phonak is required, there are no monthly or set-up fees associated with the program. ACCESS software is free for all of ESCO's accounts using their financing or loss and damage programs. For more information about the Phonak sponsored lease and financing deals, or to get a copy of the ACCESS software, contact ESCO Financial at 800-992-3726.
* Earmold provided by Earmold Design, contact ESCO or Phonak for details.
To visit the ESCO website,
CLICK HERE
.
To visit the PHONAK website,
CLICK HERE
.