Videos
Watch the latest videos featuring new technologies and initiatives in the hearing care industry.
December 1, 2023
Starkey is the hearing technology company built for the future. By continuously pushing the edge of what's possible, we will always be 10 years ahead—with groundbreaking innovations, award-winning products and service, and caring technology that make us the best hearing manufacturer to partner with.
Watch Video
July 5, 2022
There is a crisis in audiology: not enough providers are available to meet the demand for hearing healthcare. This patient-provider gap is increasing at a staggering pace. Learn from two of the top key opinion leaders in the field of audiology, Dr. James W. Hall III and Dr. Robert Margolis. Hear how they believe automation is one key solution to combat this critical demand for audiology services around the world.
Watch Video
---
November 9, 2023
EarWay® Pro device is designed with a flexible helical tip, for easy navigation in the ear canal. This single-use product is rotated inward into the ear, collecting the cerumen, and extracting it from the ear canal as a single cluster. Visit our Website: www.earwaysmedical.com.
Watch Video
---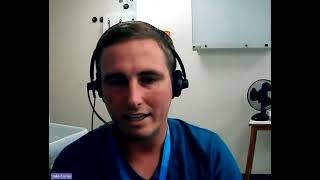 November 9, 2023
Dispelling Common Myths: EarWay® Pro's True Potential for Earwax Removal"Do you believe the misconception that EarWay® Pro can only tackle soft, muddy earwax? Our customers have a different story to tell, based on their real clinic experiences. In fact, they've discovered that the firmer the wax, the better the results. When the earwax is stubbornly hard and compacted, a quick softening with our recommended oil spray, followed by a gentle procedure with the EarWay® Pro, works like a charm. Surprised? You shouldn't be! Watch our video to learn more about the EarWay® Pro's capabilities and how to integrate it into your clinic for top-notch hearing care.
Watch Video
November 9, 2023
EarWay® Pro earwax management hands-on workshop held at BAA Conference in Manchester, October 13th 2022. Chris Cartwright in a master class has demonstrated how to use and integrate the EarWay® Pro in clinic. For further information: contact@earwaysmedical.com www.earwaysmedical.com
Watch Video
---
November 1, 2023
How can you leverage the research of ACHIEVE and ENHANCE to expand patient conversations beyond "Can you hear this or that"? Discover resources on how to better integrate the topic of cognitive health into discussions with patients. Plus, learn how Phonak is Going Beyond with hearing aids as part of our mission to support Sound Minds through hearing care. For more information, visit
https://bit.ly/3tUyonr.
Watch Video
October 10, 2023
Next-era hearing is...ReSound NexiaTM. Whether you've worn hearing aids before or this is your first time, our advanced technology and latest design make hearing easier than ever – it feels almost like not wearing hearing aids at all. Noisy situations? No problem! Re-join conversations. Jump back into socializing. And… discover your world of sound. Why wait? Disccover ReSound Nexia now.
Watch Video
---
October 9, 2023
Smaller than ever. Uncompromised. And… top-rated for hearing in noise. Enjoying conversations can be difficult when everyday life is filled with noise. ReSound NexiaTM starts a new era for hearing technology, combining proven performance with cutting-edge features that revolutionize the way we experience sound. All, so you can feel confident socializing. Why wait? Discover ReSound Nexia now. Learn more at:
https://www.resound.com/en-us/hearing-aids/resound-hearing-aids/resound-nexia
.
Watch Video
October 8, 2023
Welcome to the next era of hearing, where you can hear your best even during noisy family TV time. The TV-Streamer+, supporting Bluetooth® Auracast™, lets you stream high quality TV sound with speech clarity directly to your ReSound Nexia hearing aids at the volume you prefer. If there are multiple users with compatible hearing aids and smartphones in the room, enjoy sound together by each easily connecting to the TV-Streamer+. Now everyone in the family can hear clearly at the volume they prefer bringing harmony to family TV time! Why wait? Disccover ReSound Nexia now. Learn more at:
https://www.resound.com/en-us/hearing-aids/resound-hearing-aids/resound-nexia
.
Watch Video
---
October 6, 2023
A new era in hearing technology has just started. A new era that will enhance your hearing in situations that perhaps you never imagined. ReSound Nexia is the first hearing aid from ReSound that works with Auracast™, the next generation of Bluetooth® that is going to make the world more hearing friendly and accessible for everyone.Learn more at:
www.resound.com
.
Watch Video
---
October 5, 2023
Hearing in noise is by far the biggest challenge of people with hearing loss. This is where ReSound Nexia™ makes a difference. Discover ReSound Nexia now. Learn more at:
https://www.resound.com/en-us/
.
Watch Video
October 4, 2023
According to Google, invisible hearing aids is the most searched combination by people looking for hearing solutions. This is where ReSound Nexia™ makes a difference. All the best from ReSound technology to help you hear your best in noise, in a new design ready for the future. And guess what? It's also the smallest hearing aid we have ever made.Learn more at:
https://www.resound.com
.
Watch Video
---
October 1, 2023
At Phonak, we look to Going Beyond the status quo -- what everyone else is doing – and going beyond hearing care professionals' expectations. Hear how we have been investing in two areas – Quality and Expertise -- so that we can help support the businesses of our customers who partner with us so they can excel. For more information on our Going Beyond With Phonak program, visit
https://bit.ly/3RwfgpC
.
Watch Video
September 1, 2023
The pace of innovation never slows or stops. At Phonak, we take great pride in knowing that our innovations focus on the needs of those with hearing loss. Discover the latest additions to the Phonak Lumity platform and learn what steps you can take to offer these hearing aids to your patients who would benefit from them. For more information, visit
www.Phonak.com
.
Watch Video
---
August 1, 2023
Hear Samira's story: How her son and hearing provider used financing to help her hear again.
Watch Video
August 1, 2023
New bilateral Ponto wearer John Talbott is amazed at being able to hear so many sounds he hasn't heard in years. He shares how his bone anchored hearing system has made him feel hopeful again.
Watch Video
---
July 1, 2023
See how Dr. Jenny Nordberg uses the GSI AudioStar Pro in her clinic. The AudioStar Pro provides efficient, familiar, and customizable usability in a clinical 2 channel audiometer. The AudioStar Pro is versatile to take on endless testing features for comprehensive audiometric test evaluations. Learn more: https://www.grason-stadler.com/products/audiometers/gsi-audiostar-pro.
Watch Video
June 1, 2023
Our revolutionary Starkey Neuro Processor is the most advanced processor technology in the industry — enabling faster environmental identification, 80 million automatic adjustments every hour, and unprecedented improvements in sound quality.
Watch Video
---