Signia
Contact Information
Signia
10 Constitution Avenue
Piscataway, NJ 08854
Phone: 1-800-766-4500
Website:
pro.signiausa.com
---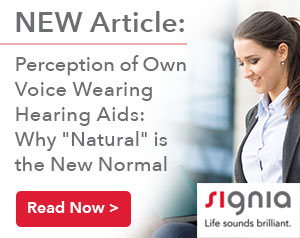 Signia
Life sounds brilliant.
Signia is one of the world's top hearing aid brands and a leading supplier of first-class accessories, fitting software, and diagnostic workflow solutions. Signia hearing aids represent a proud history of quality and innovation while inventing the future of better hearing. Signia builds on Siemens' heritage of innovation to create a more emotional and agile brand dedicated to improving the lives of people with hearing loss.
---
Read More
Videos
News
Pure Charge&Go X, the Newest Hearing Aid from Signia
November 13, 2019 Two former football pros hear what matters most with Pure Charge&Go X, the newest hearing aid from SigniaThe new Pure Charge&Go X is the only rechargeable hearing aid with acoustic-motion sensors to deliver better hearing from any direction,
Signia Introduces Breakthrough Hearing Aid Platform
September 17, 2019 Signia announces newest hearing aid platform, the Signia Xperience.
Sivantos Reports Progress on Sustainability as Member of UN Global Compact
May 28, 2019 Sivantos' sustainability efforts as a member of the UN Global Compact – a worldwide pact for businesses to adopt sustainable and socially responsible policies.
Signia Offers Free Hearing Screenings Nationwide in Support of Better Hearing Month
April 23, 2019 To support Better Hearing Month this May, Signia is presenting our 'Hear Across America' initiative. Signia is inviting hearing care professionals around the country to host free screening events at their practices to help raise awareness about hearing loss.
Signia's Styletto Connect Hearing Aids Win Red Dot Product Design Award
April 5, 2019 Following Signia's recent iF Gold Award for Product Design, the Styletto Connect also just won the Red Dot Product Design Award. The Award jury noted how Styletto Connect "encourages wearer acceptance to a high degree."
Signia's Styletto Wins iF Gold Design Award
March 20, 2019 Signia's Styletto hearing aid recently won the iF Gold Award for product design, one of the most prestigious design recognitions.
Hearing Industry Veteran Brian Taylor, AuD, Joins Signia as Director, Scientific & Product Marketing
March 7, 2019 Brian Taylor, AuD, joins Signia as Director, Scientific & Product Marketing.
Sivantos and Widex Successfully Complete Merger: New Company to Operate as WS Audiology
March 1, 2019 The successful merger between two leading hearing aid companies has created a strong player with combined revenues of more than EUR 1.7 billion, over 10,000 employees and one of the strongest R&D teams in the industry. WS Audiology is driven by a passion to improve the quality of life for more than 700 million people with hearing needs.
Sivantos Launches Styletto Connect
March 1, 2019 Built upon Signia's revolutionary SLIM-RIC form factor and Signia Nx technology platform, Styletto Connect combines exceptional design with high-quality connectivity to the wearer's smartphone to stream calls, music and TV via Bluetooth, plus fully portable rechargeability.
Proposed Merger Between Widex and Sivantos Receives Final Clearance from European Commission
February 14, 2019 The European Commission has approved, under the EU Merger Regulation, the merger between Sivantos Pte. Ltd. ("Sivantos"), owned by EQT funds, and Widex A/S ("Widex"), owned by T&W Medical A/S.
Sivantos and Widex Merge to Create Global Hearing Aid Leader
May 16, 2018 EQT funds, owners of Sivantos Pte. Ltd. ("Sivantos"), and the Tøpholm and Westermann families, owners of Widex A/S ("Widex"), today announced that they have agreed terms to merge the two companies.
Signia Silk Nx Hearing Aids Deliver Instant Fit, High Discretion, and Most Natural Sound Quality
April 19, 2018 Audiology technology leader Signia today announced its latest innovation, the new Silk Nx hearing aids.
Sivantos and TruHearing Enter into Strategic Partnership to Improve Access to Hearing Care
April 6, 2018 Audiology technology leader Sivantos USA today announced that it plans to enter into a strategic partnership with TruHearing, a leading hearing healthcare benefits solution provider. The transaction is subject to standard regulatory approvals and the financial details will remain confidential.
Sivantos Group Hosts Annual Erlangen Colloquium
March 26, 2018 Sivantos Group hosts the 45th annual Erlangen Colloquium, a meeting of hearing healthcare-focused scientists and developers, to share research and big picture issues in the field of hearing sciences.
Signia Launches "It's Your Choice" Video Series to Show the Realities of Hearing Loss
March 12, 2018 Signia today announced the premier of It's Your Choice—a new video series debuting on YouTube highlighting three individuals with hearing loss and their path to better hearing.
Signia Pure Charge&Go Nx Hearing Aids Offer Convenience, Connectivity, and the Most Natural Sound Quality
March 2, 2018 Signia Pure Charge&Go Nx Hearing Aids Offer Convenience, Connectivity, and the Most Natural Sound Quality. Today's hearing aid wearers want it all—convenience, discretion, and crystal-clear sound. The new Signia hearing aid Pure Charge&Go delivers on each of these consumer demands as it is the first-ever Bluetooth®* enabled, rechargeable hearing aid that provides a natural sounding own voice.
Signia Nx Delivers World's First Natural Own Voice Solution to Raise Hearing Aid Acceptance
October 19, 2017 Audiology technology leader Sivantos today unveiled the solution to one of the major challenges in the hearing aid industry, the own voice issue. All hearing aid users experience a change in the sound of their own voice.
Signia Hosts No Child Hungry Event
October 17, 2017 Sivantos, the manufacturer of Signia brand hearing aids, recently held its annual US Signia National Sales Meeting in Short Hills, New Jersey. This year's weeklong training event included a philanthropic opportunity for the sales and other customer-facing departments, with approximately 110 employees working along with about 20 customers to assemble 35,000 meals for hungry children suffering in the aftermath of Hurricane Irma and Hurricane Maria in Puerto Rico.
Signia Hosts International Symposium and Philanthropic Event
September 23, 2017 Sivantos, the manufacturer of Signia brand hearing aids, recently hosted its 18th annual International Symposium in Rio de Janeiro, Brazil. This year's event included a philanthropic event as well as educational sessions.
Signia's Widely-Accepted Primax Star Hearing Aid Platform Expanding To Enable Broader Patient Access
July 7, 2017 This summer Signia is excited to bring primax™ star technology to the essential level offering key industry-leading audiological benefits with remote control options, wireless connectivity, and TeleCare™ 2.0 for the best value in this segment.
Articles
Dynamic Soundscape Processing: Research Supporting Patient Benefit
December 16, 2019 Matthias Froehlich, PhD, Katja Freels, Dipl.Ing., Eric Branda, AuD, PhD This paper reviews three different studies conducted with the Signia Xperience hearing aids. Research reviewed for laboratory studies of speech understanding and listening effort, comparative speech-in-noise testing, and real-world EMA assessment of patient benefit and satisfaction.
Implementation of TeleCare for New Hearing Aid Users with Mild Dementia
September 23, 2019 Lindsey E. Jorgensen, AuD, PhD, Taylor Van Gerpen, BS, Thomas A. Powers, PhD, Louis Richter, PhD This course reports on research which has studied the feasibility of using hearing-aid-assisted TeleCare for follow-up assistance for new hearing aid users who have mild cognitive impairment.
Signia Expert Series: Competing in Today's Disruptive Audiological Environment
August 19, 2019 Amyn Amlani, PhD Hearing healthcare is evolving at a rapid rate. Origins of this evolution stem, in part, from the recent proliferation of disruptive innovations (e.g., OTCs/PSAPs, pharmaceuticals), along with changes in population dynamics. This course provides participants with evidence and hands-on tools that promote opportunities for increased audiology awareness, and increased adoption of services and technologies in this changing market landscape.
Why Open Hearing Aid Fittings are Often Not the Best Choice for the Patient
May 6, 2019 Matthias Froehlich, PhD, Ulrich Giese, PhD, Thomas A. Powers, PhD This course reviews the pros and cons of open-canal versus occluding ear-coupling systems for hearing aids, and presents comparative data of three different options. Data was collected for both laboratory testing and real-world judgments.
Signia TeleCare Facilitates Improvements in Hearing Aid Fitting Outcomes
January 4, 2019 Matthias Froehlich, PhD, Eric Branda, AuD, PhD, Dirk Apel, BA This course describes the advantages of using Signia TeleCare 3.0 for both patients and professionals. It also describes a clinical study which validates TeleCare benefits for patients.
Software-Based Hearing Profile Improves Hearing Aid Fitting Process
September 10, 2018 Rosa-Linde Fischer, PhD, Maren Schuelke, BSc, Ronny Hannemann, PhD, Maja Serman, PhD The course addresses the applicability of a software-based fitting assistant (Connexx Hearing Profile) in the daily fitting routine and outlines the benefits for the hearing care professional as well as the patient. The results of a multinational field study including the view of the hearing care professionals and their patients are reflected and discussed.
Perception of Own Voice Wearing Hearing Aids: Why "Natural" is the New Normal
April 30, 2018 Matthias Froehlich, PhD, Thomas A. Powers, PhD, Eric Branda, AuD, PhD, Jennifer Weber, AuD, CCC-A This text-based course reviews the common issue of hearing aid wearers perceiving their own voice as unnatural when wearing hearing aids. Findings from a recent study evaluating a new algorithm to address this issue available in Signia Nx hearing aids, Own Voice Processing (OVP), are discussed.
Signia Expert Series: Over-the-Counter Hearing Aids - Opportunity or Disaster?
January 22, 2018 Catherine Palmer, PhD The current state of regulations is reviewed to put the OTC (over-the-counter) hearing aid conversation in context. The possible impact of OTCs on consumers and audiologists as well as how OTCs could enhance an audiology practice is discussed.
Signia Expert Series: Hearing Aid Speech Mapping Verification - Some Explanations for Puzzling Outcomes
January 4, 2018 H. Gustav Mueller, PhD Speech mapping has become a routine method to verify prescriptive fittings. Sometimes, however, things just don't look right, and we wonder if the problem is the equipment, the hearing aid, the patient, or that we are doing something wrong. This course takes a look at some of these unusual findings to determine the culprit for more efficient and successful fittings.
Sound Quality as the Key to User Acceptance
November 27, 2017 Matthias Froehlich, PhD, Thomas A. Powers, PhD Sound quality and speech recognition benefit are important to the long term benefit and use of hearing aids. This article examines key features of hearing aid signal processing that contribute to sound quality, as well as studies of sound quality with Signia Nx.
Comparison of Music Sound Quality Between Hearing Aids and Music Programs
August 17, 2017 Jonathan Vaisberg, PhD/MClSc Candidate, Paula Folkeard, AuD, Vijay Parsa, PhD, Ewan Macpherson, PhD, Matthias Froehlich, PhD, Veronika Littmann, PhD, Susan Scollie, PhD While hearing aid users often wear their hearing aids for music listening, they are frequently dissatisfied with the sound quality of music. This articles describes a study of music sound quality ratings between the universal and music programs of five premiere market hearing aids.
Moving Beyond the Audiogram Towards a Patient-Centered, Interactive First Fit
July 17, 2017 Maja Serman, PhD, Rosa-Linde Fischer, PhD, Rebecca Herbig, AuD, Ronny Hannemann, PhD This article describes the development, implementation and verification of the Hearing Profile in Connexx hearing aid fitting software that is based on objective and subjective hearing related factors in addition to the audiogram.
Helping Your Patients with Tinnitus: Signia Tinnitus Therapy Feature
November 7, 2016 Leanne Powers, AuD, Jennifer Gehlen, AuD First, we're going to take you through the epidemiology and mechanisms of tinnitus. Then, we will explain how to adjust the Signia tinnitus therapy feature for your patients. This may be review for many of you, but we think it's important that we are all on the same page with regard to our tinnitus patients.
Hearing Aid Batteries: The Past, Present, and Future
October 19, 2016 Heike Heuermann, PhD, Rebecca Herbig, AuD Modern digital hearing aids offer a huge variety of form factors, features, and wireless connectivity options that allow for individual hearing solutions. However, the price of functions like situation-based real-time processing, binaural algorithms, or streaming is an increased demand on battery performance. So far, the topic of efficient powering has received only scant attention, but this may change soon due to the many good reasons for using rechargeable batteries.
Notch Therapy: A New Approach to Tinnitus Treatment
October 13, 2016 Leanne Powers, AuD, Gisele Munhoes dos Santos, PhD, Catherine Jons, AuD Tinnitus affects a staggering number of individuals. Population studies conducted in six different countries reported the incidence of prolonged tinnitus varying between 4.4 and 15.1 percent for adults. One study reported 2.4 percent of the population responded "yes" to the description of tinnitus as "tinnitus plagues me all day" (Moller, 2011).Tinnitus not only causes a decreased quality of life for some individuals, but is also a health issue with an economic impact (Wunderlich et al., 2015). In the U.S., tinnitus is the most common service-related injury (Department of Defense Centers for Hearing Excellence Statistical Data, 2016) affecting more than 800,000 US veterans (U.S. Department of Affairs, 2016). With such a prevalent epidemiology, it is not surprising that many hearing instrument manufacturers have added tinnitus treatment options.
Signia Expert Series: Speech-in-Noise Testing for Selection and Fitting of Hearing Aids: Worth the Effort?
September 30, 2016 H. Gustav Mueller, PhD In 2010, I conducted a survey at two audiology professional meetings, of 107 audiologists who routinely fit hearing aids. The purpose of the survey was to look at audiologists' use of speech-in-noise testing in their clinical practice. This survey was given after I had conducted a talk on different speech-in-noise tests, so everyone who took the survey was familiar with the speech-in-noise tests that were listed in the survey.
Reducing Listening Effort via primax Hearing Technology
June 9, 2016 Rebecca Herbig, AuD, Matthias Froehlich, PhD When listening situations become noisier or more challenging, this is even more important. However, beyond improving speech intelligibility, another indicator of the effectiveness of hearing aid fittings that has sometimes been overlooked is the cognitive demands, or listening effort required for speech understanding to take place. This is why it is important to not only improve speech understanding, but also make speech understanding easy. This is the underlying goal of the new Signia primax™ platform ― to improve speech intelligibility and reduce listening effort for the wearer.
Hearing Aid Selection and Fitting Tips Gleaned from Recent Research
May 23, 2016 H. Gustav Mueller, PhD The first thing I would like to talk about is the Acceptable Noise Level (ANL) test that was developed at the University of Tennessee, based on the research of Anna Nabelek dating back to 1991. For those of you who are not familiar with this test, here is a quick review of how it works: The test usually is conducted bilaterally in the sound field, not under earphones. You first determine the patient's most comfortable listening level (MCL) for continuous discourse. The standard material is a travelogue about Arizona. It's a loudness task, not a speech recognition task, so the actual speech material doesn't matter too much.
Music Lovers and Hearing Aids
February 26, 2016 Gyorgy Varallyay, PhD, Soren Vase Legarth, M.Sc.E.E., Tish Ramirez, AuD Some people cannot imagine life without music - it relaxes, inspires, and for many, completes their lives. Music has a different meaning for each person, and there are individual preferences, but most would agree that music listening should be enjoyable. This seemingly simple task easily can be undermined when hearing loss is present, as listening to just a limited part of the dynamics, or a reduced frequency range of our favorite music could significantly reduce the enjoyment of the experience. Moreover, in several cases, this problem cannot be fixed with modern hearing aids.
New Wireless, Binaural Processing Reduces Problems Associated with Wind Noise in Hearing Aids
October 12, 2015 Katja Freels, Dipl.Ing., Claudia Pischel, MSc, Cecil Wilson, MSc, Tish Ramirez, AuD With today's hearing aid technology, we have become accustomed to providing significant aided benefit for our patients in a variety of listening conditions. Speech recognition in both quiet and in background noise is improved. Most patients have improved sound quality and spatial localization. Research also has shown that listening effort and fatigue is reduced when hearing aids are used. A lot of good things are happening. But what about listening outdoors when the wind is blowing? Paradoxically, this isn't a complaint you typically hear from patients before they start wearing hearing aids, but do you hear about it after they start using amplification? Much too often.
Ask the Expert
Speech Mapping Puzzling Outcomes: What SII Should I Expect With a Good Match to Target?
May 14, 2018 H. Gustav Mueller, PhD I often note that when I am conducting speech-mapping verification, and I have a good fit to NAL-NL2 target for the 65-dB input signal, the aided Speech Intelligibility Index (SII) is only around .70 - shouldn't it be much higher?
Speech Mapping Puzzling Results: Why Doesn't the Real Ear Aided Response Change When I Lower Gain?
March 19, 2018 H. Gustav Mueller, PhD Sometimes when I'm doing speech mapping, I have too much gain in the lower-to-mid frequencies. I then lower gain to the minimum in the hearing aid fitting software, yet little or nothing happens with the real ear aided response (REAR). Why?
Speech Mapping Puzzling Results: Why Doesn't Real Ear Aided Response Increase When I Increase Gain?
January 10, 2018 H. Gustav Mueller, PhD There are times during speech-mapping hearing aid verification, when I need a bit more gain to match target, I increase gain in the hearing aid fitting software in the higher frequencies, but I don't see any increase in the real ear aided response output. What's going on?
Is Speech-in-Noise Testing Worth the Effort?
October 10, 2016 H. Gustav Mueller, PhD I fit a lot of hearing aids in my practice and am always looking for ways to improve my game. Is adding speech-in-noise testing worth the effort, and if so, what will I gain from adding it to my clinical protocol?
Are CROS/BiCROS Options Available with the New Signia primax Hearing Aids?
August 15, 2016 Alina Urdaneta Are CROS/BiCROS options available with the new Signia primax hearing instruments?
Would You Provide an Overview of the Signia primax Hearing Aid Family?
June 20, 2016 Alina Urdaneta Would you provide an overview of the Signia primax hearing aid family?
Can You Tell Me About the New Signia Brand of Premium Hearing Instruments?
April 5, 2016 Alina Urdaneta Can you tell me about the new Signia brand of premium hearing instruments?
Fitting Bilaterally: One at a Time or Two at Once?
November 30, 2015 H. Gustav Mueller, PhD For patients who are hesitant about wearing two hearing aids, does it matter if I fit one hearing aid to start and then add the second hearing aid at a later time, or is it better to start with two even if they are a bit reluctant?
Isn't First Fit Acceptable?
October 26, 2015 H. Gustav Mueller, PhD If a manufacturer shows a match to NAL on the fitting screen, can I be fairly confident that there will be match to prescriptive targets in the real ear?
What is the Impact of the Sivantos Strategic Partnership with audibene?
August 24, 2015 Alina Urdaneta Sivantos recently announced a strategic partnership and investment agreement with audibene. How might this impact hearing care professionals in the US?
How Does the Performance of Personal Sound Amplification Products (PSAP) Compare to Hearing Aids?
August 10, 2015 H. Gustav Mueller, PhD Has anyone ever looked at testing the performance of personal sound amplification products (PSAPs) that you purchase online or at retail stores, versus hearing aids?
How Does OneMic Directionality in Siemens binax Instruments Work?
June 29, 2015 Eric Branda, AuD The Siemens binax platform features binaural OneMic directionality. How exactly does that work?
What Products are Available on the Siemens binax Platform?
January 26, 2015 Eric Branda, AuD What products are available on the Siemens binax platform?
How Does Narrow Directionality in Siemens binax Hearing Instruments Help Wearers Hear in Noise?
December 8, 2014 Eric Branda, AuD What features of Siemens binax enabled people wearing them to outperform people with normal hearing in recent studies?
When Should I Use Trainable Hearing Aids with My Patients?
October 7, 2013 Carol Meyers, AuD Can you give me an example of how you might implement the automatic acclimatization feature for a hearing aid patient?
Survey Pinpoints Major Hearing-Aid User Concerns
November 21, 2011 Alina Urdaneta Many of my adult patients tell me they don't wear their hearing aids regularly because they "get in the way" or they don't want to risk damaging them during their normal daily activities. Is this a common complaint across the industry, and if so, what can I do to increase patient compliance and satisfaction?
Waterproof Hearing Aids: Too Good to be True?
October 3, 2011 Eric Branda, MS, CCC-A I have seen the term "water-resistant" used for hearing aids and even for submergible cochlear implant processors. Are there any hearing aids that are waterproof?
Hearing Aids and Airport Security
December 13, 2010 Gus Hernandez, MA, FAAA I think I've seen hearing aid user manuals mention not sending hearing aids through the airport x-ray machine, I assume to prevent damage to the microchip. Do they contain enough metal to set off the metal detectors, potentially subjecting wearers to scans and pat-downs? What is the best advice for hearing aid wearers going through security?
Is Feedback Optimization Always Necessary?
December 21, 2009 Gus Hernandez, MA, FAAA When fitting open canal or Receiver-In-Canal (RIC) hearing aids, we see a large reduction in high frequency gain in comparison with other aids after running feedback optimization. This is seen even if the aid is fit well and no feedback was observed prior to the optimization. Is it necessary to run feedback optimization in all hearing aids, even when the aids are suitably fitted, as this often means a reduction in the headroom!?
Wireless FM Systems for Improving Understanding in Noise
February 19, 2007 Gus Hernandez, MA, FAAA I have been informed that a wireless receiver might be useful to increase speech recognition. I have a pair of Siemens Triano hearing aids. Is there a wireless receiver that I can purchase for these hearing aids?
Interviews
Signia's Styletto Connect: A Revolution in Style, Streaming and Charging-On-The-Go
June 10, 2019 Eric Branda, AuD, PhD Interview with Eric Branda, AuD, PhD, regarding Signia's newest product launch of Styletto Connect.
Signia Launches Industry-First Slim-RIC Proven to Attract New Patients
August 27, 2018 Eric Timm Interview with Eric Timm, Chief Operating Officer regarding Signia's newest product launch of Slim-RIC.
Signia Launches Discreet Hearing Aid Styles on Nx Platform, Including the World's First CIC CROS Device
April 18, 2018 Pamela Burton, AuD Interview with Pamela Burton, AuD, Vice President of Product Management and Customer Care, Signia regarding their newest product launch.
Pure Charge&Go Nx: Newest Signia Hearing Aids Offer Convenience, Connectivity, and Sound Quality
March 1, 2018 Pamela Burton, AuD Interview with Pamela Burton, AuD, Vice President of Product Management and Customer Care, Signia regarding their Spring 2018 product launch.
Replicating Nature - Signia Nx with Own Voice Processing (OVP) for the Most Natural Own Voice and Highest Acceptance
October 18, 2017 Pam Burton, AuD Interview with Pamela Burton, AuD, Vice President of Product Management and Customer Care, Signia
Signia Introduces Made for iPhone Hearing Aid with High-Definition Binaural Hearing
March 24, 2017 Alina Urdaneta Interview with Alina Urdaneta, Vice President Marketing and Education, Signia
Signia Extends primax Platform, Introduces New Telehealth Tool Called TeleCare
November 7, 2016 Alina Urdaneta Interview with Alina Urdaneta, Vice President Marketing & Education, Signia
Signia Introduces New Hearing Aids on the primax Platform
April 18, 2016 Alina Urdaneta Interview with Alina Urdaneta, Vice President, Marketing & Education at Signia.
Sivantos Introduces Premium Hearing Aid Brand Signia
February 15, 2016 Alina Urdaneta Q & A with Alina Urdaneta, Vice President of Marketing and Education, Sivantos, Inc.
Expanded Siemens Smart Hearing Aid Portfolio Features smartHearing Technology, Power Custom Instruments, and New Essentials Line
November 9, 2015 Eric Branda, AuD, PhD Interview with Eric Branda, AuD, Senior Manager, Product Management, Sivantos
Sivantos Survey: Seniors Are in Denial About Hearing Loss
September 28, 2015 Debra Ludgate Interview with Debra Ludgate, Director, Marketing Communications, Sivantos, Inc.
Sivantos Update: audibene, New binax Updates and More
April 13, 2015 Alina Urdaneta, Eric Branda, AuD Interview with Alina Urdaneta and Eric Branda, Sivantos
Siemens Introduces binax, the Next Generation of BestSound Technology
November 24, 2014 Alina Urdaneta, Eric Branda, AuD Interview with Alina Urdaneta, Vice President, Marketing & Learning, and Eric Branda, AuD, Senior Manager, Product Management
Siemens Survey on Teens' Listening Behaviors
October 20, 2014 Donna Grant, AuD Interview with Donna Grant, AuD
New Products and Programs from Siemens to Improve Patient Care and Grow Your Practice
April 21, 2014 Alina Urdaneta, Eric Branda, AuD Interview with Alina Urdaneta and Eric Branda, Siemens Hearing Instruments
Siemens Hearing Instruments – New Products, Fall 2013
November 18, 2013 Eric Branda, AuD Interview with Siemens, Eric Branda, AuD
Interview with Alina Urdaneta, Vice President of Marketing and Training, and Eric Branda, Au.D., Senior Manager of Product Management, Siemens Hearing Instruments
May 6, 2013 Alina Urdaneta, Eric Branda, AuD Topic: Siemens Update - Additions to the micon Family, Active Kids & Teens Portfolio and a New App!
Interview with Alina Urdaneta and Eric Branda, Au.D., Siemens Hearing Instruments
November 19, 2012 Alina Urdaneta, Eric Branda, AuD Topic: Introducing Siemens micon™
Interview with Alina Urdaneta, Vice President of Marketing and Training, and Eric Branda, Au.D., Senior Manager of Product Management, Siemens Hearing Instruments
June 4, 2012 Alina Urdaneta, Eric Branda, MS, CCC-A Topic: Spontaneous Acceptance with Hearing Instruments - Introducing Siemens XCEL
Interview with Angela Flores, Au.D., Director of Education and Training, Siemens Hearing Instruments, Inc.
April 9, 2012 Angela Pool, MS, FAAA Topic: 2012 Siemens Expert Series - Free, Online Seminars from Leading Experts Explore Best Practices in Hearing Aid Fittings and Patient Management