Question What is Cochlear Link and how can it save clinics time? Answer
Cochlear Link is a cloud-based application that is installed on clinic programming computers or network servers, which connects the clinic's Cochlear's database to the cloud. Cochlear Link can instantly and automatically send registration data to the cloud when new patient equipment is activated. This eliminates the need to enter patient registration details and equipment serial numbers manually.
After a patient is programmed, MAPs are uploaded and stored securely in the cloud. If a patient needs a replacement sound processor, they can call Cochlear directly and place a service request. Cochlear can then program a new sound processor with the patient's latest MAP and directly ship it to them to get the patient back into sound faster.
Data shows that clinics using Cochlear Link complete 84% of service requests within 24 hours* and 87% of service requests are processed without clinic assistance.1
To get started follow these steps:
Understand your computer setup
Complete the Cochlear Link application
Install Cochlear Link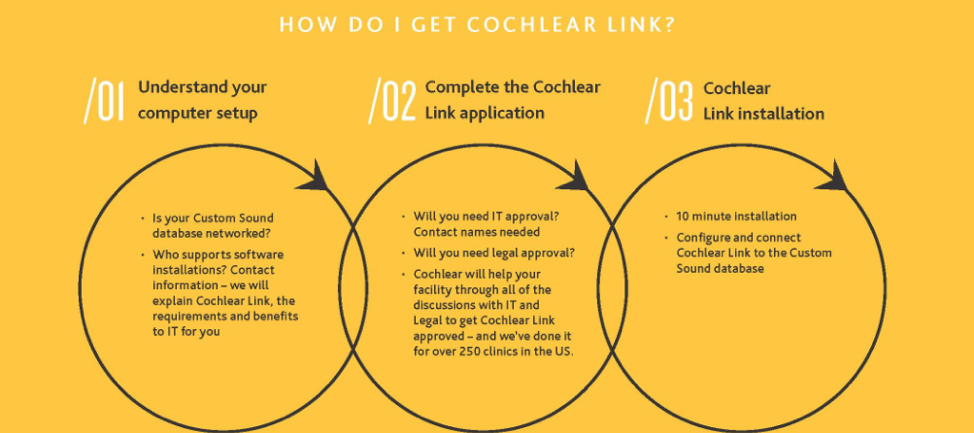 To learn more, please visit Cochlear ProNews.
References:
Cochlear Americas. [data on file] 2016 October. FUN2581.
© Cochlear Limited 2020. All rights reserved. Hear now. And always and other trademarks and registered trademarks are the property of Cochlear Limited or Cochlear Bone Anchored Solutions AB. The names of actual companies and products mentioned herein may be the trademarks of their respective owners.
This content is meant for professional use. If you are a consumer, please seek advice from your health professional about treatments for hearing loss. Outcomes may vary, and your health professional will advise you about the factors which could affect your outcome. Always read the instructions for use. Not all products are available in all countries. Please contact your local Cochlear representative for product information. Views expressed are those of the individual. Consult your health professional to determine if you are a candidate for Cochlear technology.
*Valid MAP required and some warranty restrictions may apply for next business day service.