Question
Regarding business communities, how important is it to be active in the local service organizations (Lions, Rotary, Better Business Bureau, etc.)? If you were lecturing at one of their meetings, what topics would you recommend addressing?
Answer
My overall philosophy regarding any health care marketing on a local level is Relationship marketing works best. When you look at return on investment you basically have three tiers:
1) Most efficient: Relationship Marketing to existing users + Word of mouth
2) Rather effective: Networking & Referrals
3) Least efficient: Advertising and other mass marketing approaches

You can use periodic advertising and mass marketing in order to capture leads which are then moved over to the Relationship marketing category for follow up. The more you do within any of the categories the more synergy you get resulting in better returns.

Working the local service organizations belongs to the second category of networking and can be very effective. Usually there are very limited out of pocket costs, all it costs is your own or your staff's time. People like to refer to people they know so if you have appeared in any of these organizations you are likely to get referrals from that.

While addressing any of these audiences I would emphasize the low recognition of hearing loss, and the positive health benefits of amplification on depression, social withdrawal etc., and all the other good stuff from the NCOA study www.ncoa.org/news/archives/hearing_loss.htm. I would mention a little about the profession of audiology -- as well as your education and clinical training, since most people do not know what an audiologist is! Finally, I would probably do a short overview of the three categories of hearing aids with the pros and cons illustrated like a pyramid (see below).

And then I would open up for all the ''I have this friend'' - questions.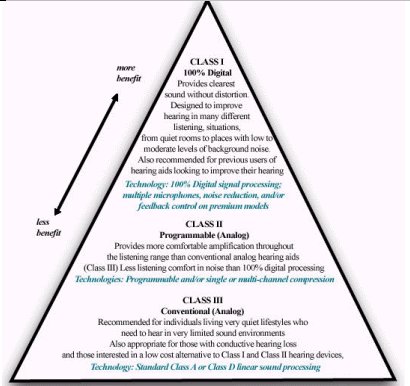 Illustration courtesy of Darcy Benson, MS, FAAA - California Hearing Center www.calhearing.com

BIO:
As Vice President of Marketing for Oticon, Inc., Peter Mark, M.D., has been instrumental in the development of the company's Human Link philosophy and in the global launch of DigiFocus and Digilife. Dr. Mark is the author of numerous articles and has lectured extensively on communications and marketing for health care professionals, especially on subjects pertaining to end user empowerment. Prior to joining Oticon, Dr. Mark was a practicing physician and also worked with several global pharmaceutical companies.


Click here to visit the Oticon website.