Question What models are available in Sonic's new Celebrate product line? Answer
Sonic's new Celebrate family of products is available in a full range of styles, from an Invisible-in-Canal (IIC) to a Power BTE.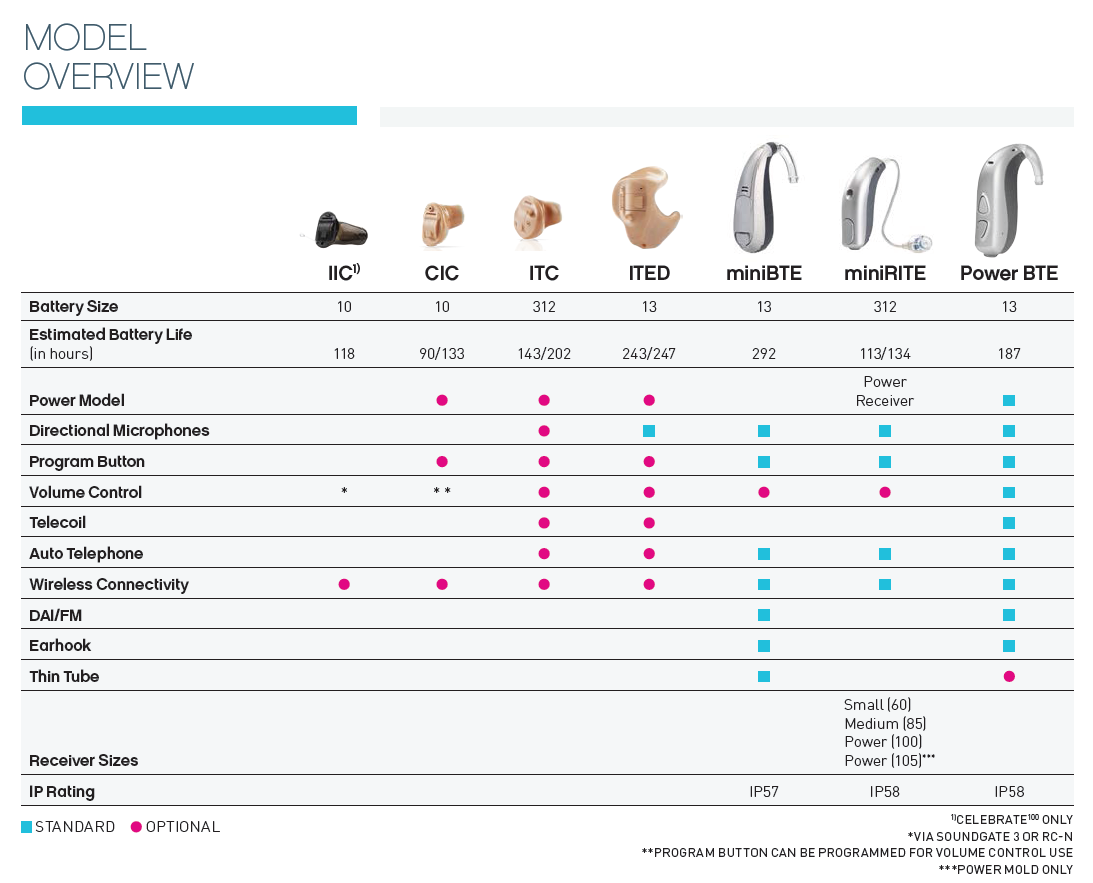 miniRITE. The miniRITE is extremely popular. It features a sleek, attractive design with a 312 battery. It has three receiver options, multiple domes and custom molds available. We offer six color choices: beige, taupe, brown, light grey, dark grey, and black. With regard to acoustic performance, we offer a 60, 85, and 100 level speaker. Those numbers are going to roughly equate to the recommended fitting range for each audiogram.
miniBTE. The miniBTE is available in earhook or thin tube configurations. With the thin tube, we offer the 0.9 or 1.3 millimeter option. In keeping with the mini concept, it uses the same domes as the miniRITE. Simplicity is part of our 4S Foundation; we do everything we can to simplify the supplies that you need in your office. There are four different lengths for tubing (0, 1, 2, and 3). The domes available are: open, bass double vent, single bass vent, and the power dome. Acoustic performance is a 125/58.
Power BTE. With the Power BTE, you can use the miniFIT system, if you want to use a thin tube fitting, or an earhook. It features a sleek design with a 13 battery. It has the power patients are looking for and the tactile controls are easily accessible. With regard to acoustic performance, we offer a 134/68; maximum fitting range gpes up to 100 dB.
Custom Models. Sonic offers continued excellence in the custom arena. We have best-in-class microphone and receiver protection with four new models in the Celebrate lineup. The course handout provides a chart with an overview of the custom products' acoustic performance.
Due to patient demand, we now have push-button volume control capability in our miniRITE, BTE, and in wireless custom instruments. For current Celebrate instruments that your patients may have, you will receive the push button volume control capability via a firmware update in EXPRESSfit 2016. Thank you for your interest in Sonic Celebrate.
For an in-depth look at Celebrate, check out the CE course, Introducing Celebrate. For more information, please visit www.sonici.com, the Sonic Expo Page on AudiologyOnline, or contact Sonic at 888-423-7834.