Carolyn Smaka: Hi Alex and Tom, thanks for joining today. Our topic today is the GENIE™ series of audiometric sound rooms. The GENIE sound rooms were first produced in 2001?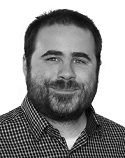 Alex Carlton: Yes, that's right. The GENIE series of audiometric sound rooms is a product of more than 20 years of experience in audiometric sound room development. It is the market leader in Canada, and now we're offering them in the US as well.
Since 2001, we've continued to evolve the GENIE Series sound room through design enhancements to deliver state-of-the-art performance and quality. Over the years, we considered feedback from customers and patients, audiologists, acousticians, and engineers and used it to optimize the product.
Carolyn Smaka: Practices' needs are so different – some see pediatrics, some have very limited space, etc. How does a practice go about selecting a sound booth?
Tom Riniker: It helps to have a good partner, like Audiology Systems. Otometrics and Audiology Systems have combined their extensive experience to develop a new consultative approach for designing a sound room for a practice. GENIE sound rooms are fully customizable. We support the professional every step of the way, from helping to select a size, configuration, and feature package that will work best for their needs, to integrating with current equipment, and all the way through to installation. We'll ensure that the end result is an optimized and integrated workflow and a superior patient experience, in a controlled acoustic environment.
Alex Carlton: Our process has revolutionized the way sound rooms are delivered to the market. Otometrics Sound Room Division sales engineers work closely with our partners at Audiology Systems to deliver an exceptional experience from sound room design, to delivery and installation. We offer a diverse product line ranging from double wall exam suites for optimal noise management to small occupational health mobile rooms.
A dedicated sound room division sales engineer and the customer's Audiology Systems sales representative work together to help pick a model that meets the customer's needs. If a standard model won't work, we customize it to optimize the available space. We encourage our customers to involve us as early as possible in the process of a new project so that we may interface with their architects, contractors or project teams. That way, we ensure the project best represents their needs and specifications, is completed on time, and construction is hassle free.
While consultation from the very beginning of the process is key, it's only part of the equation. We ensure that each sound room has a complete level of project management and installation. All of our sales engineers and installation teams are factory trained, evaluated and certified for quality assurance.
Carolyn: Alex, you mentioned a diverse product line. How many products are available?
Alex: We offer single and double wall audiometric rooms, single wall and double wall control and exam suites, single wall screening rooms, and what we call a single wall space efficiency sound room.
Carolyn: Tell me more about how GENIE sound rooms are fully customizable. What exactly can be customized?
Tom: There are a variety of configurable options, features and accessories as well as many trims and finishes. A wide range of colors and interior design packages are available to match any decor. That way, professionals don't have to compromise on aesthetics for performance.
Carolyn: What other features are available that distinguish GENIE sound rooms?
Tom: The GENIE sound room is a product infused with science and uncompromising dedication to our customers' needs. It truly is a hallmark of innovation. We are introducing an exciting signature feature called the High Performance Lo Profile (Hi-Lo) Floor, focused on acoustic performance while allowing for a more natural entrance in comparison to traditional sound room designs.
Other features include acoustically-engineered doors that are designed to provide easy patient access and superior sound isolation. The windows are made of double-glazed, laminated 1/4'' safety glass, and mounted in a heavy gauge steel frame with rubber compression seals. All sound rooms come with interior and exterior electrical outlets, ventilation silencers, as well as a pre-wired jack panel that contains jacks, USBs and data connections to cover all modern test equipment requirements. And, roof mounted state-of-the-art LED lighting systems with dimmer switches give clinicians full control over the level of lighting in the room.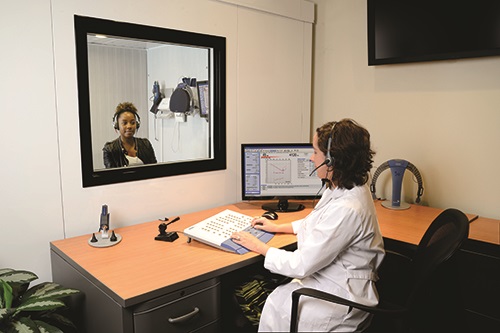 Alex: I'd like to add that these sound rooms are designed to integrate perfectly with your Otometrics audiometer, tympanometer, OAEs and more. For the first time in our industry, the people designing your equipment are also designing its interface with your noise-controlled environment. We utilize and embrace modern manufacturing practices so we can change and grow with the technologies being used in the clinic today – not technologies from 50 years ago.
Carolyn: Sounds great. Where can professionals go for more information?
Tom: We will be featuring a GENIE sound room at AudiologyNOW! Booth #262. We would like to invite your readers to stop by. Alex and I will both be there to answer any questions about the GENIE Series of sound rooms by Otometrics.
Alex: They can also talk to their local Audiology Systems representatives. We are a collaborative team and work in tandem to deliver the audiometric sound room that fits their needs. In addition, they can visit www.audiologysystems.com/genie or call 855.283.7978 for more info.
Carolyn: Thanks for the information, Alex and Tom. This is an exciting new development for Audiology Systems and Otometrics.
Visit www.audiologysystems.com or the Otometrics / Audiology Systems Expo Page on AudiologyOnline for more information.