AudiologyOnline: Dr. Pinkerton, can you give us a little background on how you ended up at Starkey and overseeing Starkey's university outreach?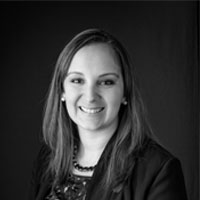 Carolyn Pinkerton, AuD: My course to working at Starkey was a bit unique for the time in that I chose to work in manufacturing immediately after graduating with my AuD. I decided to move to Eden Prairie, Minnesota and work at the headquarters on the Education and Training team. Shortly thereafter I became the Manager of University and Government training and am so lucky to oversee the Starkey University program along with our Chief Audiology Officer, Dr. Sara Burdak. As a previous participant in many of the offerings Starkey has continued to offer for audiology students, I was thrilled to be an active member of this team.
AudiologyOnline: How would you describe the StarkeyU? How often is it held? Are university staff allowed to participate?
Carolyn Pinkerton, AuD: The StarkeyU Workshop is held annually at our Eden Prairie campus and it is the ultimate event for both audiology students and faculty! Each year we host university programs from all over the country and provide unprecedented hands on learning opportunities and skill refinement in areas such as programming, modifications, earmold impressions, wireless technology and industry knowledge. We host best-in-class speakers to be sure you hear it directly from the experts!
AudiologyOnline: What other types of student programs does Starkey offer?
Carolyn Pinkerton, AuD: We are happy to continue to offer students and faculty customized, on-site trainings at their universities with a vast bereau of speakers who are the go-to experts in their professions. Each year we train at over 50 university programs and can cover most any topic needed with exceptional opportunities for hands-on learning. We also are proud to support universities in their own efforts to spread the gift of better hearing with our Humanitarian Support Funds which can be requested for university program outreach at StarkeyUniversity.com. Finally, we want to be sure that students and faculty have the most up to date technology available for learning in their clinics, so we offer our University Technology Update Kit that is always updated with our most recent technology releases for use in the AuD program university clinic as well as our First Year AuD student kit which includes the most valuable resources for a student entering this profession. Both kits can be requested online at StarkeyUniversity.com.
AudiologyOnline: When is the next StarkeyU program and how do students get signed up?
Carolyn Pinkerton, AuD: The 2018 StarkeyU workshop will be held June 28-July 1 and registration is currently full, but those still interested may continue to register for our waitlist at StarkeyUniversity.com. The best way to be sure to know about all of our events, including the workshop, first is to be sure to sign up to Stay Connected at the Starkey University website to receive our communications.
For more information, please visit Starkey Hearing Technologies or the Starkey Partner Page on AudiologyOnline.