Carolyn Smaka: Kathy, I'm excited to hear about your new product launch.
Kathy Landon: Thanks Carolyn, we're very excited too. This fall, we're introducing a new product called Charm. Charm is available in two different technology levels, a 60 level and a 40 level. Sonic's product lineup includes five technology levels, ranging from 100 level products – like Bliss100 and Flip100 – at the premium end, down to entry level products at the 20 level, like Pep. With Charm, we are now completing our lineup of products on based on our Speech Variable Processing. Charm60 gives us a very competitive mid-level product, and Charm40 provides really nice basic features, and is a great step-up in features from the entry-level Pep product.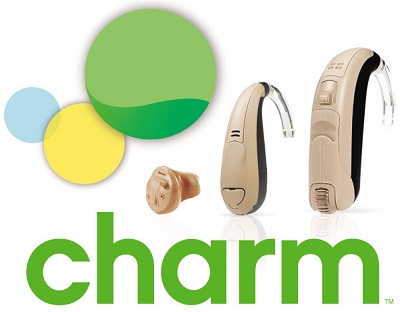 Charm offers just the right amount of features; it is not necessarily for people who want every single bell and whistle – that's what our Bliss and Flip products provide. Instead, Charm is for those who want a really good solid product that offers the essential features that patients value the most, like good signal processing so that sound is natural and speech is clear. Charm includes Speech Priority Noise Reduction in both technology levels, because we feel that being able to understand speech in the presence of background noise is important regardless of the technology level. The Adaptive Feedback Canceller that we introduced with Flip has been outstanding. Sonic believes that regardless of technology level, you should not have to worry about your hearing aid squealing, whistling and making noises. Charm60 offers connectivity through the SoundGate device to external Bluetooth®-compatible audio sources, and basic binaural control.
That is Charm in a nutshell. It is a straightforward, solid, reliable, mid-level product offering.
Carolyn: What styles are available with Charm?
Kathy: Charm – like the Bliss products that were introduced earlier this year – includes both BTE and custom models. With the Charm launch, we are actually adding a new BTE to both Charm and Bliss, as well as several new custom models to both products.
Joining the popular miniBTE is a fully-featured new BTE. The new BTE has everything you would expect to find in a modern size 13 battery BTE: telecoil, on-board program button and volume control, DAI support, ear hook and thin tube options, battery lock, and wireless support (Bliss, Charm60). And both the miniBTE and BTE have an IP57 rating, so you know they are reliable and can hold up under just about any condition.
As for custom models, we are adding a new invisible in canal (IIC) model to both Bliss100 and Charm60. Sonic has always had a reputation for building small custom models, and we are excited to be able to offer our Speech Variable Processing platform in the IIC model. We are also adding the ability for ITCs and ITEs to be built with local volume controls when a wireless model is not needed.
So this new line-up really lets us cover the entire feature and style spectrum – for those who want all the features possible, the new BTE does it all; for those that are really concerned about cosmetics but that want great signal processing, the IIC will be a great option. Anything in-between can be covered by the rest of the available models.
Carolyn: When will Charm be available?
Kathy: Charm will be available in mid-October.
Carolyn: Why did you pick the name Charm for this product?
Kathy: As always, a lot of thought goes into the names we give our products. It is important to us to give products names that make people feel something and that invoke a positive image. With Charm, we wanted people to feel that confidence you have when you are actively and fully engaged in the world and in control of your health. When people feel confident, they tend to exude happiness, positivity… and charm. And who doesn't want to be around charming people – they are a delight, and often elevate all those around them. And that's exactly what we believe Charm can do for people – give them confidence, which leads to everybody being happier, and healthier
We created a video overview of Charm that you can view here.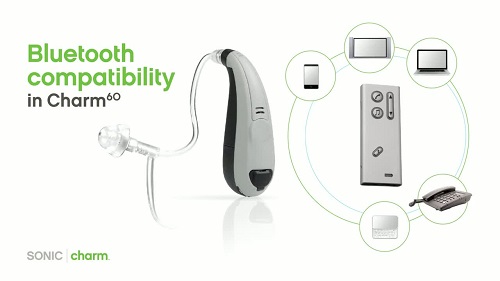 Carolyn: Thanks, Kathy. I wanted to discuss the new website as well. It is a great new design. What else is new, besides the design?
Kathy: Wow – what a project the new website has been! We changed our entire website, from the underlying architecture, to the design, to all the content. The new design incorporates the beautiful imagery of our current branding approach, and adheres to the last two "S's" in our 4S Foundation - Simplicity in everything we do and Style that stands out. A simple and intuitive website is important not just for clinicians, but also for consumers who are going online and doing research before visiting a hearing care professional. More than ever before, patients, as well as their spouses and children, are looking for information online. They are searching for health information, including information about hearing, hearing loss, and hearing aids. Consumers in general are taking more control of their hearing healthcare, and we wanted to make it easier for people to get the answers to their questions. To really help with this, we wanted the website to focus from the ground up on providing information that was useful and clear, and easy to access. We wanted to provide answers for the most commonly asked questions, such as, What is hearing loss? Do I have hearing loss? Why should I care if I have hearing loss? If I think I do have a loss, what can I do about it? What options are available to me? Once a person starts the journey, we need to make it easy for them to locate a hearing care professional that can help them, and who can get them a Sonic product that will address their specific needs.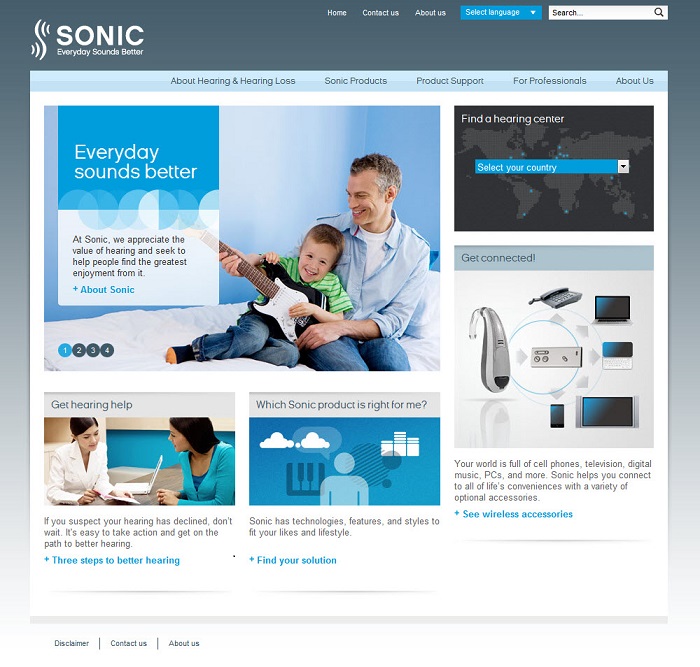 Snapshot of the new homepage, http://www.sonici.com
The new website also features an interactive quiz that can help consumers gauge their need to see a hearing care professional. It is not a hearing test, because we believe that only hearing care professionals should be administering hearing tests. The quiz asks things like, "How do you hear and understand in different sorts of situations? Do you struggle? Are you having problems?" This is a way to help people decide for themselves if they should go talk to a hearing care professional. Many people may suspect they have a problem but be unsure about it. The quiz walks them through typical activities, and then based on their answers, directs them as appropriate, to a hearing care professional where they can get a hearing test.
Another new functionality on our website is the ability for a consumer to get help with their hearing device after they have purchased it. It often happens that a consumer has a question after purchase. Certainly they can go back to their hearing care provider, but they may first turn to the Internet with a simple question, such as "How do I turn my hearing aid on or off?" We want to ensure that there is easily accessible information and support for our hearing aids and wireless accessories. While this type of information is usually found in the user guide, who reads user guides today? We all just want to go look things up online – it is often much more convenient.
In addition to the new functionality, we have streamlined information for professionals. It is much easier now for professionals find materials such as brochures, specification guides, technology documents, and white papers. For professionals, we have also answered frequently asked questions such as how they can receive training, which FlexStrips go with which products, and what operating systems are supported. Professionals can now find this information online, which is convenient if you are working off hours. We sat down with our technical support and customer care groups to ensure we provided the information our customers call us and ask about. Along those same lines, the website includes all of the information about our EXPRESSfit fitting software, such as the system requirements and the latest versions. EXPRESSfit can even be downloaded from the website, making it very easy for professionals to get the latest version at any time they need it.
We also wanted to provide more information about who we are, what we believe in, and our core values. We felt that that was very important. We want our customers to feel good about doing business with us, and we take pride in our company as much as we do in our products.
We also want to support our customers' marketing efforts, so we make our logo and HIGH-RES product photos available to customers and to the media. As long as you credit Sonic, you can use our product photos as well as embed our videos or link to them in your marketing activities.
Carolyn: Your new website looks deceptively simple, because it has such a clean design, yet it provides all the functionality you've mentioned, and more.
Kathy: I am glad you feel that way because that was exactly what we were aiming for in building it. That is one of the things that Apple has done so well. It is deceptively simple. It looks so easy and it takes away that initial anxiety people may have with a new piece of technology. Our new website is really simple and inviting. There are not 25 links on the main page. It is very streamlined. Just like the care we put into designing our products and fitting software to be simple and easy-to-use, we approached the website the same way. We want all our products and software to appear simple and easy, and to take away the intimidation of interacting with them. Consumers may already be anxious about admitting hearing loss and using amplification, and if you then throw in a complicated piece of technology or confusing website, you have a recipe for disaster. Especially in our industry, simplicity is always a wonderful thing. I truly do not think that you can over-simplify in most cases. I think it is always more comforting to work with and interact with things that are simple. It is about accomplishing a goal. If you can make it simple for your customer, your patient, or someone reviewing your website to do the thing that they want to do, you reduce the hassle factor and you make them feel good and empowered. Simplicity in all we do is truly a mantra at Sonic, but it often goes unnoticed because when you do it right, people do not notice it.
Carolyn: So true. Thanks Kathy. As always, it's been great catching up with you. Thanks for your time and all the best with the launch of Charm.
Kathy: Thanks, Carolyn!
For more information about Sonic, visit the Sonic Expo Page on AudiologyOnline.