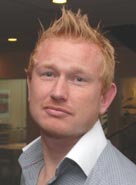 CAROLYN SMAKA:
Today I'm speaking with Michel Jürgens of GN Otometrics.
Thank you for your time.
Michel Jürgens:
You're welcome.
SMAKA:
Michel, what is your background?
Jürgens:
I have a master's of science degree in marketing and economics. Before working for Otometrics, I was with a Chicago-based finance company, Morningstar. When I came to Otometrics five years ago, I was asked to integrate more customer insight into the product development process. I quickly moved into Product Management, and the idea of Astera was created. I also worked as Key Accounts Director for Otometrics, working with hearing aid manufacturers and retail chains until January of this year. Since January, I have been the Manager of Launch and Marketing Communications. Although Astera is my baby, my team and I are responsible for launching all new products. We have a structured process for launching new products and focusing on the right customers from day one, a process we are continually developing and improving. My other responsibilities include traditional marketing and related communications, particularly global marketing.
SMAKA:
Tell me about your baby, Astera.
Jürgens:
The MADSEN Astera is a clinical audiometer that combines the best of traditional audiometry with the best of PC based audiometry.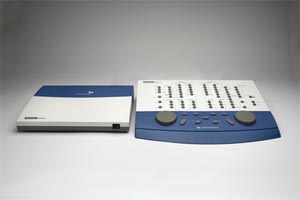 In 2005, Otometrics was trying to learn about what audiologists' needs were as far as improvements to audiometry and audiometers in the American market. An overwhelming sentiment among the audiologists we spoke to was that many wanted their own, personal audiometer. Audiologists who work in a clinic together do not necessarily adhere to the same testing protocol, and there was a need to be able to accommodate every audiologist's personal preferences in just one instrument. A traditional audiometer needs to be manually reset every time a new audiologist uses it. This can be time consuming and irritating, particularly when the audiologist needs to move quickly with a patient, such as when testing an active child. In developing Astera, our goal was to develop an instrument that took the familiarity of a traditional audiometer and combined it with a new technology platform based on the PC that focused on speed of testing and flexibility.
SMAKA:
Why is "familiarity" so important?
Up until this point, there had been limited product development in the audiometer market. While minor changes have been made, the audiometer most audiologists use in practice right now are by and large quite similar to those they trained on five, ten or more years ago. Because of this we understand that keeping the basic operation of the audiometer familiar is important because, while most people would like more flexibility, they would not be comfortable with a system that is completely unfamiliar. The Astera integrates a PC based system that has the familiar feel of a traditional 2-channel audiometer. This familiarity is essential in situations where testing as efficiently as possible is a must. Pediatric audiologists in particular do not have time to hunt for a particular button when a child is in the booth;they need to intuitively know where the audiometer's buttons are. This is why our goal in developing the Astera was to offer advanced features while maintaining a large degree of familiarity. This will hopefully convince more hesitant audiologists that they can move to the PC based generation of audiometers and all the benefits that go along with that while maintaining the comfort of older audiometers.
SMAKA:
What are the benefits of a modern PC-based audiometer?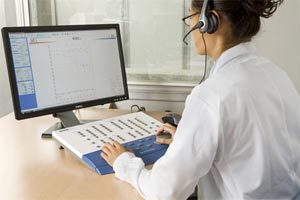 Jürgens:
There are plenty of benefits. The first thing the audiologist will notice about the PC based audiometer is that it has a large screen monitor that improves the testing overview significantly. This monitor offers the possibility of different view modes in which the audiologist can display the audiogram. The audiologist can begin by looking at the current audiogram and then later choose to display the previous and current audiograms together with overlays such as the speech banana, speech sounds, or degrees of hearing loss. This gives the audiologist the flexibility and comfort of having a lot of information right at his or her fingertips, which is useful in diagnosis and in counseling.
A PC-based audiometer is more flexible to work with and Astera gives a practice with multiple audiologists the ability to set the audiometer up for each user's preferences. For example, in a practice with two audiologists, each audiologist may use a slightly different testing protocol. With the Astera each audiologist can easily program the audiometer with which frequency and intensity he or she wants to start at, and also select the display, test protocol, and word lists to be used. The Astera can even allow the audiologist to specify what word in the word list she wants to start on. The audiologist can pull up his or her specific, customized test protocol with the touch of a button. Additionally, audiologists typically have different protocols they use for different types of patients;one for pediatric, one for geriatric, etc. The Astera allows the practice to not only have specific settings for each audiologist, but the preferred testing protocol for each audiologist for each type of patient as well.
SMAKA:
Your description reminds me of my car with its memory for the seats and window preferences of different drivers. It saves a bunch of time adjusting things when I start driving.
Jürgens:
Yes, it's quite similar. The Astera has many more time-saving features than just being able to program in audiologist preferences. Astera uses the OTOsuite™ software as its platform to combine audiometry, immittance, and counseling tools. This allows the audiologist to perform immittance testing and go right back into audiometry, rather than having to stop and take the time to print and record results separately. Other features of the software include hearing loss simulators, hearing instrument simulators, and speech mapping verification tools.
One of the benefits that a lot of people are excited about, particularly because of the ability to integrate with immittance testing, is being able to print out a combined report with all the patient's results from the appointment, not just the audiogram. The OTOsuite™ software has an extensive reporting facility where reports can be combined. These reports can be customized with the practice's logo and graphics. This, of course, is not a possibility with traditional, stand-alone audiometers.
The Astera, as a PC based audiometer, doesn't only allow integration with other Otometrics software, but it also integrates with NOAH and with third party management systems as well. As many medical offices are moving toward becoming paperless with bills being submitted to third party payers electronically, this is becoming an important feature. With the Astera, the audiologist doesn't merely get an audiometer, but a complete workstation that can be used for all aspects of a hearing exam, hearing aid evaluation, counseling and more. Versatility is a huge benefit of this platform.
SMAKA:
Is Astera available today?
Jürgens:
Yes, it is. We launched it late last year and we have had tremendous success with it. The feedback we've had is that audiologists are enjoying the unique combination of the benefits of a PC-based system along with the familiarity of traditional audiometers.
In fact, a distributor just told me about a hearing impaired audiologist who used to struggle to hear with another audiometer's Mic-Monitor headset. With Astera that is no longer a problem because of the gain of the monitor circuit. It makes her testing more enjoyable - and that is exactly what we intended with this product.
SMAKA:
Where can people learn more about the Astera?
Jürgens:
At
www.myaudiometer.com
we have a forum where people can learn more. There is a lot of material and information there, as well as testimonials from audiologists who are currently using the system. There is also a recorded course available now on AudiologyOnline called
Audiometry in the Modern Era
that gives additional information as well. Both the Web site and the course discuss the fact that audiology as a profession is stepping into a new, largely computer-based age. The Astera eases the transition since audiologists can take advantage of new technology and still have the comfort and familiarity of what they're used to. So you can see why we think audiologists will truly consider the Astera to be "familiar, and so much more".
SMAKA:
Thanks, Michel! Wishing you much continued success with the MADSEN Astera.
Jürgens:
Thanks, Carolyn.
About Otometrics
Copenhagen-based Otometrics is the world's leading manufacturer of hearing and balance instruments and software. Its North American headquarters is in Schaumburg, Illinois. The company has solutions that range from infant-screening applications and audiologic diagnostics to balance testing and hearing-instrument fitting. More information about Otometrics can be found at
www.otometrics.com
or
www.audiologyonline.com/otometrics
.