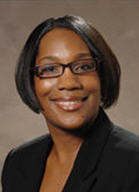 Sheena D. Oliver, Au.D., MBA
CAROLYN SMAKA:
This is Carolyn Smaka, Managing Editor of AudiologyOnline, and today I'm with Sheena Oliver, Au.D. MBA, Vice President of Marketing for Oticon.
Sheena, thank you for your time today.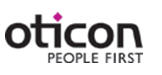 SHEENA OLIVER:
It's a pleasure to be here.
SMAKA:
You don't often see marketing executives with Au.D. degrees. What perspective does your audiology background bring to your current role at Oticon?
SHEENA OLIVER:
As an audiologist, I believe that I understand more fully some of the challenges that audiologists, as well as independent practice owners, face on a daily basis. I also understand the business side of the industry, and I think that combination brings a unique perspective to my current role at Oticon.
Both of my parents were university business professors, and they had a lifelong entrepreneurial spirit that was ingrained into my brother and me. I always knew that I would do something business-related, but I wasn't certain exactly what. I discovered audiology in college. I was influenced by a challenging relationship that I had as a teenager working with a deaf teenager when we were both employed at a Ponderosa Restaurant. I was dismayed by the struggles we encountered trying to communicate with each other. I knew there had to be a better way. As soon as I finished my audiology education, I went on to business school. So while working full-time as an audiologist, I completed my Masters of Business Administration.
I understand from experience the challenges that audiologists face when they're working clinically with their patients and the importance of successful patient outcomes. I also understand the importance of running a successful practice or clinic as well as what goes into making a clinic successful.
SMAKA:
What can professionals expect to see coming from Oticon? What's coming down the pike with you as Vice President of Marketing?
OLIVER:
At Oticon, the core of everything we do is our focus on People First. Our goal is to ensure that the individuals we're working with who have hearing loss feel empowered and can communicate freely. To that end, one of the things that I'll be focusing on is forming more strategic partnerships with other companies that will bring value to our customers, the individuals they serve, and their businesses. A good example is our recently formed strategic partnership with Blueprint Solutions.
Blueprint Solutions is a company that focuses on office management solutions. Through our strategic partnership, we can begin to offer our customers dedicated marketing support that focuses on more effective patient outreach and other activities that will enable them to grow their business.
SMAKA:
Has your customers' marketing been impacted by these tough economic times?
OLIVER:
I think that there's a misconception out there about the wisdom of marketing during difficult economic times. That misconception is that whenever we experience a downturn in the economy we should pull back on marketing. In reality, the opposite is true. Practitioners should continue with their business strategy, and if they've always marketed in the past, they should continue to market. Oticon business partners who have continued to market during these past few years are having some of the greatest success they've ever had in their practices. Even in an economic downturn, you want to be reaching out to your patients. Keep in mind that our target population still has the highest discretionary income of any age group. While some of our patients may be affected by the economy, the vast majority are not. It's important for hearing care professionals and practice owners to be out there promoting themselves, their services, and their businesses.
What I believe differentiates Oticon from a marketing perspective is that our marketing is proven. We conduct independent research to gain an in-depth understanding of the psychology of new users versus existing users and how each group responds to different types of marketing materials. When we create marketing materials for our customers, we have confidence that they will deliver the results our customers expect. That's important in this economy because people are cautious about how they spend their marketing dollars. If you're going to invest money in your practice through marketing, you want to know that it's going to work towards accomplishing your business goals.
SMAKA:
How does Oticon serve the needs of various customers who may be in different practice settings?
OLIVER:
We recognize that our customers have very different needs depending on their practice settings.
One of the things that we've done to better address these different needs is that we've developed channels. Through a channel approach, we've been able to identify what specifically is needed for each of the different types of customer groups. Then, we've developed programs and customized solutions that are most effective and appropriate for each.
For example, for our clinical channel, which is a medical-based segment, we've created informational DVDs for waiting rooms, and brochures that are more generic as we recognize hospitals and medical settings often can't display items with a manufacturer's name on them. We'll also set up demonstration stations that can be utilized by the front office staff with patients while they are waiting to be seen by the hearing care professional or their physician.
Another good example is a recent Oticon Clinical Grand Rounds conference. attended by audiologists working in ENT settings and speech and hearing clinics. One of the things we have learned is that audiologists in these settings are challenged with knowing how to best inform, market to and retain their existing patients. Patients usually come in due to referrals, not because they are responding to an advertisement. How do you best inform these patients about better hearing, or motivate them to take steps toward hearing solutions? So we developed this meeting to address the needs of this specific group of professionals.
SMAKA:
I think taking advantage of shared expertise and best practices would be extremely helpful.
OLIVER:
Absolutely. One of the common threads throughout the weekend was that for most customers, this was the first time that they had ever had the opportunity to participate in a gathering like this. They said it was morale-boosting to be able to sit with people like themselves who face some of the same challenges. They learned from one another. There was a lot of knowledge sharing, and people walked away with new knowledge, new ideas and a good feeling about new things they could do on Monday.
SMAKA:
Excellent. Sheena, up to this point we've been talking about marketing and we haven't touched on technology. How are things going with Agil?
OLIVER:
Obviously, technology is a big part of what we offer at Oticon. We are committed to innovation and to bringing the most advanced technology to market. Agil is the latest example of this - and the feedback from the hearing care community has been very positive because we are recognizing true patient benefits.
At Oticon we have an independent world-renowned research facility in Eriksholm, Denmark, that is completely removed from the commercial aspect of the business. Eriksholm focuses on researching new concepts or new technology that may exist in other industries to see if there is any potential benefit or application for individuals with hearing loss. This is a fundamental difference in our approach from other manufacturers, because our research is removed from the commercial side of our company. As a result, we are able to bring breakthough product concepts, like Agil, to market. The patients who have been wearing Agil have told us that they've not only had improved speech understanding but also a reduction in listening effort. We're seeing that this is a major advancement over other hearing devices on the market.
I think this is an important point because it's something that's measurable and can be documented. Many times we hear our customers say, "We did a fitting with this new product, and it went great. I really can't put my finger on what it was, but it went well." They can't quantify or objectively measure the difference. With Agil, we're getting anecdotal information, but objectively, we're also able to measure benefit.
SMAKA:
I'm hearing you use the terms "evidence-based" and "measurable" both in regard to Oticon's technology and the marketing solutions. More than ever the whole profession is really looking to everything we do to be more evidenced-based and to have metrics behind it.
OLIVER:
Absolutely. That's critical. As we continue to move to a doctoring profession, current audiology students are being taught that everything we do should be driven by evidence. As an audiologist, it's great to work for a company where that is also so important in everything we do, from technology to marketing.
SMAKA:
Sheena, on the topic of technology, how is Bluetooth impacting your customers and their patients?
OLIVER:
The use of Bluetooth is widespread - everybody knows what it is, everybody's using it in some way. This presents a huge opportunity for Oticon and in fact for our entire industry. As I mentioned earlier, one of our goals at Oticon is to help people with hearing loss communicate more freely, and utilizing Bluetooth technology can enable them to do that.
In our experience, when customers consistently use connectivity with their patients, whether it's with hearing aids and cell phones, landline phones, computers or GPS systems, their patients are feeling more empowered. We all know that when individuals have hearing loss, sometimes they suffer from anxiety and isolation, which can lead to depression. They tend to pull away from society because they fear not having a successful conversation or a positive interaction with others.
When they can communicate more freely with the outside world because of connectivity, patients feel empowered. We're excited to see this happening, and we hope that it continues to happen, because it's something that's applicable across all types of patients with hearing loss. It's not just for individuals with severe to profound hearing loss or for the busy executive. Everybody deserves to benefit from this advancement in technology.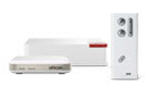 Oticon's ConnectLine offers easy connectivity to the television,
mobile phones, landline phones and a range of other devices.
SMAKA:
So connectivity is not just for the techies?
OLIVER:
That's a good point. I think many times as professionals our perception can be that connectivity is only for the techies or it's only for a subset of our patients. Bluetooth technology is so commonplace today. When patients come in and they are struggling on the cell phone or they struggle to hear the television, their expectations are already high. They expect that whatever solution we offer them will address those specific needs as well. Bluetooth and connectivity are things that as hearing care professionals we need to be comfortable with and prepared to offer to our patients because that's already their expectation.
SMAKA:
You know, I was recently at the AT&T store and there was a man probably in his 80s who had just bought an iPhone. He said he needed a new phone, and was buying an iPhone so he could listen to Yankee baseball games on it and never miss a Yankee game again. It really opened my eyes as I would not have pegged this man as an iPhone user.
OLIVER:
That reminds me of a surprising statistic I recently heard. One of our marketing managers had gone to a marketing conference where they shared some Nielsen data. According to Nielsen, for individuals 65 years of age and older, Facebook is the third most popular Web site that they visit. Who would have thought that?
SMAKA:
I would not have guessed!
OLIVER:
In terms of talking to patients about connectivity, it's all about not approaching situations with our own biases. We need to have an open mind during the intake process and try and obtain information from patients about their daily activities. What is their life like? What type of interactions do they have or do they wish that they had? Then, we can find solutions that are going to best match those needs.
SMAKA:
What tools does Oticon provide to help? Today with all the technology available, are there tools available for the professional to help match up patients with technology?
OLIVER:
Yes. One of the most powerful tools is demonstration. We provide easy ways for professionals to demonstrate our hearing instruments as well as our connectivity products to patients. One of the things that we've learned is that we are not the experts. Our customers are the experts. Recently, we surveyed customers around the country to find out how they demonstrate connectivity with patients. We wanted to know what works for them and where they may be having challenges with connectivity.
We took all of the input we received and developed a video to share with other customers. It's helpful to have a medium where professionals know what colleagues have done to be successful, because our customers really do know best.
SMAKA:
To switch gears, what's new with training and education at Oticon?
OLIVER:
Training and education is very important to us at Oticon, and marketing plays a role in these initiatives.
Some of the areas where I believe we've been innovative, and I would like to see that innovation continue, are in events such as the Women in Audiology Conference. This conference was started several years ago when we recognized that although this profession is primarily female, we've never really had the opportunity as a profession to look at women and say, "What are some of the challenges that you face, and what are some of the things that you've experienced that we can learn from?"
We've invited speakers from different professions and industries that bring a special perspective. Maybe there are challenges that we're facing within our profession, and we'll try to invite guest speakers from other disciplines that can address how they've successfully overcome those challenges.
Last year we had the award-winning journalist Linda Ellerbee. She was fantastic - she talked about how to accept change and how to survive. Of course, this can be applied to what we do as a profession, working and trying to balance personal and professional commitments. The Women in Audiology Conference has been one of our most popular conferences ever, and we're committed to continuing it.
Another educational event we offer is the annual summer camp for Au.D. graduate students. This camp provides students the opportunity to hear from audiologists across the country who represent different disciplines and exposes them to different aspects of the profession. Students can then make a more educated decision and say, "I think this is the area I'd like to pursue once I graduate."
SMAKA:
Sounds like a great opportunity for students.
Sheena, I wish you much success in your new position, and I look forward to catching up with you again in a few months to see how things are going.
OLIVER:
Thank you, I genuinely appreciate that. I look forward to speaking with you again.

For more information on Oticon visit oticonusa.com. Or you can visit the Oticon Web Channel on Audiology Online.