Sheena Oliver, Au.D., M.B.A.
SMAKA:
This is Carolyn Smaka from AudiologyOnline, and today I have the pleasure of speaking with Sheena Oliver, Vice President of Marketing at Oticon. Sheena, welcome back to AudiologyOnline.
OLIVER:
Thank you so much. It's a pleasure to be here.
SMAKA:
The topic of our discussion today is going to be two new releases from Oticon: Acto and Chili. Oticon has a quite comprehensive portfolio already, so, Sheena, can you tell us why these two new products?
OLIVER:
There are a couple of reasons for these new products. Both product families represent our desire to empower people, both from an end-user perspective, as well as from the perspective of the hearing care professional. When we think about end users today, it is clear that they need and demand modern hearing care solutions. It was not so long ago when we thought individuals with hearing loss just wanted to hear better. This was a goal we were able to achieve and people were happy with that.
But now we're seeing that people want more than to simply hear better. They want to be able to communicate. They want to be able to interact naturally with their friends and family members and to play a participatory role in day-to-day communications. And so the challenge before us at Oticon became how to continue to develop innovative solutions to address those evolving needs. And that's really what our "People First" commitment is all about.
We launched Agil, our premium product family, a little over a year ago. Agil is built on our RISE 2 platform and delivers true binaural processing. This is much more than just the ear-to-ear communication, it is true binaural decision-making. We were also able to greatly improve processing speed and power management. And now, we are bringing many of the benefits made possible by the RISE 2 platform to our Chili and Acto products.
Oticon has a long-standing reputation for providing innovative solutions for the severe-to-profound population, and Chili is the latest innovation in this category. Chili is a brand-new, super power 13 BTE instrument family that's available at three performance levels and price points: the SP9, the SP7, and the SP5. This product family is designed to deliver many of the benefits of advanced technology that we have in our Agil product family to people with more severe hearing loss.
When we began designing the Chili family, it was very important for us to go back to our
People First
approach, and ask what specifically is this group of users looking for. We know that when you're working with the severe-to-profound population, there are very specific needs that this group has from an amplification perspective. One of the things that was very evident for us early on was that these users are fighting a constant communication challenge every minute of the day. We knew that it was important for us to be able design a hearing solution that would address those challenges. Chili is built on three cornerstones: audiology, design, and connectivity.
From an audiological perspective, whenever we design or develop new products, our goal is to look at how can we make the best use of the patient's residual hearing. How can we optimize the hearing they have left and make the best use of that? There's so much variability among individuals with severe-profound hearing loss, so we knew that we had to make a flexible product for all configurations within this class.
We believe that we've really taken the next step in managing severe-to-profound hearing loss. In the past, from a single processing perspective, there wasn't much focus placed on the higher frequencies because we were limited from a technical perspective in providing audibility out past 2000 Hz. As a result, some products on the market took the approach of taking higher frequency information and shifting it down into the lower mid-frequencies to attempt to provide audibility in that particular area.
With Chili, we're able to achieve much more direct amplification in the high frequencies because of the extended bandwidth. And we know that's where the most speech information is found, so this is a big accomplishment for us. Chili can provide individuals with severe-to-profound hearing loss with audibility in areas where they've never had it before.
Another innovation that we've incorporated into Chili is Speech Guard, which encompasses benefits of both linear amplification and wide dynamic range compression, without adding distortion. Chili's combination of Speech Guard, our Binaural Noise Management, and our proprietary processing rationale, DSEsp, enables us to address many of the challenges that individuals with severe-to-profound hearing loss encounter on a daily basis.
Design is important for individuals with any degree of hearing loss when they're looking at hearing instruments. But oftentimes you'll find that instruments for the severe-to-profound population are not always as cosmetically appealing as one would like. With Chili, we have a totally new housing design that's not shared with any other Oticon product. It's very cosmetically appealing, and yet is not compromised at all from a signal processing standpoint so that it more fully addresses the needs and desires of this specific user group.
SMAKA:
I remember the days when we would basically have to tell patients, well, if you want to hear, this is what you have to wear. Not in those words of course. It's great to see this new design and colors.
Reliability is also key with this user group, who depends on their hearing aids and tends to wear them for all waking hours.
Oticon Chili BTE line
OLIVER:
Definitely. Of course, we put Chili through the very thorough reliability testing that is conducted on all Oticon instruments, and the product is also nano-coated to protect against damage from dirt and moisture.
There's also one other important area for people with severe to profound hearing loss, and that's connectivity. Connectivity is important for all individuals with hearing loss, but for the severe-to-profound population it's critical because they rely on being able to connect - whether it's to their cell phone, their laptop, their GPS, or their landline phone. Whatever particular communication or entertainment device they want to connect to, they can with Chili across all three models. We're very excited to be able to offer connectivity to this population. It's an area where they've struggled in the past, and we're now able to deliver.
SMAKA:
Thanks for the overview, Sheena. Acto and Acto Pro are in the mid-level category?
OLIVER:
Yes. Acto introduces our popular miniRITE model that has previously only been available in our premium Agil family into the mid-price category. The miniRITE has been very well received from a design standpoint by both new and existing users, so we're happy to now make it available to users in looking for a mid-market hearing solution.
In addition to the miniRITE model, Acto offers all of the other models that you would expect, including a BTE 13 with an earhook, which also has thin tube or Corda capabilities. There's a BTE 13 Power version available, and all of the custom models including new Power CIC and Power ITC models. As you can see, Acto and Acto Pro offer a wide range of options from a style perspective.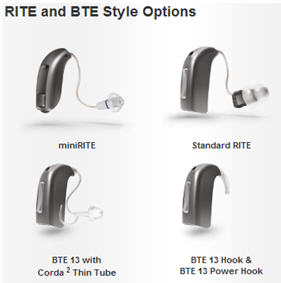 Oticon Acto BTE line
Acto also has more speaker flexibility for the receiver-in-the-ear models. So users can select Acto Pro or Acto, and then also have three types of receivers for three different output levels to choose from. That means that the hearing care professional can actually fit from a mild hearing loss all the way down to a severe hearing loss just by changing the speaker. This goes back to the point I made earlier about our desire to not only empower end users but also empower hearing care professionals. We've never had that type of fitting flexibility in the past where you could fit a mild to severe hearing loss right in the office using the same instrument.
We've also integrated a variety of different signal processing strategies in Acto, such as multi-band adaptive directionality. Acto also features TriState Noise Management, our DecisionMaker2 processing scheme, and an 8 kHz bandwidth. All of these features are designed to give a rich frequency response as well as a nice mix of natural, amplified sound.
As with all of the other Oticon products built on the RISE 2 platform, Acto also offers connectivity with the use of our Streamer. This enables connectivity to all the different types of devices that an end user would want, hands-free - it's fully intuitive and nicely designed. One thing we're finding with Acto is that many of the features that you'll find in this mid-level product, you won't find in other manufacturers' premium products.
When it comes to value, we believe that premium products are always going to offer the best option for a particular patient, but premium products are not an option for all end users. With Acto, the hearing care professional can feel confident that they're offering a hearing solution that's really going to deliver benefits that the patient will be able to experience and appreciate.
SMAKA:
If Acto offers many premium-level features, how does it differ from Agil?
OLIVER:
That's a great question. When you compare Agil Pro and Acto, there are still some significant differences that put Agil in a class by itself.
There are three things that differentiate Agil Pro from the Acto product family. The first is Spatial Sound. Agil's Spatial Sound 2.0 essentially preserves the natural characteristics of speech in order to provide improved sound quality and support the way that the brain works in organizing our acoustic space. Spatial Sound 2.0 is unique to Agil and is designed to maintain the natural acoustic cues and support localization that happens naturally for people with normal hearing. With Spatial Sound 2.0 we want to preserve as much of that as possible for individuals with hearing loss.
Another differentiating feature of Agil is Speech Guard. Speech Guard is also found in Chili since the severe to profound population can certainly benefit from this feature but it is not found in Acto.
Lastly, Agil includes Connect [+], which is part our connectivity solution ConnectLine, and includes enhancements to give more depth to streamed sound. For example, when a patient is streaming music, it makes for a much more "real" listening experience.
So, even though Acto is a very strong product in the mid-market, it's still clearly differentiated from Agil, which is in the premium category.
SMAKA:
What opportunities are available for training on Chili and Acto for professionals?
OLIVER:
We took a non-traditional approach with the launch of the two products, and launched them entirely virtually, meaning we didn't conduct in-person launch meetings. There were no large meetings with trainers, or large regional meetings with the sales staff. We actually introduced Acto and Chili entirely online. It was a first for us as an organization, and feedback from hearing care professionals tells us it was extremely well received.
We held several live online events on AudiologyOnline. We introduced these products to the market with six live e-seminars that were hosted by Pat Robertson, Special Projects Manager for Oticon. Then we followed up with
recorded CEU courses
that went into greater detail about all of the products. Hearing care professionals could attend a live event, get a preview of what was available, and then, depending on their interest and schedules, could choose to attend a recorded CEU course.
We chose a virtual launch for the new products because we recognize that at the end of the year, professionals are especially busy. They're trying to get prepared for the holidays, and in many regions of the country, the winter season makes travel more difficult. With the virtual launch, we were also able to give hearing care professionals the opportunity to earn CEUs and to learn about what's available from Oticon, in a way that was convenient for their schedules and accommodating of their needs. The feedback has been very positive and while we plan to use our in-person launches for future introductions, we will certainly keep the virtual launch as an option for times when it makes sense for the products and our professional partners.
SMAKA:
Great to hear that. My last question today is regarding marketing. Considering the state of the economy these days, what tips or suggestions do you have for people who want to promote Acto and Chili?
OLIVER:
One of the things that we always stress at Oticon is that marketing is an ongoing process. It's not something that you do only when new products are available, although that certainly is a good opportunity to communicate with your patients and future patients. One of the things that we found to be very successful with some of our existing customers, specifically with Chili, is to market to your own database.
Go through your database and identify those patients that have been fitted with power products in the past - three to five years ago -and send them a letter with a brochure, inviting them into your office for a risk-free demonstration of what Chili has to offer. In this economy when people are trying to conserve marketing dollars, using your own database is a cost-effective approach. It's also a very targeted outreach campaign, so you're more likely to have a higher yield and response rate.
SMAKA:
Is Chili easy to demonstrate in the office?
OLIVER:
Typically people with severe to profound hearing loss have very well-fitting ear molds because their hearing instruments are pushing out so much power, so this is definitely a product that you can easily demo in the office.
SMAKA:
I lied. One last question.
OLIVER:
Of course! Ask away.
SMAKA:
If I were a professional who wasn't familiar with Oticon's portfolio, can you describe the levels of technology with which products are in each?
OLIVER:
Sure. If you visit the Oticon Web site (
www.oticonusa.com
), you'll see we have an array of products in our active portfolio. Agil is premium. Our mid-priced product is Acto, and the entry level product family is Hit. From a design perspective, we also offer the Dual product family, and from a pediatric perspective we have Safari, which includes the recently introduced Safari Super Power. Chili is our Super Power model for the adult population. The majority of those products are available on our RISE 2 platform, so patients are able to benefit from many of the most desired features that are available in those products.
SMAKA:
Super. Thanks, Sheena. I appreciate your time today and wish you all the best this coming year!
OLIVER:
Thank you!
For more information, please visit
www.oticonusa.com
or the
Oticon Web Channel
on AudiologyOnline.