Carolyn Smaka: Thanks for your time, Sheena. Tell us about RIA, the newest product from Oticon that just launched last week.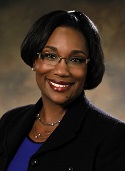 Sheena Oliver: It would be my pleasure. As you know, RIA is our first entry-level hearing solution that takes full advantage of the advanced Inium processing platform. Up until this point, the Inium processor had only been available in our premium and advanced technology solutions, the Oticon ALTA and Oticon NERA. Now with RIA, we are able to bring many of the exclusive benefits and features from the Inium platform to the essential category.
Carolyn: What are some of those benefits?
Sheena: One of the great things about RIA is that it is designed for people who are looking for a more affordable option, but still want to be able to experience improved performance, reduced listening effort as well as the enhanced personalization that come with the Inium platform. When we think about instruments within the entry-level category in our industry, offering this level of performance is just unheard of. But from an Oticon perspective, we are committed to putting the needs of people first. We wanted to empower hearing care professionals to be able to give consumers at all technology levels the ability to communicate freely, interact naturally, and participate actively.
Carolyn: What features does RIA have to accomplish these outcomes?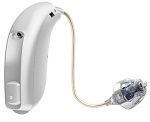 Sheena: The first notable feature is the Inium feedback shield. This feature dramatically reduces unwanted feedback without the distortion that is so common in other entry-level hearing instruments. In addition, our personalization process goes beyond the audiogram to enable hearing care professionals to coordinate a wide-range of automatic features to match each client's personal sound preferences, and to create a more satisfying listening experience for RIA wearers.
One of the other features new to the essential category is the use of binaural synchronization. With RIA Pro, the two instruments work together to help wearers engage more easily in conversation. With the addition of the Streamer Pro, RIA wearers can enjoy effortless communication and connectivity to many modern day devices.
Carolyn: And you are adding some new custom solutions across the entire Oticon portfolio?
Sheena: Yes. An exciting new advance across ALTA, NERA, and RIA is the new custom power receiver designed specifically for individuals with severe to profound losses. We are also adding an Invisible-in-the-Canal (IIC) style to RIA Pro, NERA Pro, and ALTA Pro. With the IIC, as you know, you now cannot only receive the performance benefits of the Inium platform, but also the discreetness that many patients are looking for with an IIC.

Carolyn: Where can professionals go for more information about RIA?
Sheena: We recently introduced RIA with an online experience, and we had more than 1,900 hearing care professionals participating. It was a great success. Hearing care professionals were able to experience RIA and the entire performance portfolio at the RIA launch website. We also hosted a 1-hour live chat that went into more detail about the product in an interactive forum with more than 650 professionals participating. Highlights of the online launch can be found at www.oticonuncover.com, where you will see animated product descriptions, an interactive quiz, some sound demonstrations, as well as a variety of downloadable resources. We also have a 1-hour CEU course on AudiologyOnline that covers RIA and the other products on the Inium platform.
Carolyn: Thanks for the overview. I wanted to switch gears and discuss marketing. Congratulations on being inducted into the 2014 Marketing Hall of Femme, which honors the most influential women in marketing. It is great for our entire industry to see one of our own be honored in this way. What does it mean to you?

Sheena: Thank you. I am very proud and excited to have been selected, and it is an honor that I share with my team as well as my company. Over the last several years, Oticon has taken some bold and innovative steps to increase the marketing effectiveness of our business partners. As you know, we serve a wide variety of practitioners from small independent practices to larger, multi-specialty clinics. The goal in everything that we do is to help our partners reach more patients with messages that are going to motivate them to take action and address their hearing loss. We do this in a number of different ways, including through customized marketing programs that are tailored to practices' unique needs, and by providing 24/7 practice support.
What is especially significant to me is that many marketers probably would not consider the hearing industry to be a major player. I am deeply appreciative that my company has given me the freedom to take Oticon into new marketing arenas. It is definitely an exciting time for our industry and I am grateful to work with a company that is willing to support innovation and change.
Carolyn: I have heard you say before that marketing needs to be measurable. Can you give some examples of Oticon programs that have been successful and how you have measured that success?
Sheena: Absolutely. I think our recent product launches are good examples. We mentioned RIA, a few moments ago. We also conducted the first virtual product launch with NERA that featured a 30-minute, live streaming event. These launches engaged a broad professional audience, strengthened brand perception and of course, generated sales. The goal was also to expand our reach to hearing care professionals in a way that works for practitioners' busy schedules. The events were virtually open to everyone from hearing care practices so that the entire staff could participate; it was not a matter of deciding who would go and participate. These launches allowed for people to interact with us in real time.
With the NERA launch, Oticon staff, audiologists, marketing professionals, sales, management executives, and product developers were able to showcase product benefits and engage with a live audience, as well as online viewers who were posting and Tweeting. As part of that, we had a social media feed. This was live streamed during the event and allowed viewers to comment and ask questions. The event was a great success based on the number of hearing care professionals that registered, the number that actually participated in the event, as well as the overall engagement via social media.
Carolyn: Great to hear. Any advice on how professionals should position RIA in their marketing and in discussions with clients?
Sheena: From a consumer marketing perspective, the nice thing about RIA is that it is on the Inium platform. With the Inium platform comes improved performance, reduced listening effort, and enhanced personalization. So, the hearing care professional can talk about those benefits in general. Then, as they start to have discussions with each client about their listening needs and budget requirements, they can decide where in the portfolio they want to focus, be it ALTA, NERA, or RIA instruments. It simplifies marketing and counseling, as you can focus on the benefits of the portfolio, and then match up the product to best fit each client's needs.
With other manufacturers, you will find that within the same platform as you go from from one technology level to another, products start to lose a significant amount of features. With Inium, we wanted to ensure that at each price point and level, the client is receiving some level of benefit from the Inium platform in each area.
Carolyn: Thanks again for your time today, Sheena, it's been great catching up.
For more information about Oticon, visit www.oticonusa.com or the Oticon Expo Page on AudiologyOnline.