AudiologyOnline: Why did Starkey Hearing Foundation open the Starkey Hearing Institute?
Alfred Mwamba, AuD: There is a dire shortage of hearing healthcare professionals in the developing world, and the institute was opened to address that problem. Approximately 900,000 Zambians currently do not have hearing healthcare. When I met Bill and Tani Austin, we talked about the need to train and educate people to help fight this problem. Bill's vision has always been to train teams of people around the world who can provide care. That vision led to the opening of the Starkey Hearing Institute in 2016. Our graduates have worked very hard to achieve the education and training they need to return to their home communities to help people with hearing loss.
AudiologyOnline: How does the Institute fight the problem of hearing impairment in developing countries?
Alfred Mwamba, AuD: People say I am the only audiologist in Zambia. I prefer to be called the first audiologist in Zambia, because if there are not more after me, too many people with hearing loss will go untreated. At Starkey Hearing Institute, we are training the next generation. After a full year of education, our graduates can champion the fight against hearing impairment. They are making an impact by going back to their communities to both treat and train others. The more people we train, the more people we can serve. Starkey Hearing Institute is the future of ear and hearing healthcare in countries where it is most needed.
AudiologyOnline: What training do the students get?
Alfred Mwamba, AuD: Our curriculum is designed so a graduate can be a hearing aid dispenser in any country they choose. This is a career choice for them. The Institute provides full-year, accredited, professional ear and hearing health education, including hands-on training in direct care delivery. Graduates have studied and been trained in professional ear and hearing health, including Starkey Hearing Foundation's WFA® Community-Based Hearing HealthCare Program and WHO Primary Ear and Hearing Care courses, as well as the Public Health Approach for District Level Ear and Hearing Health course developed by The London School of Hygiene and Tropical Medicine.
AudiologyOnline: What can you tell us about this year's class of graduates?
Alfred Mwamba, AuD: Our 11 graduates represent 5 countries from around Africa, all of them in great need of hearing healthcare services. In fact, one of our graduates Jimmy Tarimo is now the second hearing instrument specialist in his home country of Tanzania, where more than 2 million people suffer from disabling hearing loss, according to the World Health Organization. The need for hearing care professionals is just as great in Zambia, Rwanda, Uganda and Kenya -- and our graduates are eager to return to their home countries to help as many people as possible.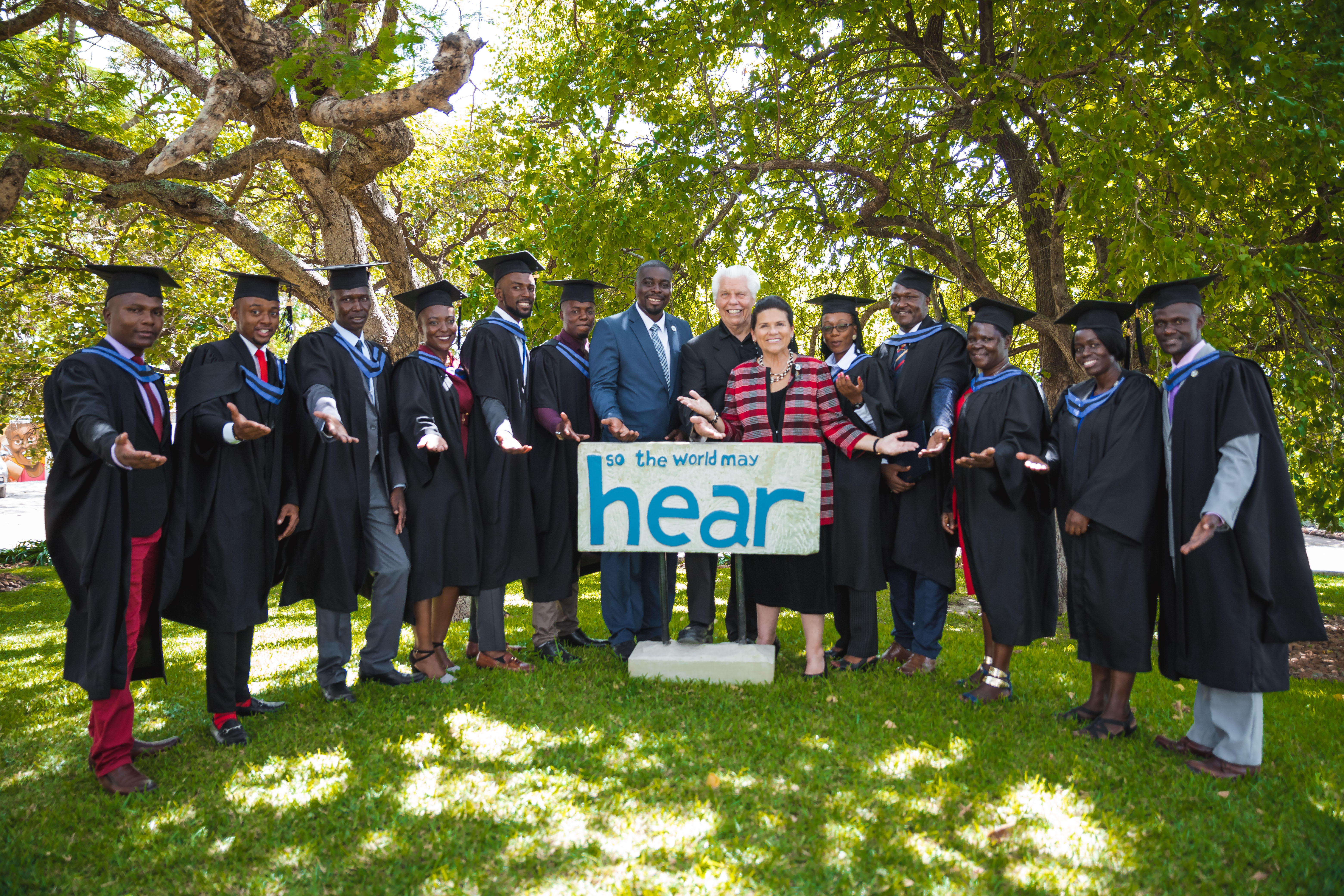 AudiologyOnline: How successful has the Institute been in its first 4 years?
Alfred Mwamba, AuD: We are molding the next generation of innovators. To date, 41 students from 15 countries throughout Africa have graduated from the Institute. Starkey Hearing Institute graduates have the potential to change lives by providing hearing healthcare in areas that desperately need it.
AudiologyOnline: Where have the students gone on to provide hearing healthcare after graduation?
Alfred Mwamba, AuD: We pride ourselves on developing the future leaders of hearing healthcare and all of our graduates are great examples. Florence Banda and Precious Nyanga are both nurses from our class of 2018. They are both using their hearing healthcare education to run the Pediatric Audiology Center for Excellence at the University Teaching Hospital in Lusaka, Zambia. We also have students who have gone on to work for Starkey Hearing Foundation as regional managers where they establish AfterCare programs and coordinate hearing healthcare services in their home countries.
AudiologyOnline: What's next for Starkey Hearing Institute?
Alfred Mwamba, AuD: Starkey Hearing Foundation has a goal of educating and training 300 community-based hearing healthcare professionals at the Institute by 2030. Our first four classes are just the beginning. We'll continue to bring in new students, and we strongly believe this Institute can be replicated all over the world. This year's class is just one more step in a long journey to fulfill the Starkey Hearing Foundation mission to give the gift of hearing to those in need, empowering them to achieve their potential.
AudiologyOnline: How can people support Starkey Hearing Institute?
Alfred Mwamba, AuD: Financial support is key to the Institute's success. It takes a team to provide this level of education and training. Without the support of our generous donors, we would not be able to make the impact we have on 41 students and all the lives they have gone on to touch. You can learn more about sponsoring a student by providing a Starkey Hearing Institute Scholarship at starkeyhearingfoundation.org
For more information, please visit Starkey Hearing Foundation.