AudiologyOnline: What is Widex Moment Sheer?
Dana Helmink: Widex Moment Sheer is a new hearing technology solution that builds upon the proven benefits of Widex Moment to further enhance wearers' lifestyles and well-being. Backed by industry-leading natural sound technology, Widex Moment Sheer is for hearing care professionals who want technology that is easier for them to select and fit, and for patients to wear and use.
AudiologyOnline: What innovations in Widex Moment and Widex Moment Sheer improve the user experience?
Dana Helmink: Since their launch, Widex Moment hearing aids have shown substantial advantages, not only in the increased naturalness of sound, but also in other subjective benefits and preferences, such as satisfaction in noise, localization of sounds, and naturalness of one's own voice. Widex Moment and Widex Moment Sheer are now building on those benefits to go beyond healthy hearing, to healthier living, adding features and improvements that not only overcome the challenges of hearing loss, but also the challenges of everyday life.
Widex Moment and Widex Moment Sheer improve the user experience by expanding the proven benefits of Widex PureSound to more users, adding advanced software and hardware technologies that support engagement and improved wellbeing and elevating design standards to instill pride and confidence in ownership.
AudiologyOnline: What is MySound 2.0, and how does it expand upon the company's previously launched AI-based customization tools?
Dana Helmink: Accessible through the Widex Moment app, MySound 2.0 combines the power of artificial intelligence with wearer-intent so users can always hear what they want in various environments. MySound 2.0 can now deliver an even more personal and impactful hearing experience through a new customization parameter — compression. This functionality allows users to choose what sounds they want to emphasize depending on their environment, allowing for even greater customization.
MySound 2.0 is built on two different approaches to sound personalization: Made by You and Made for You. Made by You guides users to a better sound through a series of A/B comparisons, allowing them to tailor the experience to their exact listening needs. These A/B comparisons have been updated to include compression preferences, resulting in over 10X more comparisons than the original MySound. Made for You uses AI to gather sound preferences from Widex wearers worldwide and instantly distills them into optimized sound recommendations for the user.
AudiologyOnline: How does Widex SoundRelax work? What does it accomplish?
Dana Helmink: Widex SoundRelax is an expanded library of fractal sounds that builds on Widex's strong legacy in tinnitus management and expands its fractal sound stimulation techniques to wearers with and without tinnitus. The technology leverages fractal mathematics to generate constantly changing, soothing tones and chimes that become familiar, but never repeat.
Intended to help wearers relax, improve their well-being, and boost concentration, Widex SoundRelax includes calming music, soothing tones and nature sounds to provide acoustic stimulation. The user-driven experience is fully customizable through the Widex Moment app and there are a wide variety of selectable soundscapes.
AudiologyOnline: What drove Widex to expand fractal technology to all users, with and without tinnitus?
Dana Helmink: We're all becoming increasingly aware of the effects stress can have on our minds and bodies. So, finding new and innovative ways to relax has never been more important. That drove us to expand our fractal sound stimulation universe through Widex SoundRelax. We also give hearing care professionals the option to combine SoundRelax with Widex PureSound, providing an all-encompassing device that improves hearing and calms the mind.
AudiologyOnline: What is Widex Sound Assist? How does Widex Sound Assist benefit users?
Dana Helmink: Widex Sound Assist is a multi-functional accessory, intended to work in a range of situations where the hearing aid wearer needs extra help and additional functionalities. The six-in-one device includes partner and table microphone functionality, hands-free phone calls, direct streaming from any Bluetooth® device, remote control of Widex Moment hearing aids, and telecoil capabilities. Its compact, discrete, and easy-to-use design means users can have an assist any time, any place they need it.
Using a clip or lanyard, Widex Sound Assist can be placed on a conversation partner with the microphone pointing towards their mouth. This substantially improves the signal-to-noise ratio, and the resulting speech intelligibility. When placed on a table between several conversation partners, Widex Sound Assist analyzes the sound environment and helps enhance speech and reduce noise. The user can also choose to lock the Sound Assist for focus in one specific direction.
AudiologyOnline: Describe Widex Moment Sheer's new look and feel?
Dana Helmink: We believe a truly great hearing experience goes beyond what you hear. That's why, with Moment Sheer, we've united our entire flagship range of products under one refined design philosophy. Every Moment Sheer hearing aid, its charger, and jewel case along with TV Play have a premium design that brings its aesthetic impact into line with its audiological excellence. From the metallic trim to the functional details to the exclusive fabric – everything about the Moment Sheer range is designed to entice users to try them out.
AudiologyOnline: How does Widex PureSound offer a natural sound experience?
Dana Helmink: Widex PureSound with ZeroDelay continues to deliver the fastest sound processing available, eliminating the delay-based distortion that can result in artificial sound while making it easier for users to discern speech and detect and place sounds around them. It preserves listeners' cues for spatial perception, resulting in a more natural, layered sound experience.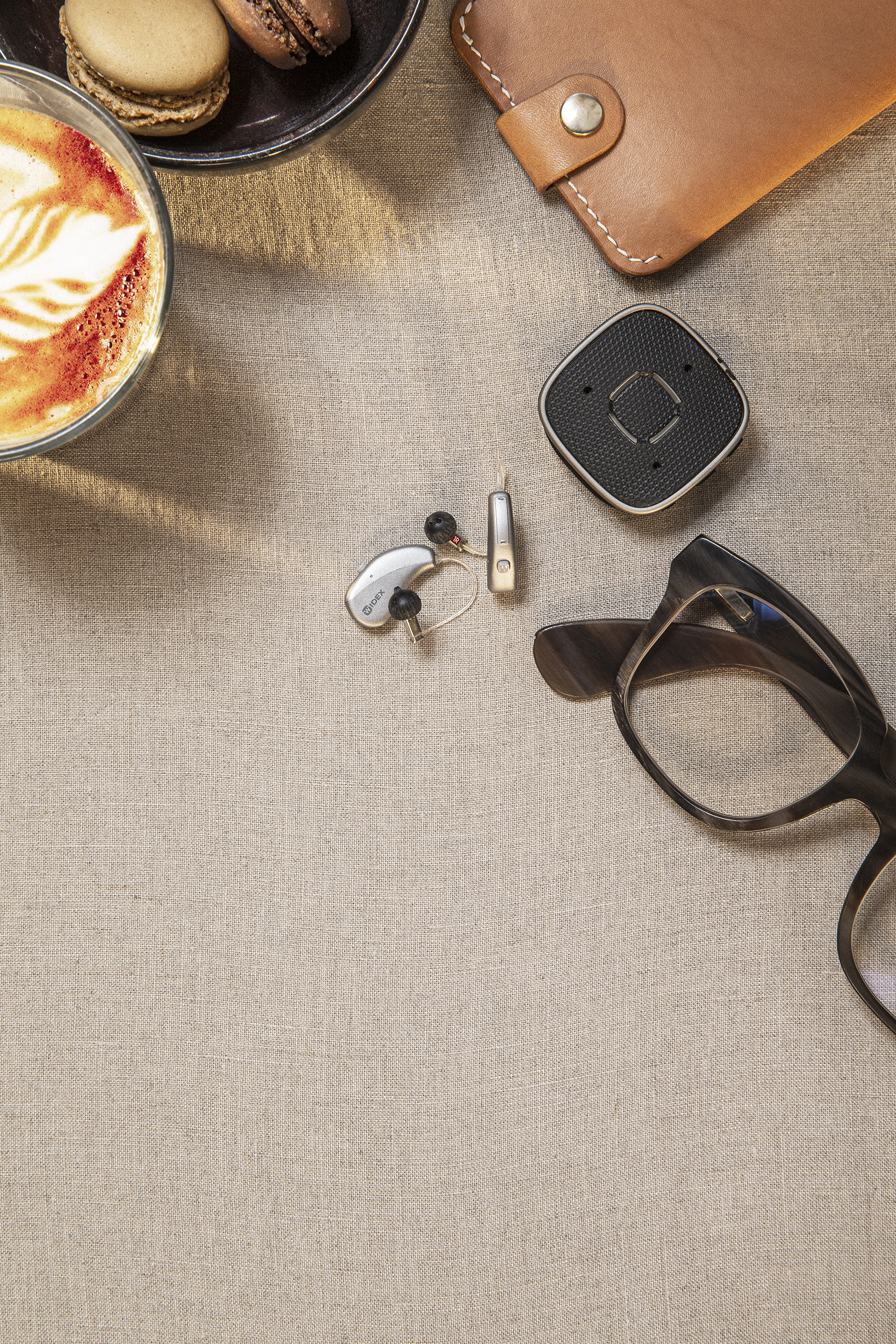 AudiologyOnline: How have you improved the fitting experience for HCPs and their patients?
Dana Helmink: Now available with Widex Moment and Widex Moment Sheer is a new range of instant ear-tips that work with TruAcoustics™, our company's fitting calculation software, to provide better acoustical stability. New ear-tips and fitting recommendations also allow a broader range of hearing losses to be fitted with instant tips, giving HCPs even more flexibility.
AudiologyOnline: What is the "Widex Difference," and how does it relate to the launch of Widex Moment Sheer?
Dana Helmink: Widex Moment Sheer is a direct outcome of the Widex Difference — a new approach designed to help HCPs provide superior patient services and deliver results that help them stand out in an increasingly crowded market. One of the core pillars of the Widex Difference, along with being an Audiology Ally and offering a Premium Experience, is developing Unique Technology that delivers sound like no other.