Lederach, PA — November 13, 2023 – Amplifi Hearing announced today that it has been recognized for EarScript in the fourth annual Hearing Technology Innovator Awards Competition. EarScript is an iPad app and patented process that enables patients to listen to various environments and compare popular brands and models of hearing aids based on their own hearing profile.
The annual awards program by Hearing Health & Technology Matters (HHTM) acknowledges technological innovation and accomplishments in the hearing industry. This year's program featured numerous innovative technologies submitted by companies from all around the world across eight distinct categories.
EarScript received this prestigious Innovation Award in the Service Delivery: Clinical Products category. The EarScript iPad app was designed to be both easy and quick to use in the clinic, and effective in improving the amplification journey. Covered by both U.S. and Canadian patents, it is the only product that enables a patient to hear and compare the sound from various brands and models of hearing aids, programmed to their own audiometric profile, over a variety of listening environments.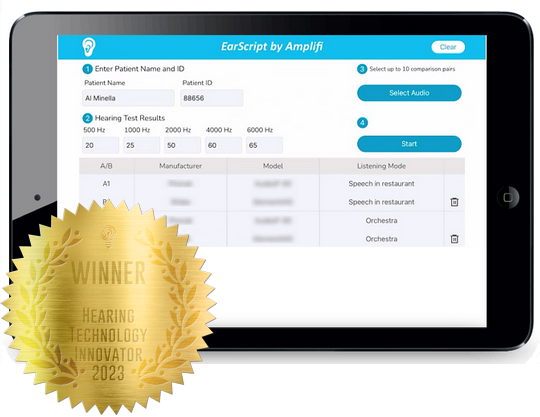 Dave Davis, Co-founder of Amplifi commented, "We're incredibly proud to be recognized for our innovative EarScript product and thank HHTM and those who voted for EarScript. We believe that innovation is key to success in this industry and our iPad app helps enhance the patient's hearing care journey. We appreciate the recognition and will be making some additional exciting announcements about EarScript in the next month."
"The Innovator Awards aim to acknowledge the individuals and organizations that transform groundbreaking hearing care concepts into reality," explained Dr. Robert Traynor, member of the 2023 Awards program judge's panel. "Companies like Amplifi Hearing are playing a pivotal role in advancing innovation throughout the industry."
Intended for use by hearing care providers, EarScript first matches a customer's hearing thresholds to one of 12 profiles based on established norms for the most common audiogram patterns. Once the correct profile is selected, our algorithm then selects sound files representing common listening conditions which were recorded from the leading makes and models of hearing aids using a documented technical process based on industry best practice. With EarScript, each patient can quickly assess the performance of different hearing aids, become engaged in which product sounds best for them and feel empowered that they are making an informed decision regarding their care. EarScript also benefits the provider by creating a more personalized selection process, reducing hearing aid demos and resulting in higher patient satisfaction overall.
About Amplifi Hearing, LLC
Amplifi was formed in 2021 by industry veterans Dr. Tom Powers and Dave Davis, with a mission to help improve how hearing care is delivered through practical innovation. We're headquartered in suburban Philadelphia and are partnering with some of the industry's leading companies to bring tools that help improve the hearing aid selection and dispensing process, leading to better patient satisfaction and productivity for hearing care providers. For more information, please visit our website at www.amplifihearing.com.
About HHTM
Hearing Health & Technology Matters (HHTM) provides timely information and lively insights to anyone who cares about hearing loss. Readers and contributors are drawn from many sectors of the hearing field, including practitioners, researchers, manufacturers, educators, and, importantly, consumers with hearing loss and those who love them. By involving all these groups, we hope to bridge the gaps in knowledge that so often divide them. To learn more, visit HearingHealthMatters.org.
About the Hearing Technology Innovator™ Awards
The Hearing Technology Innovator Awards is an international awards program designed to recognize and celebrate innovation within the hearing industry. Since its inception, the program has helped raise over $25,000 for hearing charities. Learn more at https://hearinghealthmatters.org/hearing-news-watch/2023/4th-hti-award-winners/