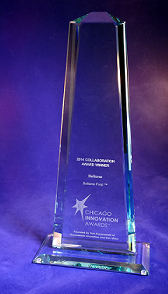 CHICAGO--(BUSINESS WIRE)--Beltone, one of the world's most recognized names in hearing, has been named the Collaboration Award winner of the 13th annual Chicago Innovation Awards for its Beltone FirstTM product.
The winners were announced at an event held at Chicago's Harris Theater on Thursday, October 30, with nearly 1500 business and civic leaders attending. The Chicago Innovation Awards, celebrating its 13th year, is the Chicago region's foremost recognition of the most innovative new products or services brought to market or to public service each year.
Glenview, Ill.-based Beltone was recognized for its revolutionary Beltone First hearing aid, the first hearing instrument to receive wireless audio streaming directly from an iPhone®, iPad®, or iPod touch® via 2.4GHz technology. Virtually invisible, it can be used with other wireless accessories without the need for an intermediary device. Beltone First fits more than 90% of all patients and features sound processing that allows the wearer to adjust to virtually any environment.
"We are thrilled to win this award and to be recognized for our innovative technology, Beltone First," says Beltone President Todd Murray. "For the first time ever, hearing impaired people can use their Apple devices to stream music and sound from their favorite album or audio book, and take phone calls directly through their hearing aids!"
"Chicago is an innovation hub with talented business leaders who have the vision to see things differently and set themselves apart from the competition," said Tom Kuczmarski, co-founder with Chicago journalist Dan Miller of the awards. "Every winner of the Chicago Innovation Awards embodies this mindset, and each one has found a unique way to solve a previously unmet need in the market."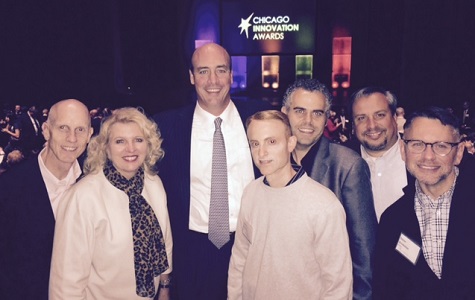 Beltone Team members attended the Chicago Innovation Award Gala at the Harris Theater Oct. 30th. Beltone won the Chicago Innovation Award for Best Collaboration for Beltone First, our innovation in collaboration with Apple. Photo from left to right: Chris Sixt, Barb VanSomeren, Todd Murray, Jeremy Steiner, Steve Hallenbeck, Paul Giampaolo and Steve Brinkman.
The winning organizations receive a variety of honors including the opportunity to ring the NASDAQ Bell in New York City, a profile in Crain's Chicago Business, and meetings with the Mayor, Governor and Cook County President. The complete list of this year's Chicago Innovation Award winners can be found at www.chicagoinnovationawards.com.
About Beltone
Founded in 1940, Chicago-based Beltone is part of the GN Hearing Care Group, utilizing advanced technology to produce hearing aid instruments sold in the United States, Canada and over 50 countries worldwide. In addition to providing outstanding service and support for its U.S. hearing care network operating in over 1,500 offices in North America, Beltone remains the most trusted brand for quality products and care among its patients and adults aged 50 and older. Visit Beltone at www.beltone.com or the Beltone Expo Page on AudiologyOnline.