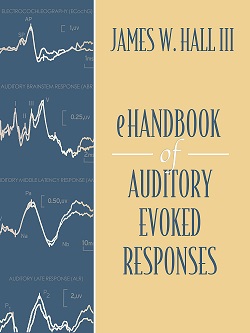 Practical, up-to-date, online guide provides audiologists the latest information on the clinical applications of auditory evoked responses.
August 28, 2015. Dr. James (Jay) Hall is excited to announce the release of The eHandbook of Auditory Evoked Responses. This new eHandbook is a completely revised and updated digital version of the popular New Handbook of Auditory Evoked Responses (2007).
The new eHandbook provides a clear and comprehensive review of auditory evoked responses and includes test principles, protocols, and procedures for clinical application. The latest advances in clinical research and applications are covered, such as the use of ECochG in ANSD and cochlear implantation, the clinical advantages of chirp stimulation in ABR and ASSR recordings, and the multiple contributions of cortical auditory evoked responses to assessment and management of pediatric and adult patients, among others.
"Since publication of the 2007 handbook, the practical and research applications of auditory evoked responses has grown tremendously", states Hall. "It can be challenging for professionals to keep up with the latest developments. I wrote The eHandbook of Auditory Evoked Responses as a practical, up-to-date resource for practicing audiologists and hearing scientists, and as a textbook for graduate students. The convenient digital format as well as the competitive price should make it accessible for anyone interested in this exciting area of audiology."
The eHandbook of Auditory Evoked Responses is now available from Amazon.com.
About the Author
James W. Hall III, PhD is an internationally recognized audiologist with 40-years experience. During his distinguished career, Dr. Hall has held clinical and academic audiology positions at major medical centers. He is now president of James W. Hall III Audiology Consulting LLC, and holds academic appointments at the University of Pretoria in South Africa, Nova Southeastern University and at Salus University. He is a Founder of the American Academy of Audiology and is the recipient of numerous honors and awards. He received a Bachelor's degree in biology from American International College, a Masters degree in speech pathology from Northwestern University and his Ph.D. in audiology from Baylor College of Medicine under the direction of Dr. James Jerger. A gifted teacher and interantioanl lecturer, Dr. Hall has authored over 150 peer-reviewed journal articles, monographs, or book chapters as well as nine textbooks.