November 29, 2018 – (Durham, NC) – MED-EL USA announced today that the country's first BONEBRIDGE™ Hearing Implant System surgery was completed at Texas Children's Hospital. Otolaryngologist Yi-Chun Carol Liu, MD, performed the surgery on an 18-year old, and the device was successfully activated on November 13, 2018.
Cleared by the U.S. Food and Drug Administration (FDA) in July 2018, BONEBRIDGE represents an entirely new approach to bone conduction hearing technology, and is cleared for use in conductive and mixed hearing losses as well as single-sided deafness for candidates age 12 and older. BONEBRIDGE is the world's first bone conduction implant that combines the benefits of intact skin with direct drive stimulation of the bone for optimal sound and improved quality of life.
"Since the FDA clearance of BONEBRIDGE and ADHEAR earlier this year, we have been actively working with surgeons, audiologists, and hearing implant centers around the country to ensure that our game-changing surgical and non-surgical bone conduction hearing technologies can get to candidates," said Raymond Gamble, CEO & President, MED-EL North America.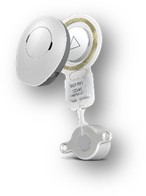 BONEBRIDGE consists of two components: the internal implant, and the sleek, award-winning SAMBA audio processor, which can be worn discretely beneath the hair. Unlike bone anchored hearing aids with an abutment that protrudes through the skin and requires lifelong medical treatment and maintenance, BONEBRIDGE offers intact skin technology. As the implant is placed completely underneath the skin and the audio processor places minimal pressure on the skin, BONEBRIDGE recipients enjoy a low complication rate and comfortable daily wear of their audio processor.
About Conductive/Mixed Hearing Loss and Single-Sided Deafness
Conductive hearing loss is caused by problems with the ear canal, ear drum, or middle ear and its tiny bones (the malleus, incus, and stapes). Causes of conductive hearing loss include congenital absence of the ear canal or failure of the ear canal to be open at birth, and congenital absence, malformation, or dysfunction of the middle ear structures. Conductive hearing loss can also be caused by infection, tumors, middle ear fluid from infection or Eustachian tube dysfunction, a foreign body, trauma (as in a skull fracture), and otosclerosis.[i] Mixed hearing loss is a combination of a sensorineural and conductive hearing loss. It results from problems in both the inner and outer or middle ear. Single-sided deafness (SSD) is a condition of profound unilateral sensorineural hearing loss, with normal hearing in the better hearing ear. SSD is a severe impairment that makes it hard to understand speech and sounds especially in noisy environments, as well as causes difficulties in determining the direction of a sound's location.
About MED-EL
MED-EL Medical Electronics, a leader in implantable hearing solutions, is driven by a mission to overcome hearing loss as a barrier to communication. The Austrian-based, privately owned business was co-founded by industry pioneers Ingeborg and Erwin Hochmair, whose ground-breaking research led to the development of the world's first micro-electronic multi-channel cochlear implant (CI), which was successfully implanted in 1977 and was the basis for what is known as the modern CI today. This laid the foundation for the successful growth of the company in 1990, when they hired their first employees. To date, MED-EL has grown to more than 1,900 employees and 30 subsidiaries worldwide.
The company offers the widest range of implantable and non-implantable solutions to treat all types of hearing loss, enabling people in 123 countries to enjoy the gift of hearing with the help of a MED-EL device. MED-EL's global portfolio of hearing solutions includes cochlear and middle ear implant systems, a combined Electric Acoustic Stimulation hearing implant system as well as bone conduction devices. www.medel.com
# # #