SoundGate3 and SoundLink App Connect New Solutions to iPhone® and Android™ Smartphones.
SOMERSET, NJ May 4, 2015 – Sonic today launches two new products designed to make everyday sounds even better. New Celebrate rises to the occasion to deliver clear and natural sounds that make everyday interactions something to celebrate. The Celebrate family puts the spotlight on speech and shines in its ability to adjust its advanced features and amplification to address any situation. The new Journey Super Power BTE gives people with extreme hearing loss more confidence in day-to-day conversations. Both products are built on Sonic's robust Speech Variable Processing and include powerful new features including Frequency Transfer, Reverb Reduction and updated wireless capabilities.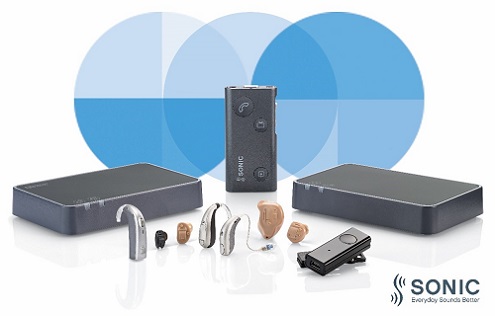 "We design hearing solutions that make everyday sounds better for people no matter what their day-to-day situations," says Joseph A. Lugara, Sonic President & Chief Operating Officer. "Like all Sonic solutions, new Celebrate and Journey are built on our sophisticated Speech Variable Processing Platform with a solid set of features from wireless connectivity options to binaural processing and of course, outstanding sound quality."
Everyday conversations just got better
The Celebrity family boasts a wide variety of styles and models that perform like superstars in everyday situations. Advanced features help to preserve the soft nuances in spoken speech, separate speech from surrounding noise and turn up the volume of speech frequencies users want to hear. The new Reverb Reduction works to control the lingering "ring" that sounds can take on in large spaces such as assembly halls or places of worship. The Airplane Environment addresses the challenges patients encounter in noisy airplane cabins and the new Custom Environment allows hearing care professionals to tailor features and amplification to suit each patient's unique listening situation. For patients with limited high frequency cochlear function, the new Frequency Transfer feature compresses high frequency input and shift it to frequencies with better hearing to improve the overall audibility of speech cues.
Sonic's advanced features also power the new Journey Super Power BTE to help patients with extreme hearing loss feel more confident in everyday conversations. The Analog Volume Control precisely adjusts volume in 1 or 2 dB increments, providing fine control for patients with reduced dynamic range. The LED Visual Indicator makes it easy to confirm battery life, volume and program changes.
More everyday connectivity
The wireless capabilities of Celebrate and Journey Super Power BTE connect patients to a range of connectivity conveniences. New SoundGate 3 is the hub of connectivity accessories, linking to Bluetooth® devices including mobile phones, music players, PCs and more. With SoundGate 3 and the new SoundLink App, patients can change volume, programs and listening sources with just a tap of their iPhone® or Android™ smartphone. The SoundLink App is available for free download on the App Store and Google Play.
Still more connectivity options make everyday living fun and hassle-free. The SoundGate Mic closes the gap when listening to a distant speaker. The tiny clip-on mic transmits the speaker's voice via SoundGate 3 directly to the patient's hearing instruments. The new RC-N Remote Control fits discreetly in a pocket or purse for easy, discreet program and volume changes.
For more information about the new Celebrate family and Journey Super Power BTE, visit www.sonici.com or the Sonic Expo Page on AudiologyOnline.