SOMERSET, NJ June 13 – The acclaimed Sonic fitting software that lets hearing care professionals make fast, accurate fittings has a new look, new feel and a new name. New EXPRESSfit® Pro is an easy-to-use, robust system with all the tools needed to fine-tune settings on the revolutionary Sonic SoundDNA platform. New graph view options and more fitting bands facilitate sophisticated adjustments. Plus, the optimized fitting flow keeps the focus on the patient by allowing more time for the hearing care professional to give counsel and further assist communication needs.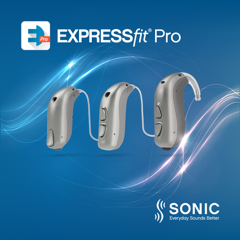 New Adaptation Manager
When patients, especially new wearers, are eased into their hearing aids, greater acceptance and long-term use of hearing aids can result. Adaptation Manager, a new feature in EXPRESSfit® Pro, enables hearing care professionals to customize the number of adaptation steps and amount of adaptation time (from one week to four months) that patients may need until the full gain prescription is active.
Simple, Accurate Fittings
Real Ear Fit, now updated in EXPRESSfit® Pro, simplifies real ear fittings to achieve accurate fittings and improve patient satisfaction. Real Ear Fit sequentially measures REUG, REAG and then performs automatic fine-tuning of the response in a convenient, orderly flow. The hearing instrument response is matched automatically to prescribed targets without the need for manual adjustments for soft, medium and loud input levels. Real Ear Fit is compatible with the following REM systems: MedRx Avant Speech, MedRx Avant Speech+, MedRx Avant REMsp, Interacoustics Affinity and Interacoustics Callisto.
New FittingLINK 3.0
The new wireless programmer, FittingLINK 3.0, connects directly to new Enchant hearing aids without the hassle or distractions of any intermediary devices, such as neck loops, cables or connectors. The remarkably small programmer, about the size of a USB Bluetooth® dongle adapter, uses 2.4 GHz Bluetooth Low Energy (BLE) for fast and direct wireless connectivity.
EXPRESSfit® Pro also includes SoundStudio so patients can experience multiple real-life sound sources in a variety of environments in the comfort and convenience of the office. SoundStudio features both an audio Sound Library and a video Scene Library. Scenes can be customized to reflect individual patient listening situations, and hearing care professionals have the option of importing sound files to demonstrate additional sound environments. Other new features in EXPRESSfit® Pro are the Firmware Updater and Software Updater.
For more information about EXPRESSfit® Pro, visit www.sonici.com or the Sonic Expo Page on AudiologyOnline.
ABOUT SONIC
Sonic is a U.S.-based manufacturer of hearing care solutions that envisions a world where all people can enjoy the sounds that enrich everyday life and where lives are improved through enhanced hearing. Since 1998, Sonic employees and distributor partners have provided quality products with a proven benefit track record. Today Sonic has a global sales network represented in more than 45 countries. Sonic focuses its product development on its 4S Foundation (Sound that's natural, Speech understanding in noise, Simplicity in everything we do and Style that stands out) to ensure that with Sonic, Everyday Sounds Better. Visit www.sonici.com for more information.