SOMERSET, NJ June 19 -- Sonic introduces the revolutionary new SoundDNA platform, powering Sonic's most automatic, adaptive and flexible hearing aid technology to date. SoundDNA enables Enchant – the first hearing aid family built on the new platform – to deliver clear and natural sound in a brand new way. With a breakthrough adaptive compression system and a trio of new Speech in Noise (SPiN) technologies, the intelligent sound processing platform accurately detects environmental changes and optimizes sound so patients can keep up in even the most complex listening environments. SoundDNA provides faster performance and features that combine functionality and innovation to create incredibly natural listening experiences for patients.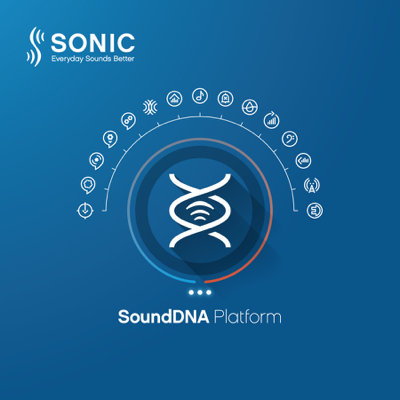 SVP with SmartCompress
SoundDNA's significant increase in processing power supports new SmartCompress, a breakthrough adaptive compression system designed for challenging environments. SmartCompress, in conjunction with renowned Sonic Speech Variable Processing (SVP), optimizes amplification in quiet, noise and speech settings without the need for a separate environment classification system. Working together, the two technologies intelligently adjust amplification. The adaptive SmartCompress system identifies the short- and long-term signal-to-noise ratio and determines which signals should be amplified, instantly adapting the proper gain and compression. Patients benefit from an incredibly accurate detection of changes in the environment for a more natural listening experience. SmartCompress can be customized using the EXPRESSfit® Pro software to fit each patient's unique listening and lifestyle needs.
New SPiN (Speech in Noise) Management
Found exclusively in the SoundDNA platform, new SPiN (Speech in Noise) Management is a trio of technologies that enhances speech, reduces noise and optimizes control. SPiN Directionality enhances sensitivity to sound via an all-new directional microphone system. The system operates independently in 16 frequency bands, four times more than in the past, and is completely intuitive with no need for either the hearing care professional or the patient to pre-select the directionality pattern. Also operating in 16 bands is SPiN Noise Reduction, an ultra-fast algorithm that acts immediately to preserve high-modulation speech sounds and reduce low-modulation noise. SPiN Engage optimizes the activation of noise reduction technologies to support individual patient needs in changing listening situations.
Wow of Wireless – Even Better
The Sonic SoundDNA platform makes the wow of wireless even better with the introduction of the new Dual-Radio System in Enchant hearing aids. The new system employs 2.4 GHz technology so patients can stream audio directly to their hearing aids via their iPhone® without the need for a go-between intermediary device. The Dual-Radio System also incorporates Near Field Magnetic Induction (NFMI) for faster ear-to-ear communication. Patients stay connected and benefit from a variety of Bluetooth® Low Energy (BLE) wireless accessories. The SoundLink 2 App for iPhone® and AndroidTM smartphones controls wireless operations and includes updated features such as "find my hearing aid", links to instructions and low battery notification. Patients can also use the RC-A Remote Control to adjust volume and programs and the TV-A Adapter to stream favorite TV programs directly to their hearing aids.
For more information on the Sonic SoundDNA platform and Enchant hearing aids visit www.sonici.com or the Sonic Expo Page on AudiologyOnline.
ABOUT SONIC
Sonic is a U.S.-based manufacturer of hearing care solutions that envisions a world where all people can enjoy the sounds that enrich everyday life and where lives are improved through enhanced hearing. Since 1998, Sonic employees and distributor partners have provided quality products with a proven benefit track record. Today Sonic has a global sales network represented in more than 45 countries. Sonic focuses its product development on its 4S Foundation (Sound that's natural, Speech understanding in noise, Simplicity in everything we do and Style that stands out) to ensure that with Sonic, Everyday Sounds Better. Visit www.sonici.com for more information.
Sonic Enchant and SoundLink 2 App are compatible with iPhone 7 Plus, iPhone 7, iPhone SE, iPhone 6s Plus, iPhone 6s, iPhone 6 Plus, iPhone 6, iPhone 5s, iPhone 5c, iPhone 5, 9.7-inch iPad Pro, 12.9-inch iPad Pro, iPad Air 2, iPad Air, iPad (4th generation), iPad mini 4, iPad mini 3, iPad mini 2, iPad mini, and iPod touch (5th and 6th generation). Devices must be running iOS 9.3 or later. The app also supports Apple Watch. When downloading the SoundLink 2 App on iPad, search for iPhone apps on the App Store. SoundLink 2 App is compatible with devices powered by Android™ 6.0, Marshmallow or above. For information on compatibility, please visit www.sonici.global/compatibility.