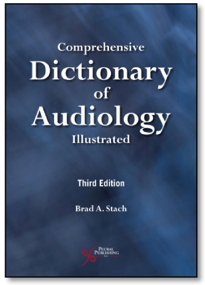 San Diego, CA – May 30, 2019 – Now in its third edition, the Comprehensive Dictionary of Audiology: Illustrated, is a must-have resource for anyone involved in the field of audiology. It defines over 7,000 terms integral to the profession, practice, and science of audiology and covers both current and historical terms. Practicable illustrations enrich the definitions throughout.
Additionally, the text includes an appendix of acronyms, abbreviations, and symbols, an appendix of auditory system disorders, and a user's guide to the dictionary. Concise, current, and accessible, this edition meets the needs of audiologists today with updates in response to developments in practice and technology in the field.
Approximately 200 terms have been added to the third edition and it is now available in both print and electronic formats for the first time. Comprehensive Dictionary of Audiology: Illustrated, Third Edition, is invaluable for audiologists and professionals in the communication sciences.
Book Details
Title: Comprehensive Dictionary of Audiology: Illustrated, Third Edition | Author: Brad A. Stach | Published: 2/22/2019 | ISBN: 978-1-94488-389389-8 | https://www.pluralpublishing.com/publications/comprehensive-dictionary-of-audiologyaudiology-illustrated
About The Authors
Brad A. Stach, PhD, is Director of the Division of Audiology, Department of Otolaryngology-Head and Neck Surgery, of the Henry Ford Hospital in Detroit, Michigan. Dr. Stach has served in audiology leadership positions in Houston, Washington, D.C., Palo Alto, Halifax, and St. Louis. He has also held faculty appointments at the Baylor College of Medicine, Georgetown University, Stanford University, Dalhousie University, Washington University of Saint Louis, and Wayne State University, among others. Dr. Stach is the author of a number of books, book chapters, and articles and is an editorial consultant for several professional journals. He was a founding board member of the American Academy of Audiology and has served as its President and the Chair of its Foundation Board of Trustees.
About Plural Publishing, Inc.
Plural Publishing produces leading academic, scientific and clinical publications in the fields of speech-language pathology, audiology, otolaryngology, and professional singing. Plural Publishing, Inc. aims to fill a space in the field of communication sciences and disorders with high-quality publications written by world-class experts in order to improve and enhance the knowledge base of each profession, from the classroom to clinical practice. Plural Publishing prioritizes the intellectual growth of the disciplines it serves and strives to improve and advance these fields through its publications.