San Diego, CA – August 22, 2019 – Rapid Audiogram Interpretation: A Clinician's Manual provides a methodical, step-by-step approach for interpreting audiograms. Training and experienced clinicians, as well as non-audiologists in related fields, will benefit from this unique workbook and easy-to-remember interpretation process.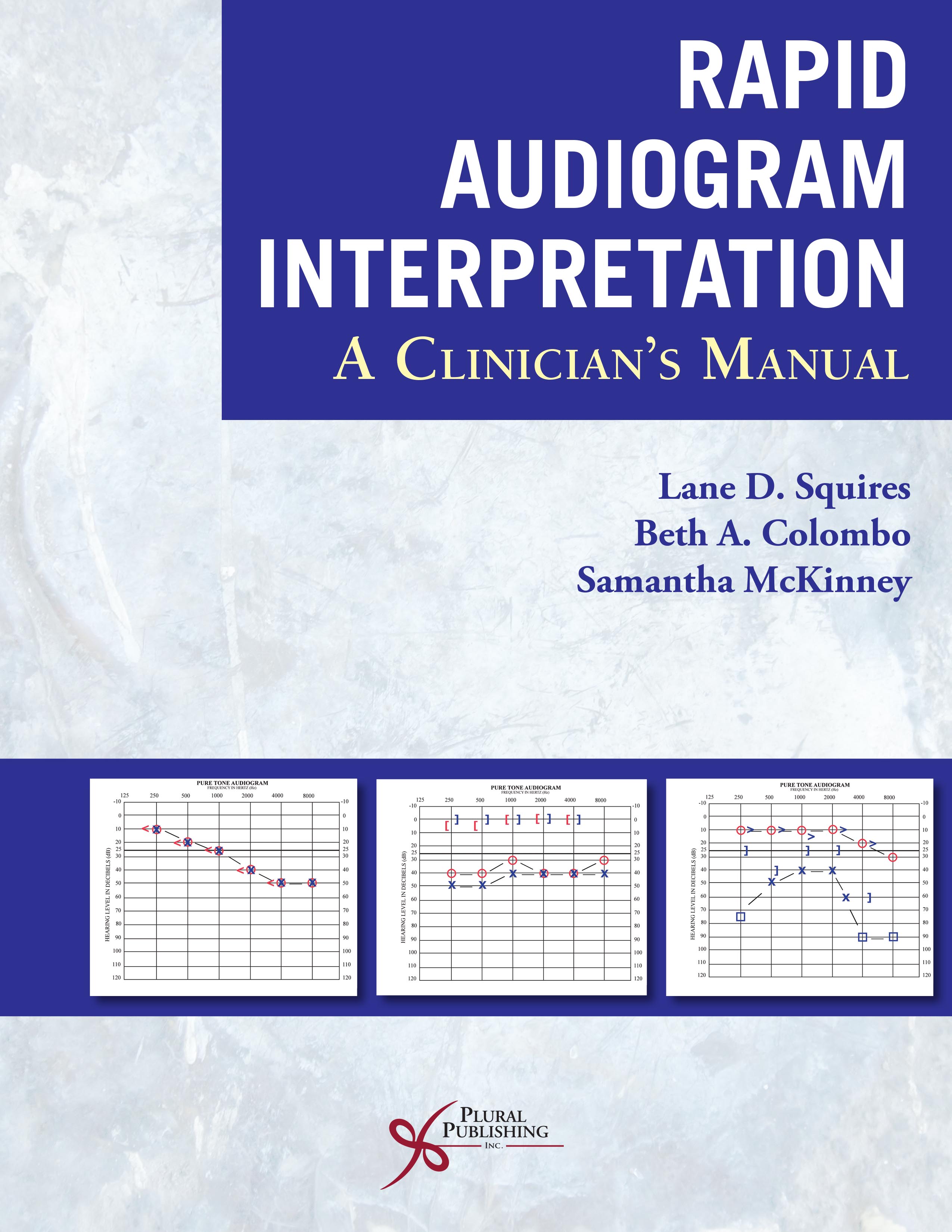 The manual includes audiogram examples on a varying level of complexity (basic, intermediate, and advanced), accompanied by official interpretations, matching the specific interpretation method recommended by the authors. This specific interpretation process allows the reader to learn the method and apply it to every future audiogram interpretation, making it an invaluable resource.
Otolaryngology trainees (graduate medical students, residents, fellows) are expected to have a working knowledge of audiogram interpretation, however, few, if any, have direct lectures or mentored clinical experiences designed to provide this knowledge within their first few years of training. This resource fills that gap and provides a means for beginners to master interpretation of the audiogram. It also serves as a general review for more experienced clinicians.
Book Details
Title: Rapid Audiogram Interpretation: A Clinician's Manual | Authors: Lane D. Squires, Beth A. Colombo, and Samantha McKinney | Published: 2/27/2019 | ISBN: 978-1-63550-115-5 | https://www.pluralpublishing.com/publications/rapid-audiogram-interpretation-a-clinicians-manual
About The Authors
Lane D. Squires, MD, is an Assistant Professor of Otolaryngology, Head and Neck Surgery at the University of California-Davis. He also is a staff surgeon at the VA Northern California Health Care System in Sacramento, CA. Dr. Squires is a general otolaryngologist who provides clinical and surgical care for all aspects of the field. He met his wife, Cambria, on the first day of freshman orientation at Brigham Young University, where he eventually graduated with a B.S. in Physiology and Developmental Biology. After graduating with honors from the University of Washington, School of Medicine, he completed his residency at UC Davis from 2011 to 2016. He is most proud of his four beautiful children: Mallory, Merrit, Talmage, and Tilly. Beth Colombo, MD grew up in Massachusetts and attended Bowdoin College in Brunswick, Maine, where she graduated Summa Cum Laude with a major in Neuroscience and a minor in Gender and Women's studies. She attended the University of Massachusetts Medical School and subsequently completed her Otolaryngology residency at the University of California, Davis. She currently works as a community ENT where she focuses on the treatment of ear and sinus disorders. She lives in Bolton, Massachusetts with her husband and two young children. Samantha McKinney, AuD, F-AAA is an audiologist at University of California, Davis Medical Center where she works with children birth to 21 years of age. Dr. McKinney completed her clinical doctorate of audiology degree from the University of North Carolina at Chapel Hill. Dr. McKinney's clinical interests involve newborn hearing screenings, pediatric diagnostics, pediatric cochlear implants, hearing aid fitting and verification, hearing assistive technologies, and optimizing early intervention strategies for children with hearing loss. Dr. McKinney grew up with hearing loss and has worn hearing aids until recently receiving a cochlear implant. She is passionate about ensuring families attain appropriate services and care with evidence-based practices and promotes self-advocacy in young children. She enjoys mentoring audiology externs, medical students, and ENT residents.
About Plural Publishing, Inc.
Plural Publishing produces leading academic, scientific and clinical publications in the fields of speech-language pathology, audiology, otolaryngology, and professional singing. Plural Publishing, Inc. aims to fill a space in the field of communication sciences and disorders with high-quality publications written by world-class experts in order to improve and enhance the knowledge base of each profession, from the classroom to clinical practice. Plural Publishing prioritizes the intellectual growth of the disciplines it serves and strives to improve and advance these fields through its publications.