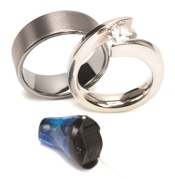 SOMERSET, NJ October 17 – Sonic introduces the new wireless invisible-the-canal (IICW) custom hearing aid for patients who want the out-of-sight style of an IIC and the capabilities and convenience of wireless Bluetooth® connections. The discreet new addition to Sonic's custom range is available in Celebrate100 and Cheer60. With wireless programming and binaural coordination, the new Sonic IICW allows patients to experience the ultimate in discretion without compromising on the clear and natural sound and improved speech understanding they expect from Sonic.
"We've packed a lot of great Sonic technology and features into an almost invisible device," said Joseph A. Lugara, Sonic President & Chief Operating Officer. "The new wireless IIC combines the technology that keeps sound natural and aims to improve speech understanding in noise with the wow of full wireless capabilities. It's an ideal choice for working professionals and anyone who is looking for the out-of-sight discretion of a small custom solution."
Small Size, Big Benefits
Multiple features in the new Celebrate100 and Cheer60 IICW models contribute to a winning sound performance built on Sonic's legendary Speech Variable Processing platform. Speech Priority Noise Reduction enables listeners to hear sounds that are important by constantly monitoring incoming sounds to separate speech from surrounding noise. Impulse Noise Reduction suppresses unexpected loud sounds to improve listening comfort without sacrificing speech intelligibility. Patients with severe high-frequency losses benefit from the improved access to high frequency speech cues provided by Sonic's Frequency Transfer technology.
The Wow of Wireless
The new Sonic IICW connects to the full spectrum of optional wireless accessories, linking to Bluetooth® devices including mobile phones, music players, PCs and more. With SoundGate 3 and the SoundLink App, patients can change volume, programs and listening sources with just a tap of their iPhone® or Android™ smartphone. The convenient RC-N Remote Control fits discreetly in a pocket or purse for easy, discreet program and volume changes.
For more information about the new Sonic IICW in Celebrate100 and Cheer60 and the entire Sonic product portfolio, visit www.sonici.com.
ABOUT SONIC
Sonic is a U.S.-based manufacturer of hearing care solutions that envisions a world where all people can enjoy the sounds that enrich everyday life and where lives are improved through enhanced hearing. Since 1998, Sonic employees and distributor partners have provided quality products with a proven benefit track record. Today Sonic has a global sales network represented in more than 25 countries. Sonic focuses its product development on its 4S Foundation (Sound that is natural, Speech intelligibility, Simplicity in usage and Stylish design) to ensure that with Sonic, Everyday Sounds Better. Visit www.sonici.us or the Sonic Expo Page on AudiologyOnline for more information.