SOMERSET, NJ June 17-- The Oticon Government Services Team lead an enthusiastic group of Oticon employees and their families on a Flag Day 5K Run/Walk to raise funds for NJ Hope for Veterans. The June 13 event took place on the VA Campus in Lyons, NJ. As part of the Flag Day celebration, Oticon employees also donated non-perishable food items to stock the non-profit's Veterans Food Pantry. NJ Hope for Veterans is the largest charity serving at-risk veterans in New Jersey, providing Emergency, Transitional and Permanent housing for homeless veterans and their families.
"The Oticon Government Services team is proud to support Veteran Affairs and Department of Defense audiologists working to improve hearing and quality of life for our nation's veterans and active duty military personnel," said David Horowitz, AuD, Director, Oticon Government Services. "Volunteer opportunities, like the Flag Day Race and Homes for Our Troops home builds, create another way for us to show support and appreciation for the sacrifices made by our nation's veterans."
The Oticon team participating in the Flag Day 5K Run/Walk included veterans who served during the Vietnam, Iraq and Afghanistan conflicts and honored Oticon veteran families, including the family of Crystal Wade, whose son Seaman Recruit Jeremiah Devon Wade is on active duty.
Oticon is an official supplier of quality hearing solutions to the Veterans Health Administration. Oticon Government Services conducts trainings across the country and throughout the year to support VA audiologists and technicians in increasing success for their patients.
For more information on Oticon hearing solutions available through the Veterans Administration, including the entire Oticon Opn S™ family, visit https://www.oticon.com/solutions/for-veterans.
Team Oticon raises funds for NJ Hope for Veterans at Flag Day 5K Run/Walk.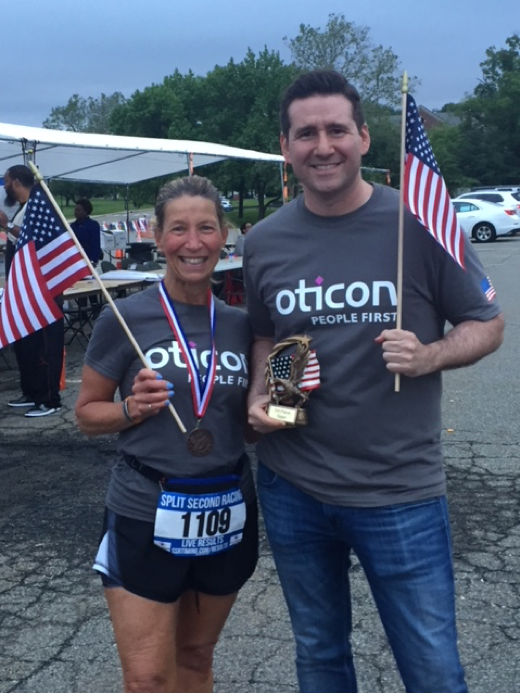 Oticon Regional Audiology Manager Pam Dorn, AuD and Oticon Government Services Director David Horowitz, AuD display individual and team awards from the June 13 race.