SOMERSET, NJ August 28 – New adult and pediatric power hearing aids and a new CROS/BiCROS hearing solution join the Oticon Velox S™ family of hearing solutions. Oticon Xceed, the world's most powerful hearing aid, gives adults with severe-to-profound hearing loss 360° access to more speech than ever before. A new dedicated pediatric power solution, Oticon Xceed Play, lets children with severe-to-profound hearing loss enjoy the open sound experience and provides access to clear speech. A third new hearing solution, Oticon CROS, is the world's first CROS/BiCROS hearing solution with advanced technologies proven to support speech awareness in challenging listening situations and wireless streaming at the same time.
More Power, More Access to Speech
With 146 dB SPL and 87 dB full-on gain†, Xceed and Xceed Play offer a number of industry firsts tailored to the unique needs of patients with severe-to-profound hearing loss. Oticon Xceed features BrainHearing™ technology proven to deliver better speech clarity and better short-term recall while reducing the listening effort people with severe-to-profound hearing loss struggle with in day-to-day listening situations.* The BrainHearing technology in Oticon Xceed Play opens up a more meaningful, balanced soundscape and provides access to more detailed speech, making it easier for children to understand what is being said and creating opportunities for incidental learning and environmental awareness.
Built on the revolutionary Velox S platform, Xceed and Xceed Play are the first power hearing aids with OpenSound Navigator™, providing more access to speech and less listening effort, and OpenSound Optimizer™, delivering optimal gain with reduced risk of feedback.
"Oticon Xceed and Xceed Play provide a radical new approach to hearing care for power users," says Donald Schum, PhD, Vice President of Audiology for Oticon, Inc. "Unlike traditional technology in power solutions that closes down sounds earlier in noise to improve signal-to-noise ratio, the innovative BrainHearing technology in Xceed delivers better access to speech with up to 11dB improvement in signal-to-noise ratio – even in complex listening situations where adults with severe-to-profound hearing loss are challenged most.** Xceed Play allows hearing care professionals to fit children with up to 6dB more stable gain†† for better sound quality and consistent, more comfortable access to speech throughout the day."
Proven BrainHearing Benefits for Power Users
OpenSound Navigator (OSN) technology works ultra-fast to constantly analyze, prioritize and preserve speech from all directions while significantly reducing noise. Results from an independent study show that OSN technology in Xceed improves speech clarity by 10%, reduces listening effort by 10% and increases short-term recall by 15% for patients with severe-to-profound hearing loss.* Xceed Play with OSN provides up to 20% more speech cues for children with severe-to-profound hearing loss, without the high risk of feedback.** When extra help is needed, patients can activate OpenSound Booster™ using the Oticon ON App.
OpenSound Optimizer in both Xceed and Xceed Play prevents feedback from occurring and greatly reduces gain reductions throughout the day to provide patients with more consistent access to speech. This gives hearing care professionals a new level of freedom to create a personalized sound experience, with the highest full-on gain and output in the industry (146dB SPL MPO and 87 dB full-on gain†) and a dedicated prescriptive fitting rationale.
Connection to Everyday Devices
Xceed and Xceed Play enable power users to open up to a connected world at home or on the go through must-have wireless accessories with 2.4 GHz Bluetooth®low energy technology. The new power solutions are Made for iPhone® and connect to any modern smartphones via ConnectClip to stream sound hands-free to both ears. With the Oticon ON App, patients can regulate volume, change programs or simply turn off their hearing aids with complete discretion.
All Xceed Play models include a telecoil to ensure universal compatibility with the Oticon Amigo FM and other manufacturers' transmitters. The dedicated Oticon Amigo R12G2 ear-level FM receiver makes it possible for students and teachers to connect and communicate via existing school FM systems.
First CROS/BiCROS Hearing Aid with 360° Sound
Oticon CROS provides a full, more immersive 360° sound experience for people with single-sided deafness, when listening to speech in noisy environments and at a distance. TwinLink™ dual streaming (NFMI for binaural communication and 2.4GHz Bluetooth low energy technology for streaming) makes it possible for patients to connect to external audio streams while simultaneously enjoying sound transmission from the poorer ear to the better ear. TwinLink delivers a 50% average improvement in awareness of speech in the environment while streaming sound from the poorer ear.***
Comprehensive Portfolio for Mild-to-Profound Hearing Loss
Oticon Xceed SP, Xceed UP, Xceed Play, and CROS round out the Oticon Velox S product family that includes choices for patients with mild-to-profound hearing loss and fitting levels from 105 to a new 120 level. The new CROS hearing solution is compatible with Oticon Opn S 1, Opn S 2, Opn Play 1, Xceed and Xceed Play and with six styles: miniRITE T, miniRITE, miniRITE R, BTE PP, BTE SP, and BTE UP.
Xceed and Xceed Play are available in two styles: super power (BTE SP, 110) and ultra power (BTE UP, 120). New modern design with push buttons for each control make it easy to control volume and program. Xceed Play also features a LED indicator and optional tamper-resistant battery drawer and is available in 12 child-friendly colors. All Oticon power hearing aids are robust, reliable and free of allergens with IP68 certification for water, dust and debris resistance.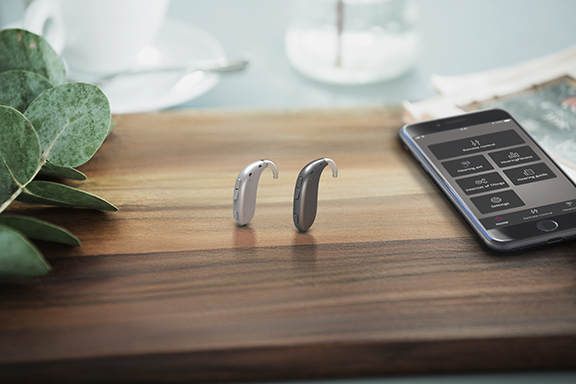 For more information about Oticon Xceed visit www.Oticon.com/Xceed and for more informational about Oticon Xceed Play, visit www.Oticon.com/Xceed-Play. Learn more about the Oticon CROS hearing solution and the entire Oticon Opn S family at www.Oticon.com/CROS.
† Values shown are based upon IEC measurements for Xceed 1 BTE UP and Xceed Play 1 BTE UP.
†† Callaway 2019, Oticon Whitepaper
*Ng 2019, Oticon Whitepaper
** Ng & Rumley, Oticon Whitepaper
*** in, Aaby Gade, Oticon Whitepaper 2019
Apple, the Apple logo, iPhone, iPad, and iPod touch are trademarks of Apple Inc., registered in the U.S. and other countries. App Store is a service mark of Apple Inc. Android, Google Play, and the Google Play logo are trademarks of Google LLC.