Kongebakken, DK June 23 - More than 80 leading clinicians gathered at Oticon Medical in Kongebakken, Denmark to participate in The Great Debate in Bone Anchored Hearing Systems 2015. The day-long conference engaged thought leaders, surgeons and audiologists in a series of interactive sessions that invited discussion and debate on the latest research and advances in bone anchored hearing care.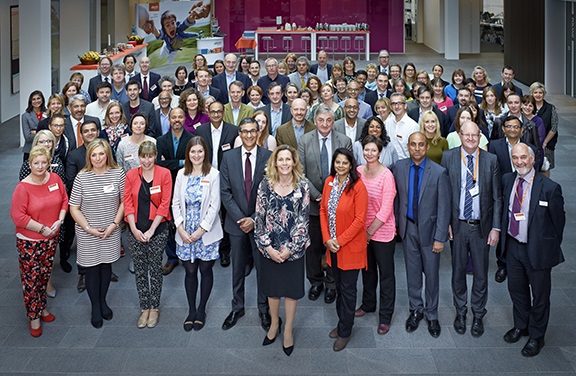 "In a field of hearing care that has witnessed impressive advances in recent years, it is expected that there will be a variety of experiences and viewpoints on the efficacy and efficiency of treatments and treatment pathways for bone anchored hearing solutions," said Jes Olsen, President, Oticon Medical A/S. "Our goal is to provide a world-class forum to stimulate knowledge sharing and discussion so that we can continue that momentum forward. Through the Great Debate and Oticon Medical Scientific Meetings, we create opportunities for professional collaboration that will increase the ability of surgeons and audiologists to deliver the kind of patient-centered benefits that make bone anchored solutions a viable option for more people than ever before."
Insightful Content, Engaging Format
Fast-paced 5-10 minute presentations in each of six topic sessions set the stage for collaboration and debate on the best treatment and treatment pathways in bone anchored hearing. To facilitate ongoing discussion, delegates used electronic voting pads at the start and finish of each session to assess how the information shared affected their viewpoints on session topics.
Professor Manohar Bance, Head, Division of Otolaryngology-Head and Neck Surgery, Dalhousie University, Canada, chaired a session on "Percutaneous versus Transcutaneous Treatments." Delegates discussed improved surgical techniques that have made the Tissue Preservation Technique a much more acceptable option. Expert presenters also noted that recent availability of active and passive technologies for BAHS require assessment by a multi-disciplinary team before an appropriate device is selected.
In the session on "Unilateral Versus Bilateral Fitting of BAHS", Dr. Bance invited delegates to consider the benefits of bilateral implantation against the cost implications. Dr. Bance and his team asked delegates to consider cost in light of evidence that bilateral BCHDs improve speech perception, sound localisation and quality of life.
Dr. James Tysome, Consultant ENT and Skull Base Surgeon from Cambridge University Hospitals, NHS Foundation Trust, led a session on "Single Sided Deafness: Treatment Options and Access." Dr. Tysome and a team of experts encouraged delegate discussion of the implications of the acoustic head shadow effect on speech comprehension, skull vibration mechanics and transcranial attenuation in the selection of appropriate devices for patients with single sided deafness.
"Patient Selection, Evaluation and Treatment Protocols" focused on processes for selection, investigation and pre-operative planning for patients with conductive and mixed hearing loss. The session was chaired by Dr. Penny Feltham, Clinical Scientist of Central Manchester Foundation Trust. Dr. Feltham and her team stressed the importance of patient counselling and looked at the challenges clinicians face in the decision making process.
Peter Monksfield, a consultant ENT Surgeon of Queen Elizabeth Hospital Birmingham, led the session on "Outcome Measurements. " Together with other experts, Dr. Monksfield examined qualitative and quantitative outcomes for bone anchored hearing aids with a dedicated presentation on outcome measurement in children. A new way forward in looking at patient centered outcomes was also proposed.
In the closing session, Dr. Anivan Banerjee, consultant ENT Surgeon of South Tees University Hospitals Foundation Trust, engaged delegates in a discussion of "Abutment and Implant Design." Discussion centered around implant design for an "optimal" implant including integration of material, physical, chemical, mechanical and biologic factors. Installation and maintenance and their importance to implant longevity and robustness were emphasized. Expert presenters also shared the newest research on surgical procedures to improve skin status and stability and the advantages of wider implants for paediatric patients.
Delegate Takeaway
The Great Debate generated strong positive response from delegates, many of whom commented on the thought provoking nature of the shorter but information-dense presentations. "This has been one of the most useful meetings and especially valuable with its integrated approach that included both surgeons and audiologists," said Dr. Banerjee. A number of delegates indicated that the mix of surgery and audiology topics provided a broader view of bone anchored hearing treatment that would influence practice in clinics, many of which feature multi-disciplinary teams.
Ravi Sockalingam, PhD, Oticon Medical Director of Clinical Research/Professional Relations, called the Great Debate a resounding success, noting that the fact that everyone could participate by voting on important issues made the conference especially unique. "The Great Debate provided an important platform for clinicians and researchers to set aside their biases and pre-conceived opinions and to discuss ideas in a congenial environment with a singular goal in mind: to improve patient outcomes in the United Kingdom given the constraints of the system in which they work," he said.
For more information on hearing implant solutions, Oticon Medical, the Ponto System and the Ponto Plus family of sound processors, visit www.oticonmedical.com or the Oticon Medical Expo Page on AudiologyOnline.