Initiative confirms Oticon Medical commitment to benefits of direct bone conduction solutions.
COPENHAGEN, DK March 25 - Oticon Medical today announced that the company has entered into a partnership with Bo Håkansson, PhD, Professor at Chalmers University of Technology, Gothenburg, Sweden, for the future commercialization of the active transcutaneous Bone Conduction Implant (BCI). Prof. Håkansson is the inventor of the first bone anchored hearing aid and is one of the pioneers in direct bone conduction hearing systems with more than 30 years of experience. In recent years, Prof. Håkansson has focused his work in the area of active transcutaneous solutions. The Oticon Medical team will collaborate with Prof. Håkansson to combine his groundbreaking research and optimization of an active transcutaneous solution with the innovative audiology, signal processing and wireless capabilities of the Oticon Medical Ponto System.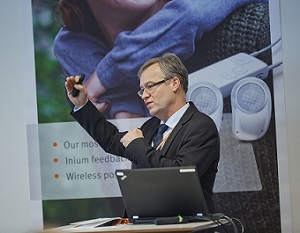 The new project is a natural extension of the Oticon Medical commitment to direct bone conduction systems that improve patient outcomes. The BCI concept transfers sound signals to the implanted transducer through a wireless link. The concept provides bone conduction via direct drive, similar to the way the Ponto System does today. The placement of the BCI vibrator in direct contact with the mastoid bone ensures that patients no longer have to accept the inherent disadvantages of current passive transcutaneous solutions that function via skin drive, including degradation of sound quality, limited output power, potential skin issues, and a cosmetically unfavorable and bulky external part when wearing the sound processor.
"Oticon Medical is committed to remaining at the forefront of advances in patient-centered solutions that provide quality of life benefits and extend the potential for treatment and successful outcomes," says Oticon Medical President Jes Olsen. "We will build on Prof. Håkansson's leading-edge work with the proven strengths of our Ponto System including the powerful and efficient Inium signal processing platform and wireless capabilities. We believe that only direct bone conduction drive, such as that provided by the BCI and our Ponto System, can deliver the desired performance in sound that patients and professionals demand."
The new project will use the proprietary BEST transducer (Balanced Electromagnetic Separation Transducer) that is less than half the size of transducers found in comparable products. The BEST transducer provides the highest efficiency and smallest volume, making surgery straightforward and the anatomical coverage high.
"I look very much forward to the cooperation with Oticon Medical and the teams in Gothenburg, Copenhagen and Nice that were instrumental in bringing the Ponto System to market. Their commitment to develop solutions for better patient outcomes and Oticon Medical's global distribution structure and financial strength will certainly fuel the future industrialization and commercialization of this BCI project," observes Prof. Håkansson.
In the future, there will be a need for both the current percutaneous Ponto System and the active transcutaneous BCI project to ensure high fidelity sound quality to all types of patients with conductive and mixed hearing losses as well as single-sided deafness. "The two complementary solutions in the future Oticon Medical portfolio will give professionals and patients an option to choose the most optimal solution for the individual patient - based on type of hearing loss, age, reversibility wishes and cosmetics" says Olsen.
The commercialization of the BCI project with new technologies is long term. The Ponto System is currently the most powerful solution on the market that through direct bone conduction drive and advanced signal processing and wireless technologies provides the best patient outcomes. "We are proud to see that clinical data shows that 2 out of 3 patients prefer Ponto sound processors* when given the choice," adds Olsen. "We believe that through our collaboration with Prof. Håkansson, we can continue to expand our ability to deliver benefits that optimize lifelong patient outcomes – both now and in the future."
For more information about Oticon Medical and the Ponto System, visit www.oticonmedical.com or the Oticon Medical Expo Page on AudiologyOnline.
*Reference List
1. Olsen, S. et al. (2011). Comparison of two bone anchored hearing instruments: BP100 and Ponto Pro. International Journal of Audiology, 50, 920-928.
2. Bosman, A. et al. (2013). Evaluation of a new powerful bone-anchored hearing system: a comparison study. Journal of the American Academy of Audiology, 24 (6), 505-13.
3. Oeding, K. & Valente, M. (2013). The effectiveness of the directional microphone in the Oticon Medical Ponto Pro. Journal of the American Academy of Audiology, 24 (8), 701-13.
4. Hill-Feltham, P. et al. (2014). Digital processing technology for bone anchored hearing aids: a randomised comparison of two devices in hearing aid users with a mixed or conductive hearing loss. Journal of Laryngology & Otology, 14, 1-9.
5. Busch, S. et al. Audiological results and patient satisfaction with Baha BP 110 and Ponto Pro Power: Results of a prospective clinical study. Presentation at 4th International Symposium Bone Conduction Hearing – Craniofacial Osseointegration, Newcastle upon Tyne, UK, June 2013.
6. Soli et al. Within-subject comparison of speech perception in quiet and in noise for patients with single-sided deafness fitted with the BP100 and Ponto osseointegrated implant speech processors. Presentation at 12th International Conference on Cochlear Implants and Other Implantable Auditory Technologies, Baltimore, USA, May, 2012.
7. Bosman, A. et al. Evaluation of Cochlear BP-100 and Oticon Ponto Pro sound processors. Poster at 3rd International Bone Conduction hearing – Craniofacial Osseointegration (Osseo) Conference, Sarasota, USA, March 2011.
8. Ortega, C. et al. Performance of the Ponto Pro and BP 100 processors in patients with single sided deafness (SSD). Presentation at 3rd International Bone Conduction hearing – Craniofacial Osseointegration (Osseo) Conference, Sarasota, USA, March 2011.
9. Stenfelt, S. Comparing of two digital bone-conduction hearing aids in experienced users: a two-center study. Presentation at 3rd International Bone Conduction hearing – Craniofacial Osseointegration (Osseo) Conference, Sarasota, USA, March 2011.
10. Olsen, S. et al. Field test of a new bone anchored system. Poster at 22nd Annual Convention of the American Academy of Audiology (AAA) - Audiology Now, San Diego, USA, April 2010