New State-of-the-Art Lithium-ion Solution Charges Overnight for a Full Day of Power
SOMERSET, NJ May 1 – Oticon Opn S™, the revolutionary new hearing aid that takes the open sound experience and the unique benefits of BrainHearing™ technology to the next level, is now available through the Veterans Affairs Administration, Department of Defense and other federal agencies. Oticon Opn S™ unleashes the full potential of the open sound paradigm to empower veterans with hearing loss to experience speech understanding in difficult listening situations at the level of people with normal hearing.* A powerful new Velox S™ platform with an upgraded OpenSound Navigator™ and new OpenSound Optimizer™ pushes the limits and the proven benefits of the open sound paradigm to deliver more benefits. Speech understanding is further improved by up to 15%, listening effort is reduced by up to an additional 10% and memory recall further improved by another 10%.****
""Our research shows that 96% of Oticon Opn™ users prefer Opn S**," says Donald Schum, PhD, Vice President of Audiology for Oticon, Inc. "That is a powerful statement for the thousands of VA audiologists who have already experienced the real-world, practical impact on quality of life that Opn provides veterans. Now, the groundbreaking new technology in Opn S provides Oticon's highest level of cognitive support, empowering people with hearing loss to participate in the same social settings as their normal-hearing peers.*"
More benefits, more flexibility for audiologists and patients
Powered by the ultra-fast Velox S platform, the upgraded OpenSound Navigator™ (OSN) provides a 360° listening experience, more effective in supporting the brain to help veterans manage listening to multiple speakers in noisy environments.
OpenSound Optimizer™, a groundbreaking new technology that prevents feedback without removing the prescribed amplification, gives audiologists the freedom to deliver optimal gain and more open settings for patients than ever before. The unique feedback breaker allows Opn S to deliver up to 6 dB more stable gain in an open fitting without increased feedback risk.** By proactively managing feedback, even before it occurs, Opn S provides up to 30% more speech cues to the brain, improving speech understanding without compromising clarity and sound quality.*****
Opn S wearers can "boost" the support they receive from the OSN, regardless of their pre-defined setting. In a broad range of everyday listening environments, if they feel the need for an extra boost of help to make speech stand out from noise, they simply activate the OpenSound Booster™, available on the ON App.
All day freedom with a single charge
The new Oticon Opn S™ miniRITE R is a state-of-the-art rechargeable lithium-ion solution in a sleek and elegant design. The stylish charger provides a stable, reliable magnetic connection for convenient charging that delivers a full day of power, including streaming, with a super-fast three-hour charging time.*** A quick 30-minute recharge provides an additional six hours of power.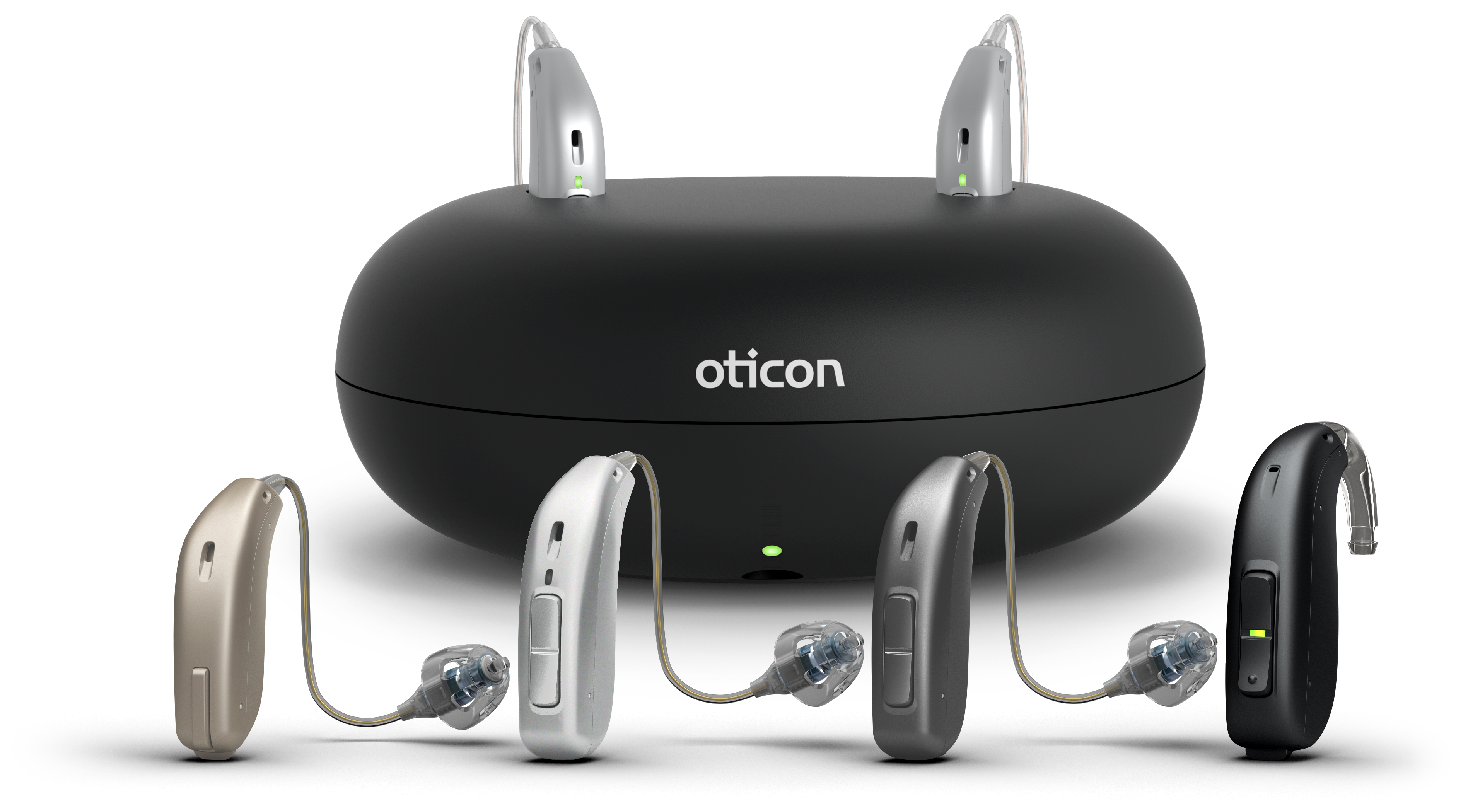 Easy Wireless Connectivity
Oticon Opn S is Made for iPhone® and connects seamlessly with smartphones and tablets using 2.4 GHz Bluetooth® Low Energy for low battery consumption. Oticon ConnectClip turns Opn S hearing aids into a high-quality headset, giving access to wireless streaming for music, movies, phone calls and more from iPhone® and Android™ smartphones, tablets and laptops.
The Oticon Opn S family delivers an outstanding range of open sound opportunities in three performance levels, four attractive styles – miniRITE, miniRITE R, miniRITE T and BTE PP – and a wealth of features. For more information about the entire Opn S family visit https://www.oticon.com/solutions/for-veterans.
* Juul Jensen 2018, Oticon Whitepaper
** Oticon Opn S promotional sheet, 2019
*** Lithium-ion battery performance varies depending on hearing loss, lifestyle and streaming behavior.
****Juul Jensen, 2019 Oticon White Paper
***** Callaway 2019, Oticon Whitepaper
Apple, the Apple logo, iPhone, iPad, and iPod touch are trademarks of Apple Inc., registered in the U.S. and other countries. App Store is a service mark of Apple Inc. Android, Google Play, and the Google Play logo are trademarks of Google LLC.