New testing features makes Sentiero a complete, portable diagnostic solution.
Schaumburg, IL - February 6, 2017 – Otometrics/Audiology Systems is pleased to announce that Sentiero Diagnostic Desktop by PATH Medical now includes air/bone/speech audiometry, manual pump control for tympanometry and pressurized OAEs making it a complete diagnostic solution in one lightweight, portable device.
The Sentiero Diagnostic Desktop is a compact and lightweight device that includes tympanometry, audiometry and otoacoustic emissions (OAEs). Whether your patient comes to you, or you go to your patient, the Sentiero facilitates efficient diagnosis and treatment for all hearing care professionals.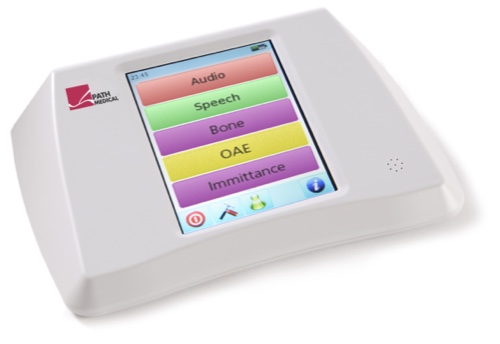 The Sentiero Diagnostic Desktop is the first and only all-in-one solution with up to three tests in one device. It offers the following tympanometry features: multi-frequency probe tones, Eustachian Tube Function (ETF) for both intact and open tympanic membranes; and manual pump control, ipsilateral/contralateral acoustic reflexes with reflex decay.
The available audiometry tests include air/bone/speech audiometry with extended high-frequency, and live voice and/or recorded speech material. It also offers the following OAE testing options: DPAOE threshold estimation using patented FM (frequency modulation) stimuli, testing of more than one frequency at a time (multichannel testing), as well as pressurized OAEs and simultaneous binaural testing.
"We are excited to be the first distributor to have a device that is actually optimized for multi-functional testing and offers a robust array of functions within each test," says David Adlin, Hearing Screening Product Manager. "We can now offer hearing care professionals a unique solution to help with efficiency and workflow. The Sentiero is unbeatable in form and function, giving you the best bang for your buck."
"The Sentiero uses an FM signal for OAE testing to minimize fine structure, thus enhancing your ability to obtain a response. It also uses a unique "scissors paradigm" to estimate auditory thresholds and input-output functions," says Diane Sabo, PhD, Hearing Screening Program Manager. "In addition to great engineering, the device has a large color touch screen for ease of use and is battery operated, allowing you to go to the patient and not have the patient have to come to you."
The unit comes with a dedicated database (Mira), and also seamlessly integrates with NOAH and Audbase platforms. For complete flexibility, the Mira program also allows you to customize printing and output, i.e. print to PDF.
Otometrics/Audiology Systems is the national U.S. distributor for PATH Medical. To learn more about the complete line of PATH Medical products, visit www.audiologysystems.com or the Otometrics/Audiology Systems Expo Page on AudiologyOnline.
PATH Medical products are also available in Canada through Otometrics/Audiology Systems distribution partners: GENIE Audio (www.genieaudio.com) and dB Special Instruments (www.dbsi.ca).