New Roger OnTM and CROS Paradise compatibility with myPhonak app also announced
Stäfa, Switzerland, April 4, 2023 – Phonak, a leading global provider of life-changing hearing solutions, today announces Phonak Slim™ Lumity – a unique and modern design to make people feel more confident about wearing hearing aids. The new Slim is unique, elegant, fully connected, and powered by Phonak's next-generation Lumity platform, offering wearers the perfect combination of style and hearing performance.
Key Design Features:
Sleek and unique design to meet the modern hearing aid wearer's style and comfort
Unique left and right fittings that follow the natural contour of the head
Four unique versions with two-tone colors
Key Technological Features of the Lumity Platform:
Universal Bluetooth® connectivity, hands-free calling, and Tap Control for enhanced functionality
Activity tracking including steps, wearing time and goal setting
SmartSpeech Technology helps improve speech understanding in noisy environments 1,2,3,4
Speech Enhancer reduces listening effort by up to 20% for communication over distance5* and provides 23% better speech intelligibility for speech over distance5**
Compact sleek matching Slim Charger providing a full day of hearing in just three hours
Designed to Be Different
Phonak Slim is designed with the modern hearing aid wearer's lifestyle and comfort in mind. With a distinct left and right design, the hearing aids feature a unique seven-degree angle for a contoured fit behind the ear, even for those who wear glasses. Slim Lumity is offered exclusively in four two-tone colors including Sandalwood, Silver, Graphite and Copper—all paired with Black. For enhanced ease of use, a push button provides instant access to a variety of personalization and connectivity options.
With its sleek and stylish design, Phonak Slim aims to embrace those who have been reluctant to use hearing aids because of how they look, or how they make them feel. In fact, research has shown that 60% of people say Phonak Slim would make them feel more confident wearing hearing aids, and more than half of people reported that Phonak Slim would improve the overall appeal of wearing hearing aids.6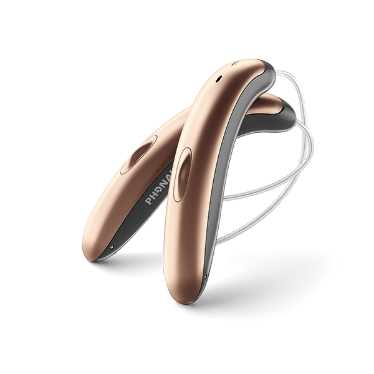 "At Phonak, we believe that your hearing aids should allow you to express your unique style and individual personality to its fullest extent," said Oliver Frank, Vice President of Phonak. "With the perfect combination of style and hearing performance, Phonak Slim Lumity perfectly embodies the lifestyle of modern hearing aid wearers while also boosting their confidence. By making it available on our latest Lumity platform, we're also ensuring that Slim wearers have access to our most advanced technology, to hear better in noise, in challenging situations1,2,3,4 and over distance in quiet situations5."
New Roger On: The Third Ear to Complement Your Lifestyle
Roger is an intelligent wireless technology that transmits speech directly to hearing aids or cochlear implants, helping to overcome distance and noise. New Roger On builds on the original, award-winning Roger On remote microphone with new features. With the new Headset Mode, Roger On replaces the function of a computer's microphone. This way, Roger On can now be used as a headset for online calls, allowing two-way voice streaming when connected to a computer via USB cable.
CROS Paradise Wearers Can Now Connect to the myPhonak App
The latest update to the myPhonak app now includes support for CROS Paradise (P) wearers. This highly anticipated update gives CROS P wearers enhanced connectivity by allowing them to conveniently control their CROS P systems via any smartphone. This includes the ability to adjust volume and Bluetooth streaming sessions, add or change programs, participate in Remote Support sessions, and more.
Phonak Slim Lumity will be available in 90 and 70 performance levels to licensed hearing care professionals in select markets as of April 25, 2023. New Roger On will be available as of June 5. Finally, the myPhonak app is now available and supports CROS P wearers worldwide.
For more information and to find a local hearing care professional, visit www.phonak.com
1. Appleton, J. (2020). AutoSense OS 4.0 - significantly less listening effort and preferred for speech intelligibility. Phonak Field Study News. www.phonakpro.com/evidence
2. Latzel, M. & Hobi, S. (2022). ActiveVent™ Receiver provides benefit of open and closed acoustics for better speech understanding in noise and naturalness of own voice perception. Phonak Field Study News. www.phonakpro.com/evidence
3. Thibodeau, L. M. (2020). Benefits in speech recognition in noise with remote wireless microphones in group settings. Journal of the American Academy of Audiology, 31(6), 404–411.
4. Woodward, J. & Latzel, M. (2022). New implementation of directional beamforming configurations show improved speech understanding and reduced listening effort. Phonak Field Study News in preparation. Expected end of 2022.
5. Latzel, M., Lesimple, C., & Woodward, J. (2023). Speech Enhancer significantly reduces listening effort and increases intelligibility for speech from a distance. Phonak Field Study News. www.phonak.com/evidence
6. Sonova Proprietary Research. (2021). Market research ID 4428. Please contact marketinsight@phonak.com if you are interested in further information
* speech in a quiet environment at 2, 4 and 8 meters
** speech in a quiet environment from 4 meters
The Bluetooth® word mark and logos are registered trademarks owned by Bluetooth SIG, Inc. and any use of such marks by Sonova AG is under license.
About Phonak
life is on. Since 1947, Phonak has been dedicated to improving the quality of life for people with hearing loss. Seventy-five years later, our passion for creating life-changing hearing solutions that help people thrive physically, socially, and emotionally remains. By offering the industry's broadest portfolio of hearing solutions, we're committed to creating a world where "life is on" for everyone.
At Phonak, innovation is not limited to products. We work to change the conversations surrounding people with hearing loss. We do this by fighting the stigma of hearing aids and creating an understanding of how hearing is connected to the broader context of healthy living.