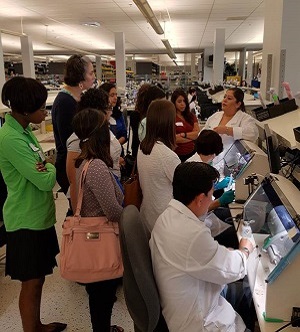 Preparing the next generation of audiologists to make their mark.
Warrenville, IL – August 31, 2016 - A total of 120 audiology students arrived at Phonak US headquarters in August eager to attend the annual Phonak University held at both the Warrenville and Aurora, Illinois facilities.
For all student attendees, Phonak U has historically represented a unique experience as they contemplate real-world career decisions and receive advice from a wide range of key industry opinion leaders about how to leverage their clinical training to create successful, satisfying and rewarding careers.
Additionally, Phonak's investment in the future of audiology through these kind of initiatives helps shape the market by providing and sharing expertise among these students. Guest faculty from around the country along with Phonak management took attendees through a full three-day agenda of lecture topics, hands-on clinical workshops and evidence-based case studies.
Phonak balanced each day with intimate welcome receptions and dinner events where students could mingle and get acquainted with faculty, Phonak staff and each other. "We're very proud of this annual offering," said Bill Dickinson AuD, VP, Audiology at Phonak LLC and Phonak U Program Chair. "Every element of the itinerary is intentionally developed to reinforce our commitment to creating a quality educational experience, with an appropriate mix of social activity so students can have some meaningful dialogue with some of their mentors and share their experiences with each other."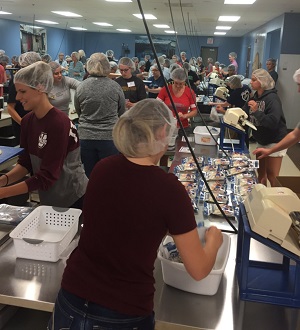 There were several new aspects to this year's program, including speakers Jace Wolfe PhD and Shilipi Banerjee PhD, who discussed maximizing patient outcomes with technology and the future of audiology respectively, Cathy Jones who presented on current humanitarian activities and Shelley Borgia AuD, Founder of NYC Hearing Associates, New York, NY, who represented private practice and discussed her approach to implementing Family-Centered Care.
Students also conducted a new student-led presentation and facilitated in an offsite community service activity where they volunteered their time to assemble food care packages for Save My Starving Children. Perennial Phonak U favorites Kris English PhD and Jacob Johnson MD wrapped up the busy academic program.
"The entire faculty and Phonak staff made such a strong contribution to the success of this year's program," said Dr. Dickinson. "At the end of the event, students were able to engage with so many audiologists, all of whom introduced them to a range of current business and clinical trends that Audiology as a field is facing.
Additionally, the Phonak Audiology Research Center team presented an overview describing a career in clinical research and hosted a grand tour of the impressive PARC facility. Throughout the three days, the excitement level of the students was easily observed by their level of organic engagement in social media activities, and as a result, Phonak U blew up Twitter.
On the final day, a number of students delivered eloquent and moving testimonials to the group at-large, acknowledging program attributes that directly align with Phonak culture and core values. After touring the Aurora Operations and Distribution Center (AODC), one student remarked, "It was so cool to see that behind every product, there was a person. Everything has a very personal touch."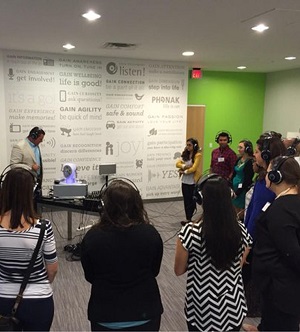 Another commented, ""Everyone (at AODC) acted like they were making each hearing aid for their favorite grandmother!"
Students warmly acknowledged the entire Phonak staff involved and thanked everyone for creating such a rich, meaningful itinerary. One student said, "This was my first experience going to a Manufacturer event for students, and the Phonak team exceeded my expectations. I learned from a group of amazing people how to be a better audiologist. Thank you for putting on such an amazing event."
Another student described how helpful it was beyond his professional aspirations, "Thank you so much for the experience and opportunities you have given myself and all the other students over the past few days. Phonak University taught me so many things I can utilize not only in my future career, but in so many other aspects of life. This experience has far exceeded my expectations."
The greatest reward came when several of them talked about the positive impression it made, giving them even greater motivation to become the best audiologist they could be.
In addition to Bill Dickinson, the Phonak LLC team responsible for developing and executing this year's event included Shannon Basham-Price AuD, Director, Clinical Training; Elizabeth Thompson AuD, Director, Business Development, VA and Audiology and Susan Whichard MS, VP, Industry Relations.
About Phonak
Headquartered near Zurich, Switzerland, Phonak, a member of the Sonova Group, was born in 1947 from a passion and dedication to take on the most difficult hearing challenges. Seventy years later, this passion remains. As the industry's leading provider, we offer the broadest portfolio of life-changing hearing solutions. From pediatric to profound hearing loss, we remain committed to creating hearing solutions that change people's lives to thrive socially and emotionally. We believe in changing lives and creating a world where 'Life is on' for everyone.
For more information, please visit www.phonak.com, www.phonakpro.com or the Phonak Expo Page on AudiologyOnline