Thousands who do not have access to hearing healthcare will receive life-changing hearing aids.
MINNEAPOLIS (Nov. 8, 2017) – Today, Spectrum Brands, Inc.'s Rayovac battery division presented $175,000 to Starkey Hearing Foundation founder, Bill Austin. From Oct. 1, 2016 to Sept. 30, 2017, Spectrum Brands committed to donate 25 cents of each sale of Rayovac hearing aid batteries to Starkey Hearing Foundation, which gives hearing aids and hearing healthcare services to people in need around the world.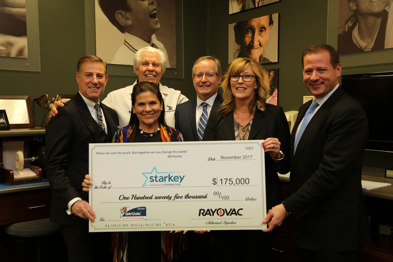 Rayovac plays an important role in Starkey Hearing Foundation's mission and vision – so the world may hear. For over 30 years, the foundation has cared for more than 1.1 million patients in over 100 countries, fitting people with custom hearing aids powered by donated Rayovac hearing aid batteries. The partnership powers Starkey Hearing Foundation's aftercare program, where patients receive replacement Rayovac hearing aid batteries and additional care at no cost.
"We are thankful for companies like Rayovac who believe in our mission and help us deliver the gift of hearing one battery at a time," said Bill Austin, founder of Starkey Hearing Foundation. "Aftercare is a vital component of our WFA® Community-Based Hearing HealthCare model, which allows patients to receive ongoing services to repair their hearing aids and obtain new quality batteries. This would not be possible without Rayovac."
"Partners like the Starkey Hearing Foundation help Rayovac deliver our hearing aid batteries to patients everywhere," said Ann Rule, senior director of marketing at Spectrum Brands' Rayovac. "Hearing is a gift, and together we make sure thousands of batteries get to patients who need them most."
"Rayovac's generous donation will help Starkey Hearing Foundation continue to change thousands of lives," said Richard Brown, president and board chair for Starkey Hearing Foundation. "Together, we are bridging people, communities and countries worldwide."
About Starkey Hearing Foundation
Starkey Hearing Foundation, a public charity co-founded by William F. Austin and Tani Austin, gives the gift of hearing to people in need in the U.S. and around the world. Disabling hearing loss affects more than 360 million people, including 32 million children, yet many do not have access to the hearing devices that improve lives and promote understanding. Starkey Hearing Foundation focuses on hearing health missions, hearing loss education and hearing aid recycling. Connect with Starkey Hearing Foundation on Facebook and Twitter, or visit www.starkeyhearingfoundation.org
About Rayovac®
Rayovac is a brand of consumer products owned by Spectrum Brands Inc. Rayovac products lead the world in battery power and innovation. Backed by a long history of bringing the latest innovations to the marketplace, Rayovac offers a full range of high-performance batteries to meet the power needs of today's consumers. From long-lasting alkaline batteries to mercury free, enhanced hearing aid batteries, Rayovac's state-of-the-art products offer more power for the money. The company also manufactures a wide selection of high-quality flashlights. For more information, visit www.rayovac.com or the Rayovac Partners Page on AudiologyOnline.