Cook is a poet, actor, filmmaker and director known for American Sign Language performance and storytelling.
The performing arts program at Rochester Institute of Technology's National Technical Institute for the Deaf has named alumnus Peter Cook to its Performing Arts Advisory Committee. The committee was founded in 2015 to strengthen, support and advise NTID's theater program.
Cook, an American Sign Language poet, actor, filmmaker, director and professor at Columbia College in Chicago, graduated from Clarke Center for Hearing and Speech and came to NTID in 1980. His first theatrical role was Caliban, the half-human, half-demon antihero of Shakespeare's The Tempest. After becoming fluent in ASL, he mastered the art of ASL poetry/performance/storytelling.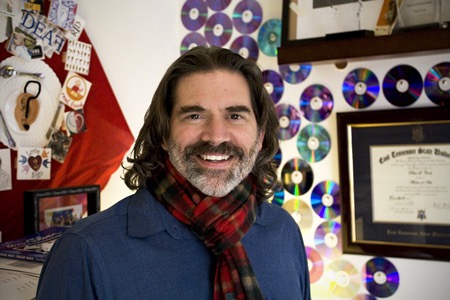 RIT/NTID alumnus Peter Cook has joined NTID's Performing Arts Advisory Committee.
The NTID Performing Arts Advisory Committee is chaired by RIT/NTID alumnus Matthew S. Moore, president of MSM Productions Ltd. and publisher of DEAF LIFE magazine. The committee also includes veteran deaf actors Howie Seago of the Oregon Shakespeare Festival and Adrian Blue of Yale University's ASL Shakespeare Project.
"I'm delighted to have Peter Cook aboard the advisory committee," said Moore. "He brings his experience and expertise on ASL theater, and his perspective will be valuable as we seek to improve the quality of theater at NTID."
Two of the committee's initial goals—reviving NTID's traveling troupe, Sunshine 2.0, and upgrading the Panara Theatre and lobby—have been achieved. Plans are in development to renovate and upgrade Room 1510 in Lyndon Baines Johnson Hall into a black-box theater for small-scale ASL productions. Other goals include establishing intern and co-op positions, funding an endowed chair for the performing arts, helping to choose each season's productions, promoting the development of original work by deaf playwrights, and establishing a summer theater program for deaf high school and college students that encompasses performance, stagecraft, cinematic studies, multimedia, directing and theater management. The committee also seeks to engage in community outreach, encourage greater community involvement in theater, increase opportunities for student participation, and promote ASL theater.
For more details on the NTID Performing Arts Advisory Committee, go to https://www.facebook.com/FriendsofNTIDTheatre.
About Rochester Institute of Technology
Rochester Institute of Technology is home to leading creators, entrepreneurs, innovators and researchers. Founded in 1829, RIT enrolls about 19,000 students in more than 200 career-oriented and professional programs, making it among the largest private universities in the U.S.
The university is internationally recognized and ranked for academic leadership in business, computing, engineering, imaging science, liberal arts, sustainability, and fine and applied arts. RIT also offers unparalleled support services for deaf and hard-of-hearing students. The cooperative education program is one of the oldest and largest in the nation. Global partnerships include campuses in China, Croatia, Dubai and Kosovo.
For news, photos and videos, go to www.rit.edu/news.